At 75 years old, Pocholo Malillin still actively runs the business side of Club Mwah, taking time to personally greet guests before and after the show. He also negotiates with clients who want to hire the performers for corporate events
Fortunately, by that time, the company already had its own seven-story building along Boni Avenue. He says it was a natural decision to open their own club. They invested in the interiors, making sure it had the "wow" factor to make it worth people's time to go there.
One person Malillin credits for his immeasurable support to his business is revered businessman Washington Sycip. The story has already been told in several other media outlets, but Malillin feels he cannot overstate how much the SGV founder has helped Club Mwah.
"He visited us many times ever since (designer) Jeannie Goulbourn first brought him to the club," Malillin says. "He would often bring his foreign guests here after having dinner at his house. For his 90th birthday party celebration at Makati Shangri-La, he requested our dancers perform a medley with an 'around the world' theme. And he even hosted a more intimate birthday gathering at Club Mwah. There were only 60 guests, including ambassadors and all the tycoons of local big business."
ADVERTISEMENT - CONTINUE READING BELOW
Sycip was so fond of Malillin and Club Mwah that there was even a special mention of the club in his 90th birthday book. In it Sycip wrote, "I am 91 (years old) because of Club Mwah."
Customized Shows
Today Club Mwah still has weekend performances, for which audiences pay a fee of Php700, but Malillin says a bigger chunk of the company's revenues come from different companies hiring the performers for corporate events and functions. Follies de Mwah, or what the group of performers are called, have strutted their stuff in front of many companies and groups over the years. Most recently, San Miguel Corp. asked them to perform a number inspired by the film The Greatest Showman.
"Liberty Flour Mills, the company that manufactures and sells flour and its by-products, recently celebrated their 50th anniversary and they asked us to create a traditional Chinese tableau. So we did it. Their company president was even part of it. He was the last emperor."
ADVERTISEMENT - CONTINUE READING BELOW
Malillin says they could put together a show customized to the client's wishes in as little a time as one week. Club Mwah employs its own tailors, seamstresses, electricians, lights and sound system operators so everything from costumes and props are included in the fee. They would even consider canceling a weekend show in Club Mwah if it coincides with an on-location job. From a business standpoint, this makes sense, as the company doesn't have to spend for things like electricity and extra manpower to mount the show at the club.
Credibility and Integrity
Malillin is 75 years old but he says he doesn't feel his age. He believes that what rapidly ages a person is if he is tormented by conscience and guilt.
"If you're into business and you do something unsavory, you'll always be afraid. You'll never be at peace. When we perform outside and I sign the contract, whatever I promise, I have to deliver, to the last detail. Because if you don't, that's it, your credibility suffers. It will multiply and you'll end up suffering for it."
ADVERTISEMENT - CONTINUE READING BELOW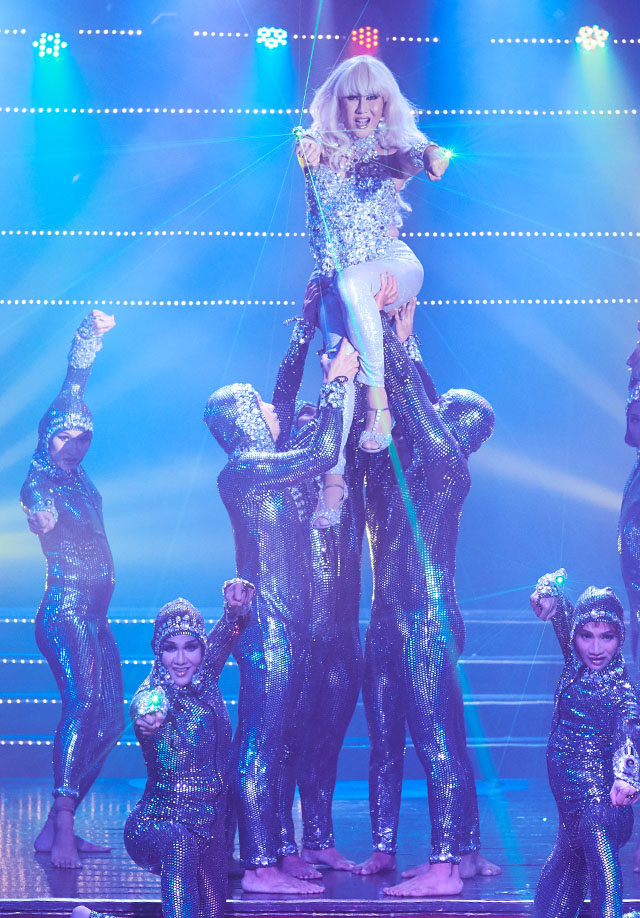 Club Mwah takes inspiration from the glittery shows of Las Vegas, the musicals of Broadway in New York and the pageantry of Moulin Rouge in Paris
Still, at this age, Malillin feels he is ready to give way to the next generation to keep Club Mwah and the joy it gives people alive. An adopted son is learning to operate lights and sound, while nephews and nieces are learning the ropes of the business.
ADVERTISEMENT - CONTINUE READING BELOW
"Club Mwah is known internationally," Malillin says. "We are very proud of our achievements. And it's not just about making money. It's a combination of business and artistry."
Besides the unique entertainment factor they offer, the club owner feels the reason Club Mwah has lasted 15 years is the fact that they have managed to keep their integrity intact. As an out-and-proud gay businessman, Malillin feels that other gay businessmen often suffer from an unfair reputation as being untrustworthy or as someone not to be taken seriously. But he hopes his own success with Club Mwah will make people rethink their prejudices.
"I'm a product of San Sebastian College," he says. "It's so hard to be out there (as a gay man) without having something you can be proud of. If you've proven something in your career, you're very proud of who and what you are. If you're a nobody, then you just sit in a corner and be quiet. You think people would see me hobnobbing with important people if I didn't have Club Mwah?
ADVERTISEMENT - CONTINUE READING BELOW
"Remember that nobody likes a loser," he adds. "Everybody loves a winner. If you're gay and you've accomplished nothing, you're nothing. But if you're gay and you're contributing to the community and are well-respected by society, then wow. You've made it."
*****
Paul John Caña is the managing editor of Entrepreneur PH