Check out some of Metro Manila\\\'s most affordable supply sources from the often exasperating streets of Manila\\\'s Balintawak, one of the country\\\'s bargain capitals, then onward to the bustling fresh seafood markets at the Navotas City Fishport and to the heady profusion of low-priced blooms at the Dangwa flower market in Manila\\\'s Dimasalang district.
1. Balintawak

What: A conglomeration of 11 markets along EDSA, right on the Quezon City-Caloocan City border
What to buy: Fruits and vegetables. Since this is a major drop-off point for produce from both the north and the south, the discounts for fruits and vegetables here could be anywhere between 10 and 50 percent.
Why: Balintawak offers great bargains and it is easier to get discounts here than in Manila\\\'s Divisoria market.
When: Bagsakan is from 5:00 to 6:00 a.m.
Tip: Dress accordingly and be ready to sweat it out
2. Navotas Fish Port Complex

What: The three ports of the Navotas Fish Port Complex
ADVERTISEMENT - CONTINUE READING BELOW
What to buy: Fresh sea produce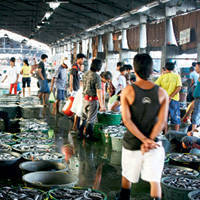 Why: The NFPC is the country\\\'s premier fish center and is one of Asia\\\'s largest. About 80 percent of Metro Manila\\\'s fish requirement comes from the NFPC.
When: According to traders, more than 20 commercial fishing vessels unload at the port complex at least 800 tons of fish and other marine catch daily. Originating from Laguna de Bay and from Zambales and Palawan, the shipments are delivered to the NFPC\\\'s pundohan between 6:00 A.m. and 12:00 noon.
ADVERTISEMENT - CONTINUE READING BELOW
Tip: If given the choice between buying frozen fish or one that has not been frozen, get the latter to assure that it is a recent catch. However, if you decide to buy frozen fish, check for clear eyes and glistening scales. The cold water in the basin holding the fish should also be clear.