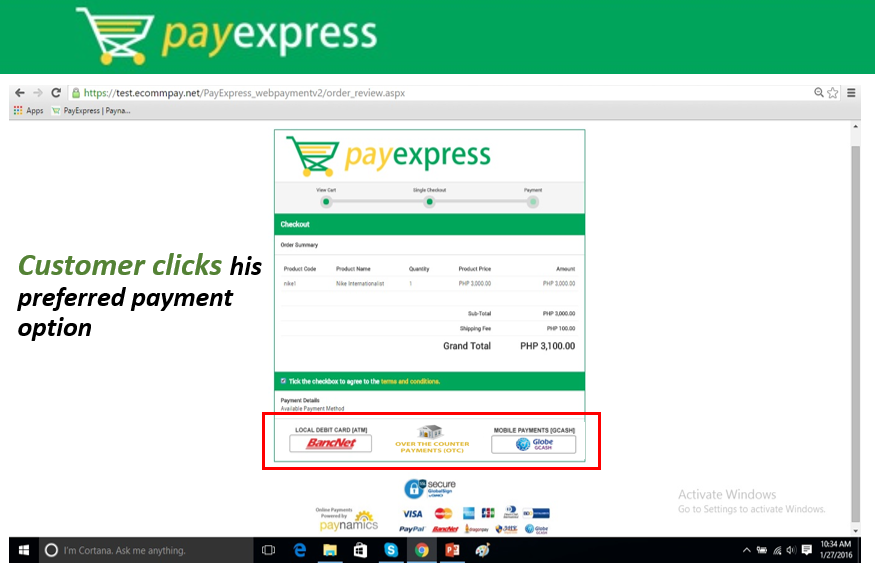 You know the drill: provide bank account details, the customer pays over the counter, then you wait for a photo of the deposit slip for proof. Admit it, securing and tracking payments for orders online can be taxing, especially when one cannot track which customer has paid or hasn't.
ADVERTISEMENT - CONTINUE READING BELOW
Paynamics, an online payment solutions provider whipped up a tool which can help small entrepreneurs to handle such task.
"PayExpress is an online payment service almost similar to Paypal in nature, where we can accept debit, credit card and over the counter payments on behalf of the merchant," explained Paynamics co-founder Ronald Magleo. "Our main target are micro, small and medium entrepreneurs or those with Facebook and Instagram accounts. This will introduce them to e-commerce."
Any business which has an online store can sign up for an account for free, and will only be charged per usage of the service. For example, a merchant may upload a photo of their product on the database with its corresponding price, inventories and even product description. A link will be generated for a merchant to post on their Facebook or Instagram account that will redirect the customer to the payment page.
The customer can then pay for the product either through credit card, debit or over the counter. The merchant will then be notified on their account if payment has been made and can retrieve the deposited funds in their respective bank accounts.
ADVERTISEMENT - CONTINUE READING BELOW
"One of the epitome of building an e-commerce economy is trust. Customers will not transact online if the site cannot be trusted," Ronald added.
During the same press briefing, Paynamics was awarded the highest PCI-DSS compliance certificate, version 3.2, the highest security certification for entities transacting online. It was the first Filipino fintech company awarded with such, according to Crossbow Labs, an information security consulting company.
Digitalizing the economy
Paynamics co-founder Mylene Chua-Magleo said the certification is only one of the numerous steps that the company is undertaking to better educate businesses in the country on building a reliable and efficient e-commerce service.
According to Bangko Sentral ng Pilipinas, out of all the transactions done in 2015, only one percent were done online. Yet a study made by Google Philippines and Temasek revealed that the e-commerce market is seen to value at US$ 9.5 billion by 2025, with a 34 percent annual growth rate in the next decade.
ADVERTISEMENT - CONTINUE READING BELOW
"Our biggest competitor now is cash. The vision of the company is transform the cash economy of the Philippines to digital," Mylene said. "We currently have around 400 merchants as of present and once we launch PayExpress by the first quarter of 2017, we target 20,000 merchants in two years' time."
*****
Elyssa Christine Lopez is Entrepreneur.com.ph's staff writer. Follow her on Twitter @elyssalopz.