<>
Who would've thought a typical catching up over dinner would turn out to be a prolific business where passion and advocacy meet halfway? On that fateful get-together, long-time friends Chit Juan, Reena Francisco, and Jeannie Javelosa came up with a business idea that will not only sustain their lives as they age, but will also help the productive community around them.
"We wanted to do something different, something that we can age gracefully with. I said, why don't we do something for the local community, like sourcing out their products and make it available in the market? Then we can partner with other organizations to help them," recalls Juan. As great ideas and plans came in, the ECHO (Environment & Community Hope Organization) store was born.
Roles and responsibilities
Regardless of their similarities and differences, the ECHOtrio--as what they call themselves--have their own fair share of roles and responsibilities in the business. Juan, who was a former CEO of Figaro, manages the marketing and communications aspect. She handles network development, promotional strategies, and campaigns of ECHO Store.
ADVERTISEMENT - CONTINUE READING BELOW
Reena Francisco, on the other hand, handles the operations. She works at the backroom from hiring employees to branding and developing product innovations. Lastly, Jeannie Javelosa is what they call their 'culture-vulture.' She handles the strategic communication of ECHO Store and heads their ECHOsi foundation. These women work hand-in-hand not only for profit generation (ECHO Store is after all still a business) but mainly for the welfare of the community.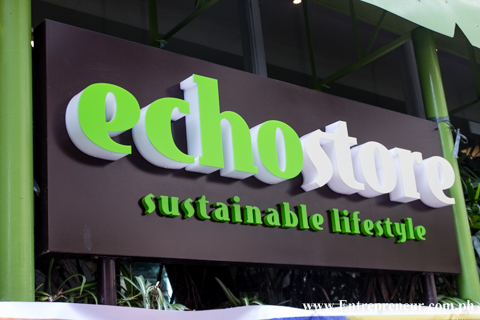 Mission, vision, and accomplishments
ADVERTISEMENT - CONTINUE READING BELOW
Before they worked together, each of the ECHOtrio had already been working closely with various organizations that promote women empowerment, clean environment, and healthy lifestyle. Their common advocacy led them to create ECHO Store's mission and vision to promote local products through their business.
They aim to fill the gap between local producers and the market to provide a sustainable lifestyle for everyone. "With the organic and natural products coming from our partnered communities, we can promote Filipino-made produce especially from the small entrepreneurs to create their own niche in the market. With that, profit gets directly to their pockets," explains Juan.
The ECHOtrio has been continuously looking for local products that they can promote and sell to the market. They have been to many places (even outside the country) to partner with different organizations who will support their advocacy. Through these works, they were able to support women's livelihood and in their own way help the Filipino product industry survive.
ADVERTISEMENT - CONTINUE READING BELOW
Women power
Women leaders like these three social entrepreneurs have proven that women can make a difference in the society. Their leadership has brought ECHO Store to bring about the significant change in having a healthier environment and lifestyle. Truly, they are great examples of women empowerment in this generation.
Main photo from ECHO Store's website