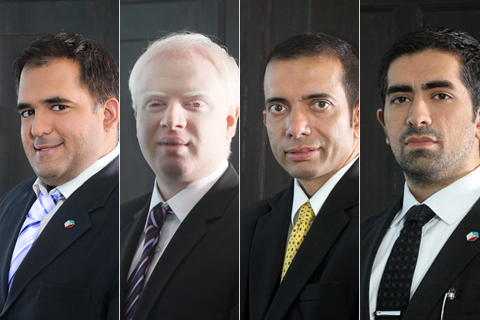 L-R: Rajan A. Uttamchandani, CEO; Navin I. Uttamchandani, President and COO; Sandeep G. Chandiramani, CFO; and Ravi A. Uttamchandani, VP for Corporate Development
It takes a certain frame of mind to run a financing business. Apart from good business acumen – leading a business takes foresight and the guts to take risks. This was, in fact, how Esquire International Financing Inc. (EIFI) was born. What began as a trading and wholesale business started by Ashok "Albert" Uttamchandani grew into a company that specialized in lending, foreign exchange, and trade finance.
Several decades later, and with the establishment of Esquire Financing Inc. (EFI) in the Philippines, the company rooted in service continues to assist businesses in need of a financial boost. And while the company prides itself with close to 40 years of experience and over 6,000 clients, the secret of EFI's success is its people, led by a management team backed by a solid educational foundation and experience in some of the top international companies.  

Not willing to be known as one of those "faceless corporations", EFI's management takes its work outside the boardrooms – and into the businesses of the clients themselves. This level of involvement, which they make sure is extended to everyone in the company, ensures that the clients' best interests are in mind.

At the helm is Rajan A. Uttamchandani, Chief Executive Officer. With training from prestigious schools such as Bentley College, the Asian Institute of Management, and Harvard Business School, he brings to the table his belief in emphasizing mutual trust and respect with clients in order to build strong relationships.

The same values of honesty and transparency guide Navin I. Uttamchandani, EFI's President and Chief Operating Officer, as he works toward preparing the company for public listing. Navin has a background in Management Engineering and Financial Management from the Ateneo de Manila University. He has previously handled wealth management and priority banking products and services for a multinational bank.

The position of Chief Financial Officer is held by Sandeep G. Chandiramani. He has 20 years of financial leadership and operational experience, including a decade supporting Red Hat Inc's (NYSE:RHT) 100-fold growth worldwide, taking the company public in 1999 and expanded the company's operations as Regional CFO in Europe and South Asia-Pacific. He graduated cum laude from the University of the Philippines and is a certified accountant both here and in North Carolina in the US.  

Vice President for Corporate Development Ravi A. Uttamchandani is largely immersed in the company's Corporate Social Responsibility programs for Gawad Kalinga and Habitat for Humanity, both dedicated to providing shelter for those in need.  He is also on the board of directors of EIFI and its non-profit sister company Helping Entrepreneurs Launch Plentitude (HELP) Foundation, which focuses on micro-financing outside of Metro Manila.

With a strong management team to serve and inspire its people, EFI not only aims to provide financial services, but good business sense whenever it is needed. This is because the team not only has a good head on its shoulders, but also the foresight and the ability to provide solutions, which is exactly what Ashok Uttamchandani did almost 40 years ago.

To know more about the company's services and to see how EFI can help you grow your business, view their directory listing here .


ADVERTISEMENT - CONTINUE READING BELOW