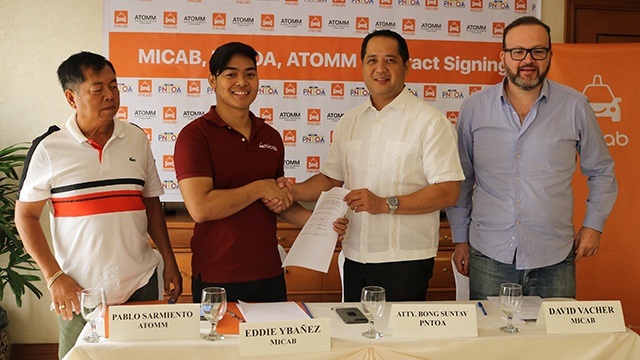 Eddie Ybañez (second from left) during the signing ceremony with representatives of the two biggest taxi companies in Metro Manila
There are continuous efforts to work on innovations in mobility and transportation to ease commuters' woes, especially in Metro Manila. While transport vehicle networks like Uber and Grab have become extremely popular, they are still in the midst of hurdling regulatory issues with the Land Transportation Franchising and Regulatory Board (LTFRB).
ADVERTISEMENT - CONTINUE READING BELOW
One enterprising individual who has offered a solution to the challenges of commuting is Eddie Ybañez, who developed an app-based transport service called Micab.
Unlike Uber, which utilizes private vehicles, Micab connects passengers to regular taxis for an additional fee of Php50 on top of the metered fare. Launched in Cebu City in 2012, Micab is now also available in Iloilo City. The target now is to launch the service in Metro Manila by October 2017.
The way Micab works is quite similar to an option in the Grab app that allows users to hail a taxi rather than a private car. Like Micab, Grab also imposes an additional fee of Php50 on top of the metered fare.
Micab currently has around 900 taxis in its fleet for Cebu and Iloilo. Partnering with two of the largest taxi network operators in the capital—Philippine National Taxi Operators and Association of Taxi Operators in Metro Manila—it hopes to have an initial fleet of 3,000 taxis and is projected to have about 7,000 taxis by the end of the year nationwide.
ADVERTISEMENT - CONTINUE READING BELOW
Ybañez is a 31-year-old entrepreneur who has been an IT professional for about 10. He says the idea for Micab started because of his own problems with commuting. In the company website (micab.co), Ybañez tells the story of how difficult it was to hail a cab from his home in Cebu City. This led to the initial venture of a taxi service via text or SMS. A meeting with Kenneth Baylosis, who would become Micab's chief technology officer (CTO) during the Startup Weekend Cebu event led to the eventual foundation of the mobile app version of Micab.
ADVERTISEMENT - CONTINUE READING BELOW
Micab founder and CEO Eddie Ybañez says he developed the app because of his own experiences commuting in Cebu
"It helped a lot that I come from a technical background," Ybañez says. "The prototyping and MVP (minimum viable product) stage was fairly easy, but building this to scale especially for a B2C (business to consumer) market is the challenge, and this is where my team comes in."
The biggest challenge during the early days of Micab was limited resources in order take the startup to the next level. Ybañez likens it to a David-and-Goliath situation. "We were up against giants (that) are hard to compete with. They are armored with subsidies and funding. But we found our 'smooth stones' that we think can inflict damage—a business model that exists without depending on passengers fares and promo codes/subsidies. We want to tap into the people with the deepest pockets—companies that would pay for advertisements. So we created an engine that shows ads to taxi passengers during their ride."
ADVERTISEMENT - CONTINUE READING BELOW
Ybañez explains that instead of generating revenue from the additional Php50 add-on charge, Micab earns by selling ad space to brands and companies on the app. They determined the booking fee based on the amount they thought would help the taxi driver.
"To give context, the taxi fare matrix has not kept up with inflation," he says. "The last update was eight years ago. The cost of living has definitely increased since then, especially in the highly urbanized cities of the Philippines. Our targeted booking fee for Manila is Php50. Eighty percent (or Php4) of this will go to the drivers while 20 percent (Php10) will pay for the tablets deployed to the taxis and data subscription. Micab will not earn from the booking fees, but rather through advertising on the tablet."
Ybañez estimates that an additional Php40 revenue from the taxi drivers' side will add around Php600 to his earnings if he takes 15 rides a day through the app. "This should pay for half of his taxi rent from the taxi fleet operators. This also means we will be able to match more taxis with passengers."
ADVERTISEMENT - CONTINUE READING BELOW
The company's initial funding of Php200,000 came from individuals from Ybañez's network who believed in the project—Eric Cuenco, Atitson Ong and Gina Ng. The money was used to purchase phones and data plans after they secured the partnership of a taxi company called Ken Taxi in Cebu.
"Ken Taxi was named by Sunstar Cebu as one of the best taxi companies in the province," Ybañez says. "It was a complete cold call. Its owner, Mr. Ken Saito, saw the potential and offered to shoulder the costs of the tablets for us to scale the deployment to his fleet. He was patient with our deployment and all our learnings. To date, he is one of our staunchest supporters both internally and externally, and he even personally joined in our second round of seed funding." 
The follow-on funding helped the fledgling company expand the service to Iloilo in 2015. Ybañez says the biggest costs for the company for now involve their tech talent, the operational backbone needed to support their partners, and marketing, which he says they haven't done full force yet until they receive a new round of funding.
ADVERTISEMENT - CONTINUE READING BELOW
"We just closed our funding round late last year and we're running on that for now," Ybañez explains. "Our revenue stream for this specific venture is through advertising so it's a requirement for us to be present nationwide. The goal is to be profitable by middle of next year, once we have the numbers that our clients, the advertisers, want." He adds that the company is currently doing trainings and deployments with the initial batch of taxi drivers in Metro Manila.  
Because Micab is working with existing taxi companies, it does not need to go through LTFRB regulations like other TNV services like Grab and Uber. However, the downside is that existing taxi operators, especially in Metro Manila, are notorious for issues like reckless driving, rude drivers and drivers refusing to carry fares. Ybañez acknowledges these complaints. "I understand that and at some point in my commuting life have experienced (it for myself). This is what I want Micab to solve via accountability and the ability to rate and report all these instances of bad customer service and behavior. Through Micab, we want to help sift through the bad drivers or correct their behavior, and make sure the passengers only get the best drivers."
ADVERTISEMENT - CONTINUE READING BELOW
"We want to help solve the commuting problem by optimizing the supply and demand for existing vehicles, particularly taxis on the road," he adds. "We believe that there is a big enough market for both and that Grab and Uber are good at what they do in the private vehicle space. We prefer to enable existing industries so that the industry and ecosystem levels up as a whole."
***** 
Paul John Caña is the managing editor of Entrepreneur PH