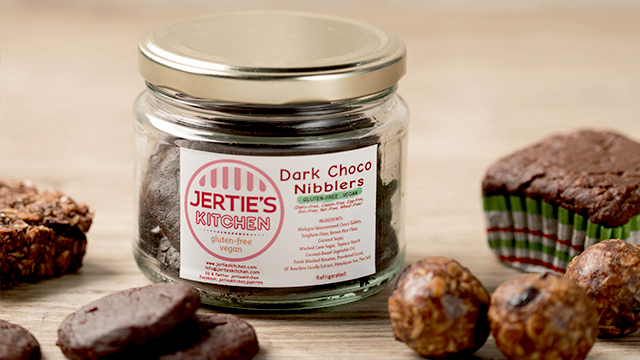 Jertie and Jaclyn Abergas used to run a café, so they thought that that experience taught them what they needed to know about business. Little did they know that Jertie's Kitchen, their new line of specialty vegan and gluten-free food, was a completely different animal.
ADVERTISEMENT - CONTINUE READING BELOW
Early on, the Abergas sisters mistakenly believed that switching from white to brown sugar automatically made their products healthier. Jertie's Kitchen initially eyed an older audience who may have health problems, then turned around and attempted a broader appeal. "We cast our nets wider just to see who we could catch," says Jaclyn. But without a unique selling point or a clear-cut demographic, customers still weren't biting.
Related: Real tales: Turning passion for baking into a profitable business 
It wasn't until they did more research about a gluten-free and vegan diet, eventually adopting it themselves, that they realized there was so much more to healthy eating than sweetener. It wasn't long before the Abergas sisters began to incorporate what they learned into the business.
In 2013, Jertie's Kitchen rebranded specifically into a gluten-free and vegan food company. "We realized we can't just market to anyone and everyone," says Jaclyn. "Consumers now are more discerning. Targeting specific markets makes it easier to create more effective campaigns."
ADVERTISEMENT - CONTINUE READING BELOW
Related: How Bianca King's healthy choices led to starting her own restaurant 
This time, they paid closer attention to what went into their ingredients list: their products are now made without any eggs, butter, milk or refined sugar. Instead, these have been replaced with healthier alternatives like bananas, coconut oil, coconut milk, coconut sugar and cane sugar.
They also began seeking out niche fairs, where they can meet many potential customers and expand their network. "[Some of] the clients have now become regulars, and until now, the businesses and entrepreneurs [we've met] continue to be our partners," she says of these events.
Demand for Jertie's Kitchen pastries, initially averaging two or three orders in a month, has now risen to around 60 to 100 products a month. Jaclyn and Jertie have also begun holding cooking workshops to get to know their customers. One class usually has 15 to 20 people in attendance.
ADVERTISEMENT - CONTINUE READING BELOW
"We now sell our relatability," says Jaclyn. "It's important for us to share our stories, because we want our customers to know that we do understand what they're going through, because we're going through the same experiences."
*****
This article originally appeared in the June 2015 issue of Entrepreneur Philippines magazine. Minor edits have been done by Entrepreneur.com.ph