Agriculturalist Eduardo Soriano likes things complicated.
In the early 1990s, he bought four hectares of idle land from his family's corporation, establishing a dairy farm that would eventually be called Hacienda Macalauan Inc. "Very few people have the desire to do [dairy farming]. You work 365 days a year, there is no Sunday, there is no Christmas. You've got to milk the cows twice a day, and you have to keep track of all those records. It's a pain-in-the-butt job," he says baldly. But he likes it well enough to have expanded the hacienda to its present 30 hectares, inclusive of a dairy processing plant, and modern barns sheltering a herd of 600 dairy cows.
ADVERTISEMENT - CONTINUE READING BELOW
Along the way, Soriano has managed to butt heads with the National Dairy Association (NDA), and the Department of Agriculture—generally because he decries the lack of support given to the local farming community. "I'm not liked by them, I'm too vocal," he admits.
It seems that he only seeks approval from his growing customer base, as consumers discover Hacienda Macalauan's Pure & Best premium-quality milk, fresh cheeses, creams and live yogurt products. Soriano competes directly with the multinationals that, according to the NDA, supply 99 percent of the country's total dairy requirements.
Hacienda Macalauan's advantage is flexibility—a quicker reaction time to newer market trends, compared to the multinationals who take direction from global headquarters—and of course, the benefits of wholly local sourcing and lower pricing.
For example, though Greek yogurt was deemed a fad by other local players, Soriano dove right in, offering 200g tubs sold for Php 150, along with 90g single-serve cups in a variety of flavors. Imported versions are significantly more expensive, and rarely offer anything beyond plain variants.
ADVERTISEMENT - CONTINUE READING BELOW
"I'm making a killing," says Soriano. "I can get into these higher segments where there are really no local players in the market. I'm competing against the multinationals, whether it be Fage or Total or Chobani, and obviously come out with a discount to that. I'm able to get myself a good niche."
The success of the entire yogurt line forced Nestlé to build a new plant and come out with their own live yogurt, Soriano claims. "Before, [Nestlé yogurt] was dead as a doornail," he quips.
Soriano has been known to take the fight over labeling to the multinationals when it comes to milk, protesting the indiscriminate use of the "fresh milk" label on imported products, though they are usually reconstituted milk. Reconstituted milk is cheaper, as it is produced (at least partly) from powder rather than raw milk.
But while Soriano offers Pure & Fresh as a high-end fresh milk, he's also beating the multinationals at their own game by offering reconstituted milk under the newer 3 Cows brand. "I can now buy the same quality of milk powder at the same price as Nestlé, and therefore I should be able to make as good a product as them," says Soriano. Clients could always choose between the "real" milk or its cheaper variant.
ADVERTISEMENT - CONTINUE READING BELOW
Since 2010, Hacienda Macalauan sales grew at an average of 40 percent, only slowing down last year to around 25 percent. Soriano has pushed the price so that they're slightly below import, to minimize vulnerability to the imports slashing prices or offering buy-one-take-one. They've trimmed their lineup of peripheral products and limited their presence to 50 supermarkets, among them Rustan's, Shopwise, SM, Landmark, Gaisano and Makati Supermarket.
Then there are the promotions: sampling on a payday can increase sales for the next week by at least 50 percent, and opening the farm to school field trips introduces their products to young children. "I don't do any more advertising because there's nothing to place. I'm sold out," he adds.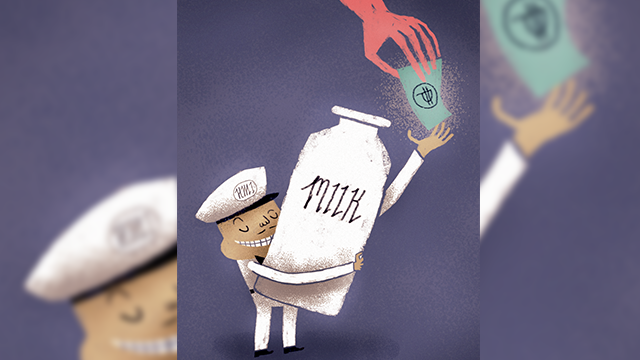 ADVERTISEMENT - CONTINUE READING BELOW
Go-to milk
The company also supplies milk to institutional clients, such as McDonald's, J.Co and Uncle Tetsu's Japanese Cheesecake. Hacienda Macalauan supplies San Miguel with the yogurt as the base for their yogurt ice cream, and occasionally provides ice cream mixes to Amici.
Many hotels buy sour cream, buttermilk or cheeses from Hacienda Macalauan. Cupcakes by Sonja also buys sour cream from them. Soriano is looking forward to offering mascarpone cheese for use in tiramisu and other desserts. "I'm sure I can steal that from importation, because it has even bigger margins," he says. Though he considers the cheeses merely a "stopgap" for the milk offerings, demand is high; he once tried phasing out the cheeses, but customers bought them even after prices were doubled.
Innovations
Soriano is always on the lookout for product innovations. What's exciting him now is the other part of the hacienda: 2,000 hectares of coconuts, and a coconut processing plant, from which he'll create integrated coconut products, including three types of virgin coconut oil (VCO) and two types of high-protein, low-gluten flours.
ADVERTISEMENT - CONTINUE READING BELOW
Cold-pressed or centrifuge-extracted VCO fetches premium price and also has a profitable byproduct in coconut skim milk. He's contemplating producing non-dairy cream, made from desiccated coconut and utilizing shell castoffs and a 10-ton broiler for steam-processing and powering refrigeration in the rest of the plant. In the pipeline is a turbine to help produce 1.2 megawatts of power.
"There are plenty of niches if you look hard enough for them," says the veteran entrepreneur. "I'm 60, I have to find something to do and build up my retirement, which means playing with my farm and the products that I crank out," Soriano says. While dairy makes up "95 percent of the business," he adds mischievously, "the 5 percent is for enjoying life and disturbing the marketplace."
*****
This article originally appeared in the August 2015 issue of Entrepreneur Philippines magazine. Minor edits have been done by Entrepreneur.com.ph.