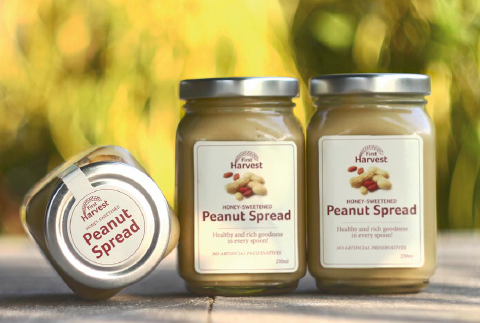 In a food arena dominated by processed, mass-market options, First Harvest stands out for bottling a taste of home in every jar of peanut butter.

"We eat the products we make. The same amount of care that goes into preparing food for the people we care about is the same care we put into producing First Harvest," explains Catherine Patacsil, market and brand specialist of First Harvest.
Livelihood for women
Patacsil and her co-founders, Nico Encarnacion and Tajen Sui, work closely with seven nanays from the GK (Gawad Kalinga) Enchanted Farm who make the peanut butter by hand. With the help of an industrial grinder, the nanays are involved in nearly every step of the process—from mixing and grinding the ingredients, to sterilizing and labeling the jars.
"We really believe that human care can influence the taste of food," says Patacsil. Like one would recognize in a beloved family recipe, "you can tell if the food was given enough care."

Peanut butter is one of the products that the farm's community partners already knew how to make, but needed help to market and sell. "We are creating the products in their crude form, as the mothers know how to," explains Patacsil.
ADVERTISEMENT - CONTINUE READING BELOW
All-natural product
First Harvest peanut butter is made using all-natural ingredients, which means the nanays do not use extenders, chemicals, or artificial preservatives.

First Harvest also makes peanut brittle, with more products down the pipeline. First Harvest is still on its growth curve—it was launched only in November (2013)—but has produced about 1,000 jars of peanut butter as of May.

Even with plans to expand in the near future, Patacsil believes that First Harvest's commitment to conscientious, hands-on food production can remain feasible—it's all a matter of hiring more staff and maximizing farm output as needed. They are also open to partnering with toll manufacturers, with the founders assuring they will continue to follow strict food production standards. "Bottom line is that it's a choice for us to persist in our principles, [instead of] taking shortcuts and compromises," says Patacsil.


*****
This article was originally published in the August 2014 issue of Entrepreneur magazine.  
ADVERTISEMENT - CONTINUE READING BELOW
Photo courtesy of First Harvest