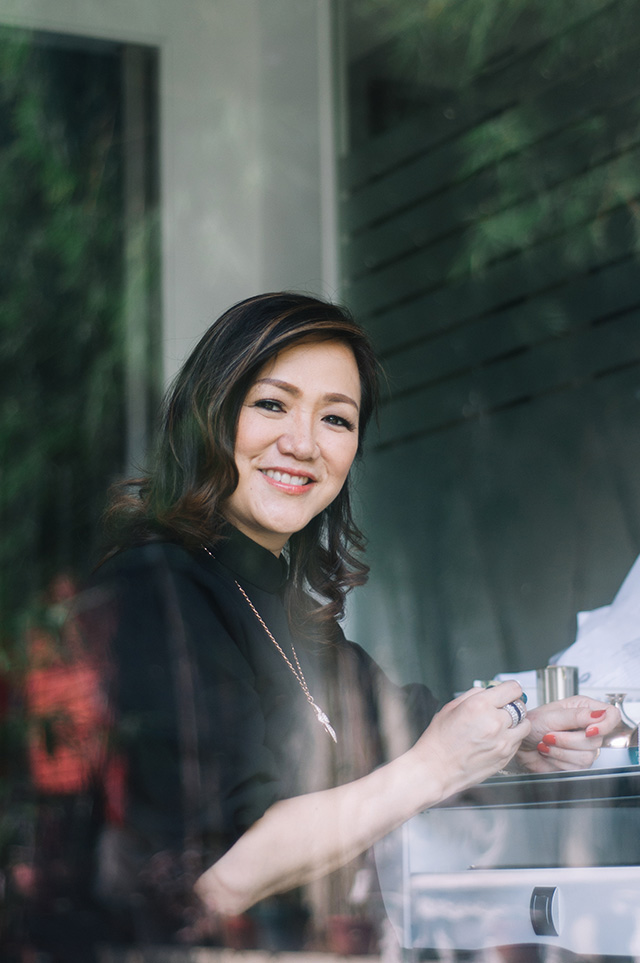 Pili Beauty co-founder Mary Jane Tan-Ong never imagined herself in the beauty industry, but after trying her mom's initial run of cosmetic products infused with extracts from the pili tree, she became a believer and formalized the business
Candied, sweetened and packed in a jar—that's how most Filipinos would know the pili nut, a popular souvenir from the Bicol region. Tourists can purchase three packs of the protein-rich nut for Php100, a sweet deal for a satisfying snack. But unknown to many, the pili nut is much more valuable than that.
ADVERTISEMENT - CONTINUE READING BELOW
In the late 2000s, global fashion and beauty brands started to use elemi oil, which is exclusively extracted from the bark of the pili tree, in their cosmetic products. French luxury fashion house Chanel was one of the first to take advantage of the oil's beneficial properties, describing it on its website as being able to "improve the firmness and suppleness of the skin." In 2009, it launched an anti-aging line for women with elemi oil as its star ingredient. The products retailed from $85 to as much as $165.
But they weren't actually the first to notice its benefits. Local pili farmers have been using it for skin rashes and insect bites for generations. But it was not until the early 2010s that it was developed into beauty products in the country.
Since the early 2000s, organic farming advocate Rosalina Tan has been purchasing massive amounts of pili oil from local farmers. Her stock grew so large that she decided to develop them into a prime ingredient for a number of beauty products, including soaps, lotions and essential oils.
ADVERTISEMENT - CONTINUE READING BELOW
At first, her daughter Mary Jane Tan-Ong was irked. Ong, along with her mother, manages a distribution business of a leading alcoholic drinks brand in Bicol. She said at one point the stocks of pili oil in their warehouse grew as many as their bottles of gin in stock.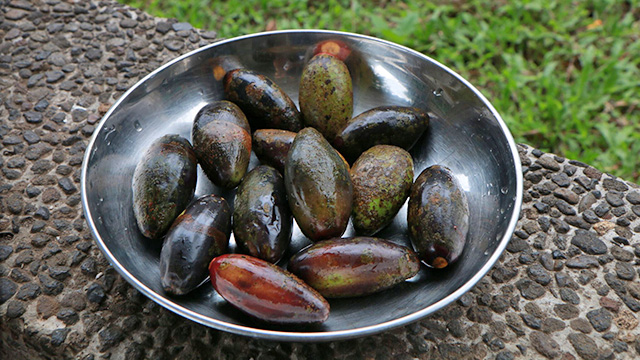 Pili Beauty uses two kinds of oils that are extracted from the pili tree: elemi oil that comes from the bark and pili oil, extracted from the fruit (pictured above)
ADVERTISEMENT - CONTINUE READING BELOW
"She couldn't say no to the local farmers who kept offering to sell pili to her so, as a form of assistance, she just made beauty products out of the oil, without me knowing," Ong shared to Entrepreneur Philippines at the sidelines of the PhilBeauty expo in June. "So I told her, 'Ma, if you really want to help, you have to legitimize the business so it becomes sustainable.'"
From bazaars to a new product line
Tan first sold her beauty products in bazaars then later on posted about them on a simple website. Eventually, their trading business' office in San Juan City became the main store of Tan's sideline business. Loyal customers of the small brand would personally visit the office just to replenish their supply. When Ong noticed the fanfare, she peeked at the official e-mail of her mom, where she saw hundreds of messages of business proposals and partnerships for the brand.
ADVERTISEMENT - CONTINUE READING BELOW
By then, Ong knew she had to wear her entrepreneurial hat and take advantage of the opportunity. With the help of local scientists who helped arrange several laboratory tests here and abroad, Ong launched a new set of all-natural cosmetics and skin care line at the first PhilBeauty Expo, which claims to be the country's largest beauty trade show, and introduced the Pili Beauty brand in 2014.
"I didn't want to launch locally at first because sadly, most of the time, Filipinos would not take our products seriously because they were used to eating pili," Ong said.
On the other hand, when Ong joined her first trade show in the US, a representative from American grocery chain Whole Foods immediately inquired about her brand asking her specifics from the price to volume. Still, she was faced with a conundrum.
"I realized I couldn't do global yet since there's a limited stock of pili in our country in contrast to what they were ordering. They were inquiring about how many containers I can supply monthly. It was overwhelming," she said.
ADVERTISEMENT - CONTINUE READING BELOW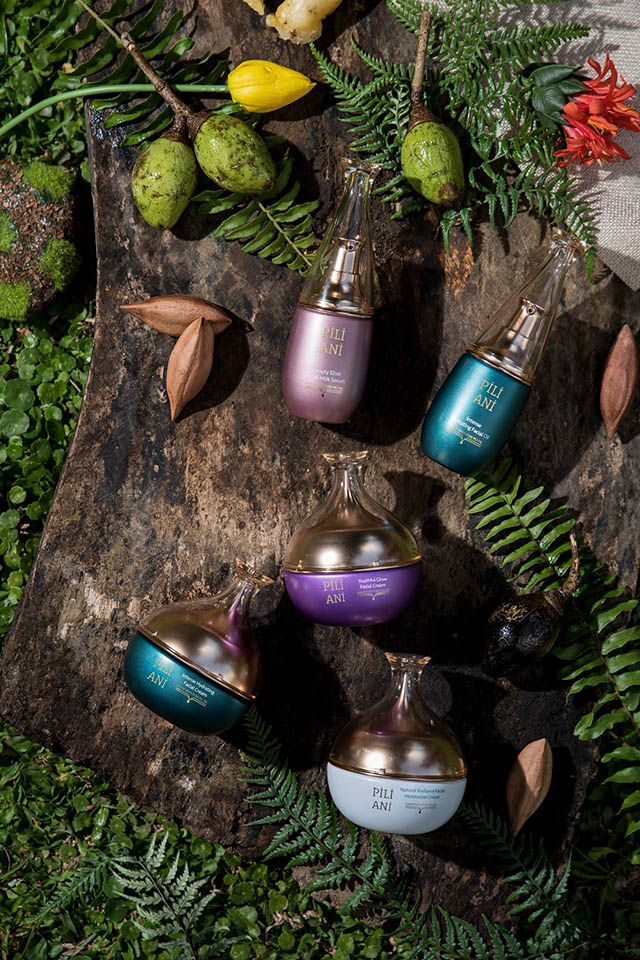 Pili Ani is a line of cosmetic products exclusively distributed in the US and Canada
So Ong decided to have separate beauty lines for the local and global market. After a year, she incorporated the business and launched a luxury beauty brand exclusively distributed in the US and Canada: Pili Ani.
ADVERTISEMENT - CONTINUE READING BELOW
While Pili Beauty has more than 20 products under its line ranging from bath soaps to essential oils, Pili Ani only has five. The small, limited collection is both strategic and economical for the brand.
For one, it helps Pili Ani to cater to a niche market in the US—women in their 30s to late 60s— as they mainly offered luxurious anti-aging products that sell for as much as $125. But more importantly, it helps the company make use of the limited supply of pili and elemi oil to be sold not by volume but by value.
Ong said the company still relies on the local farmers they used to source from, which has now grown to around 200 families, in Bicol. However, the company is also waiting for their pili seeds to grow into trees. It takes six years for one tree to grow.
For now, the strategy seems to be working. American publications have noticed the brand, from the likes of fashion magazine InStyle to the lifestyle section of Bloomberg Businessweek. Ong said some high-end retailers have also expressed interest in carrying the brand. This month, a designer shop in Beverly Hills in Los Angeles, California will start retailing Pili Ani.
ADVERTISEMENT - CONTINUE READING BELOW
Profits from pili
Still, Ong admits the company remains in the red.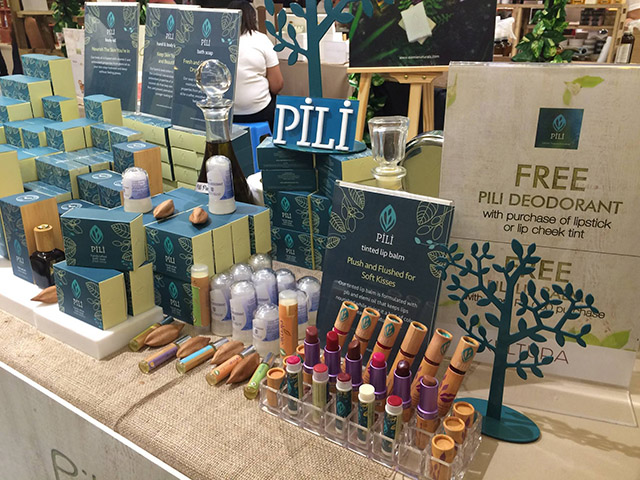 Pili Beauty regularly participates in a number of bazaars nationwide, with most of their booths looking like the one shown here
"I'm lucky I have other sustainable businesses because this isn't making money yet," she said. "But I am very optimistic. In two years I know we'll be profitable."
ADVERTISEMENT - CONTINUE READING BELOW
There's plenty of reasons to be hopeful. In a report released two years ago, Euromonitor International said the US beauty market would be worth $20 billion by 2020 and would be largely driven by premium beauty products. "The US market only accounted for 14 percent of the global skin care market [in 2016], signaling opportunities for growth in the category," the report said.
Moreover, American consumers are becoming more conscious of the products they support, leaning towards more sustainable, natural brands and those with purposeful vision. In fact, CB Insights said one of the biggest beauty trends to watch out for this year is the "increase of beauty products featuring organic and plant-based ingredients" and those that "partner more closely with farmers for ingredient sourcing."
With all those in mind, who wouldn't bet on Pili Ani?
"My husband says I'm crazy for investing so much in this," Ong said. "But I really believe in the brand. There's a lot of potential."
ADVERTISEMENT - CONTINUE READING BELOW
*****
Elyssa Christine Lopez is a staff writer of Entrepeneur PH. Follow her on Twitter @elyssalopz