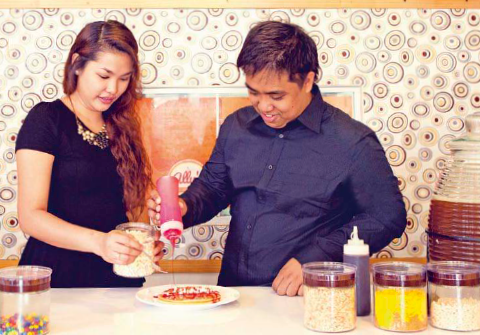 Disappointed that your favorite restaurant stops serving breakfast at 10 a.m.? You're not alone, and the food industry is beginning to recognize the potential of catering to the market. The next logical step after all-day breakfasts: all-day, all-breakfast joints.

Ally's All-Day Breakfast in Sikatuna Village, Quezon City is a prime example of the trend, dreamt up by 'treps Josiah Albelda, 25, and fiancée Alyssah Mingo, 23. These two love breakfast so much that they've brought all the usual breakfast favorites under one roof—ensuring their customers don't miss out. "We're a small place, but we give a lot of choices," Albelda enthuses.
Long menu, controlled costs
Mingo has created a total of 65 food items—from Western offerings like French toast, pancakes, crêpes, and waffles, to more at-home fritatas and traditional Filipino breakfast meals. The menu has changed thrice since Ally's started in April 2013. "It's more of a trial and error," says Mingo, who gets inspired by Instagram food shots. Counter to common wisdom, the extensive menu (there are also 45 beverage choices) has not driven up the costs, because "most of the items have the same ingredients," Albelda says.

Milk, eggs and flour are used for the batter for pancakes and waffles, and to create the milky French toast. Toppings—strawberries, blueberries, apples, almonds, and the like—are extended several ways, depending on customer preference. "That's our unique aspect—our DIY (do-it-yourself ) pancakes and waffles," says Albelda.

Such fearless experimentation and bucking of convention may be due to their skipping formal business education—Albelda is a journalist, while Mingo quit her marketing job to take on kitchen duties—and jumping into experiential learning via their first venture, Tapa Zone in Cubao (now managed by relatives). It appears to be working. "We're sticking with our long menu," Albelda insists, pointing out that they haven't had any trouble with moving inventory.
ADVERTISEMENT - CONTINUE READING BELOW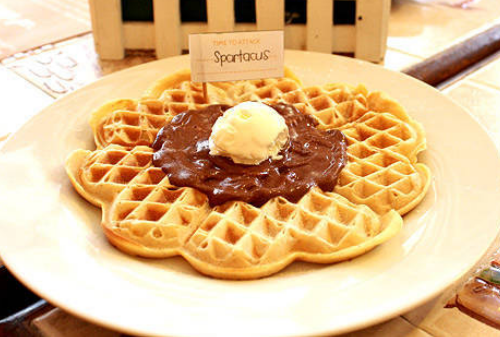 Coming back for seconds
The business picked up quickly after SPOT.ph cited Ally's among the top 12 breakfast places in the metro last June (2013). As many as 150 to 200 customers come in during weekdays, and almost double that on weekends. Bestsellers are the rice meals—Classic Beef Tapa, Vigan Longganisa, and Rellenong Bangus—and signature pancakes, Death By Chocolate Overdose, Toffee Banana, and Tiramisu. Albelda says Western and Filipino items don't compete, but actually complement each other. "It may be strange to some, but our regulars would order a rice meal and then treat the pancakes and waffles as dessert," he notes.

Their customers are mostly middle and upper class families who would spend P300/person for a meal. "Big families come in bunches, so our extensive menu works for them," adds Albelda.

Given a steady clientele with a return rate of at least 25% of the daily traffic, Mingo and Albelda are eyeing expansion in two or three years.


ADVERTISEMENT - CONTINUE READING BELOW

*****
This story was originally published in the December 2013 to January 2014 issue of Entrepreneur magazine.
Photos: Heidi Aquende (main) and Spot.ph (pancake)