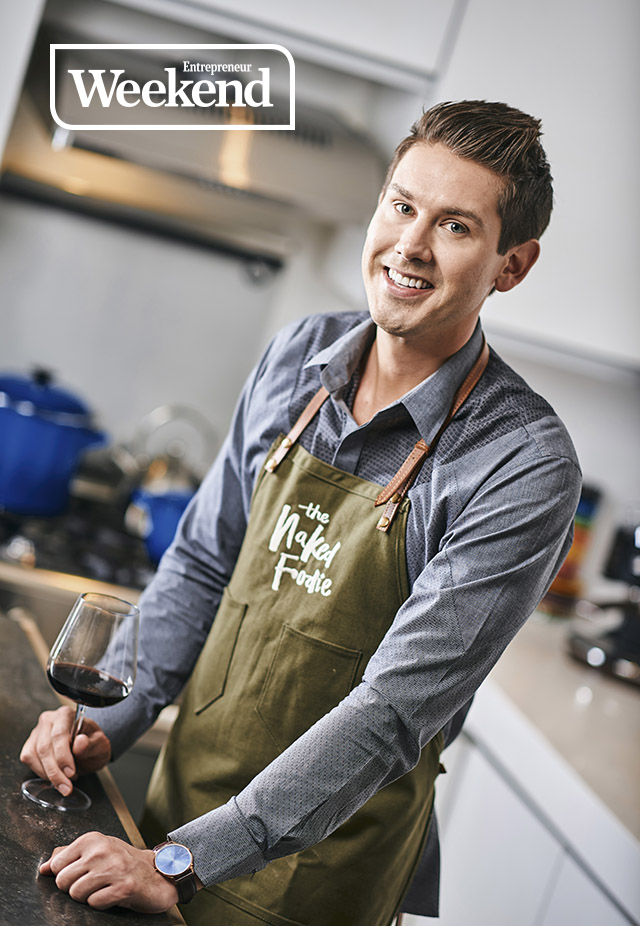 Christian Mark Jacobs is the founder and proprietor of The Naked Patisserie, a bakeshop that specializes in premium and bespoke cakes for weddings and other special occasions
Christian Mark Jacobs cuts a tall, slender figure, with neatly combed hair and broad shoulders, so he may, at first glance, intimidate. But with his cherubic grin, watery blue eyes and a quick-to-laugh disposition, he generates more than enough warmth to put one at ease.
ADVERTISEMENT - CONTINUE READING BELOW
Jacobs is the founder and proprietor of The Naked Patisserie, a bakeshop that specializes in premium and bespoke cakes for weddings and other special occasions. But at the home he shares with husband and A-list fashion designer Francis Libiran, Jacobs maintains complete cleanliness and orderliness—no dough splatters and chocolate stains­, not a single patch of flour on the floor. Still, that doesn't mean that the self-described Naked Foodie isn't a busy man.
On the day of Entrepreneur Philippines' visit  Jacobs and his team from Naked Patisserie had already done five cake tastings with different sets of brides and grooms, gone to the gym and was getting ready to film himself eating balut somewhere in Manila for his over 26,000 Instagram followers. He was also working on the label for his own wine. It's a packed schedule for an American transplanted from the sunny US state of Florida to the even hotter streets of Manila.
ADVERTISEMENT - CONTINUE READING BELOW
From Daytona Beach to Manila   
Jacobs' early years were spent in Daytona Beach, which he calls "spring break heaven," surrounded by the sights and sounds of seafood and the Daytona 500. At age six, the family moved to Atlanta, the first of many more moves to come. His father stayed in his native Florida and so he would go back and forth, birthing perhaps in a young Naked Foodie a spread-out concept of home.
"I have roots in both places," he says.
When it comes to food, his memories growing up are of the comforting variety. "We're very much a meat-and-potatoes kind of culture in the South, so roast beef, meatloaf and macaroni cheese." These seem to have embedded themselves in Christian's foodie subconscious, and helped him shape the types of dishes he cooks today.
"The first thing I ever learned to cook was scrambled eggs," he says, underscoring how his culinary skills were first honed at home. "When I was about six or seven years old, the rule was whatever's on the table, you eat it. And I didn't like that rule very much." So the young and already ambitious Jacobs thought to himself: "I want to learn to cook so I don't have to eat what (mom's) telling me to eat. That's honestly the reason I started cooking."
ADVERTISEMENT - CONTINUE READING BELOW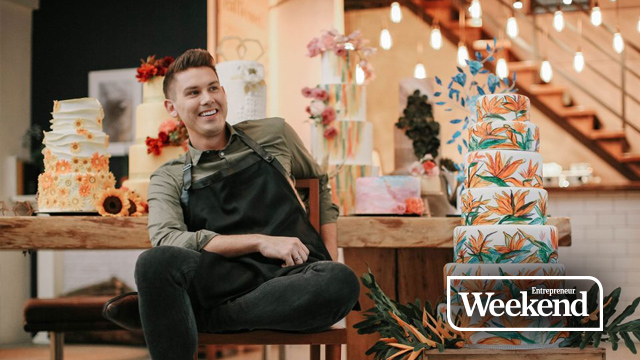 The Naked Patisserie can customize cakes based on the requirements of their clients
By high school, Jacobs was cooking for his family five nights a week. "All my siblings had to do one chore per day and the chores were really boring, like matching socks or vacuuming," he says. "Cooking was one of the chores in my mom's eyes, but to me it wasn't a chore. It was fun." It was so much fun that throughout a college education spent studying counseling psychology, he continued working in restaurants and catering services, which he started doing at the tender age of 14.
ADVERTISEMENT - CONTINUE READING BELOW
A difficult American job market in 2008 sent Jacobs to South Korea where he taught English, all the while maintaining "a very small artisan food group," which sold hummus, aioli dip and other products to other foreign teachers. "I'd make them in my little studio apartment and jar them up," he says.
After South Korea, Jacobs moved to Singapore where he continued his culinary routine by hosting what he called "Wednesday Dinners" with his roommate, best friend and a fourth seat for a new person they would invite every week.
"If you're going to live in a foreign country, you're going to have to assimilate," Jacobs says. It was during these home-cooked dinners that he learned to experiment with different kinds of fusion food, bits and pieces from the cooking classes he took over his travels through places like Thailand, Indonesia and Vietnam.
An adventurous spirit
This keen eclectic approach to food and adventurous spirit are reflected quite clearly in Jacob's approach with The Naked Patisserie.
ADVERTISEMENT - CONTINUE READING BELOW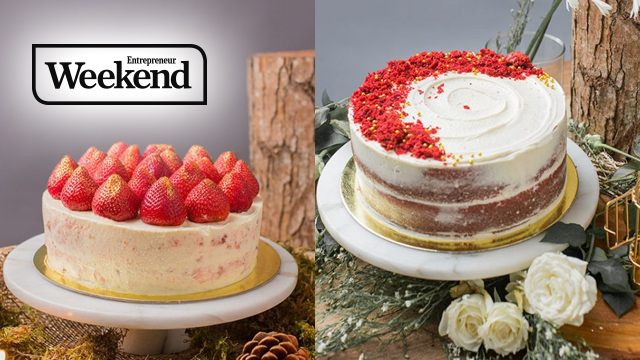 Clients can order cakes from The Naked Patisserie's website and have them delivered right to their doorstep
"The key to having a successful bakery is differentiation," he says. "There has to be something different about your product." Of the five cake-tastings Jacobs had that day, the consensus of the 10 soon-to-be-married individuals was that "they liked the taste of the cake and that was different."
ADVERTISEMENT - CONTINUE READING BELOW
"It all starts with having a creative mind, having an innovative mind to make a product that isn't out there or maybe is out there but doing it a little bit differently," he says. Jacobs himself imbibed this philosophy with the first cake he ever produced—the one for his own wedding in Boracay last year. The cake was flown in pieces and put together on the island.
The Naked Patisserie maintains a commissary in Mandaluyong, from which Jacobs and his team offer "rustic, nature-inspired" cake designs that can be personalized based on the requirements of his clients. The designs of the cakes and their packaging echo the patisseries scattered around Paris—where Jacobs met his future husband Libiran—and reflect recipes found in the cookbooks he thumbed through as a child.
To make the process even more convenient, clients can browse The Naked Patisserie's online store, order with just a click and have their cakes delivered to their doors.
ADVERTISEMENT - CONTINUE READING BELOW
The business is barely a year old but Jacobs has already become a favorite of local celebrities for their cakes and pastry needs. Over the next few months, The Naked Patisserie will work on the wedding cakes of Christian Bautista and Kat Ramnani, Moira Dela Torre and Jason Hernandez, and Kryz Uy and Slater Young, just to name a few.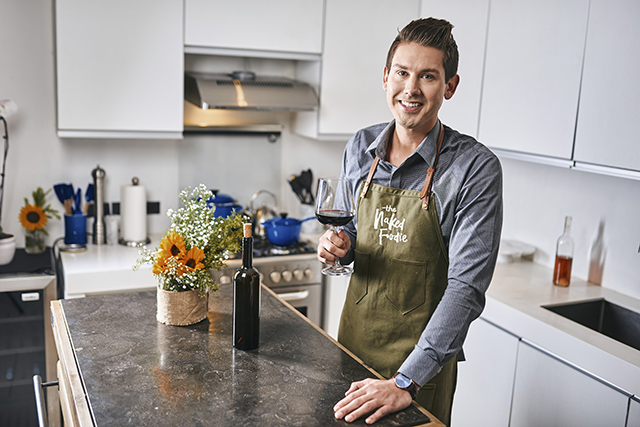 ADVERTISEMENT - CONTINUE READING BELOW
Jacobs says he has plans of opening a brick-and-mortar bakeshop soon as well as a full-service bistro restaurant
As co-owner of Francis Libiran Bridal, the designer's bridal subsidiary, Jacobs has made it his duty to learn about the wedding industry and develop a strategy to grow the business. "What I wanted to do was first go into weddings and events cakes and then sort of expand to the made-to-order cakes which we have. And then once we have a brand name which is firmly established and people have that brand recall, then I'll open up a brick-and-mortar bakeshop."
Jacobs says there are also plans to open his own full-service bistro down the line. These days, he's also busy getting to know his adopted home country, traveling to the provinces and learning about their culinary treasures. Having lived a life where he moved from place to place and profession to profession, what was once an escape for Jacobs in his studio apartment has become his love and daily passion.
ADVERTISEMENT - CONTINUE READING BELOW
*****
Jaymes Shrimski is a 21-year old freelance writer from Cebu who likes to run, hang out with friends, travel, write, and read. He's on the constant lookout for new things to do and see while helping out with his college thesis turned business, Whitecaps Sock Co.—that is, after his dose of coffee