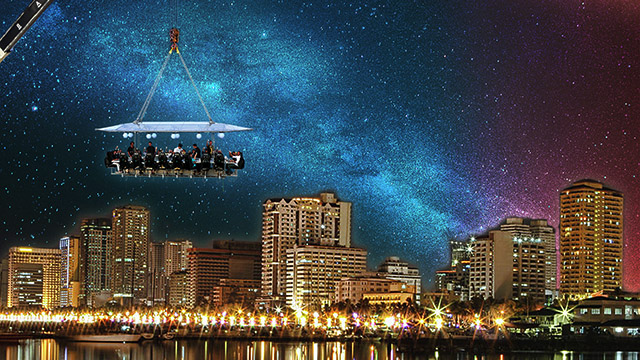 Diners will be suspended 150 feet up in the air while dining on a four-course meal
Music Management International (MMI), the concert and events promotions organization, is diversifying its portfolio of entertainment offerings with an entirely new concept. The company has partnered with a Europe-based company to introduce Dinner in the Sky (DITS) for the first time in the Philippines.
ADVERTISEMENT - CONTINUE READING BELOW
A culinary adventure with roots in Belgium, DITS is exactly as it sounds. Diners are strapped into a chair and hoisted 150 feet up in the air where they can enjoy a lavish feast and amazing views. The "flying table" is located at the Solaire Resort and Casino grounds, so diners will be treated to spectacular sunset views of Manila Bay as well as the skylines of Entertainment City and Makati.
DITS and MMI also partnered with Solaire to prepare the cuisine that diners will get to enjoy during the experience.
During a press conference, officials of MMI and DITS Asia said Manila is the 47th city in the world to get DITS. In Southeast Asia, DITS previously took adventurous diners up in Kuala Lumpur, Malaysia and Bangkok, Thailand.
"We are excited to bring Dinner in the Sky here in the Philippines as Filipinos are known to be adventurous and fun-loving people," said Arvin Randahwa, CEO of DITS Asia. "This experience will be a good boost to the country's variety of culinary outlets, and both locals and tourists alike should not miss this once-in-a-lifetime experience."
ADVERTISEMENT - CONTINUE READING BELOW
"Filipinos are now more receptive to new ideas, eager to try exciting concepts, aggressively chasing experiences they have seen around the globe," said Rhiza Pascua, CEO of MMI. "It's about time that Filipinos experience the best in the world in our own shores, for the Philippines to become a destination for culinary adventures and one-of-a-kind experiences. We deserve it."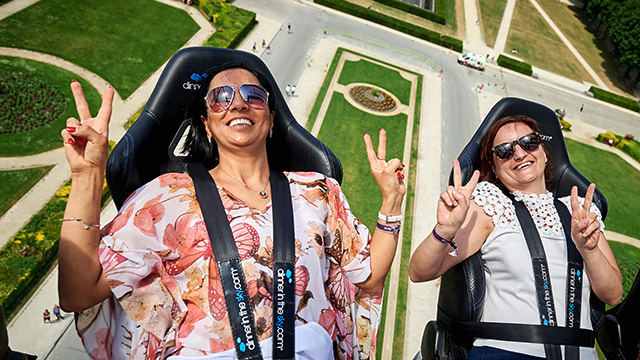 ADVERTISEMENT - CONTINUE READING BELOW
The company behind Dinner in the Sky says safety measures have been certified by German experts 
Diners interested in DITS will have to make a booking through the website. The dinner is priced at Php9,990 and includes one of 22 seats on the DITS Philippines table and a four-course meal. The experience lasts for one hour.
As for safety concerns, Randahwa says that DITS observes international safety measures certified by German experts. Out of 5,000 "flights" in dozens of cities around the world, he says no untoward incident has yet been recorded.
DITS will be in Manila only for two months, or until the end of May, although officials said they are already considering possibly bringing it to other cities in the country. It will welcome its first "passengers" on Wednesday, April 4.
*****
Paul John Caña is the managing editor of Entrepreneur PH