Citimart is a grocery chain established by Carlito Go in 1986 that now has seven stores spread out in Southern Luzon
Growing up, Formosa was Go's playground. He enjoyed stocking the shelves with fresh supplies, checking the inventories but most especially, listening to the stories of the shop's customers.
"I like hearing stories, talking to people. It's one of the reasons why I enjoyed our business," Go shared with Entrepreneur Philippines. This natural curiosity and empathy emanate even in the nooks and crannies of the business he built.
'Extension of Batanguenos' pantry'
Three of the seven CitiMart supermarkets can be found along Padre Burgos Street, one of the major thoroughfares in Batangas City. The whole stretch also gives access to the two shopping centers of the company, Nuciti Mall and Bay City Mall.
According to Geraldine Clemeno, CitiMart's purchasing manager, each branch has its own market to serve, from mothers who frequent the store for their weekly grocery shopping to sari-sari store owners that want to replenish their inventory.
ADVERTISEMENT - CONTINUE READING BELOW
"For Batangueños, Citimart is an extension of their pantry," Clemeno said.
One of the main drivers of the supermarket's growth is its wholesale business, which entails selling to sari-sari store and neighborhood grocery owners, allowing them to buy items at lower than retail price. On top of that privilege, small business owners may also apply for a credit line from the company. It would allow them to pay for their orders in monthly installments, letting them replenish inventories without shelling out huge capital.
"It's a big help for small business owners. We just do our own due diligence to make sure they can pay their bills. That's it," Go explained.
It's a risky business practice but it also built a loyal following for CitiMart. When big businesses started to open up shopping malls in the province like SM City Batangas, most of CitiMart's customers remained loyal. Of course, it helped that the supermarket's prices remained friendly to consumers.
ADVERTISEMENT - CONTINUE READING BELOW
Pricing is one part of the business that, even to this day, Go still manages from time to time. The company also introduced a loyalty program for its customers in the early 2000s, way ahead of the other big supermarket and shopping mall brands.
Despite its lower margins and tough competition, the business thrived.
Today, the Citimart Group of Companies does not only have retail interests, it has businesses in the food industry, too. Felie Go, the company's vice president, and life partner to Aboy, has been managing the family's franchising business since the late 1990s. The Go matriarch already oversees 25 franchised stores of different restaurant brands from Pancake House to Chowking.
"If we merged all of our businesses together, we could easily be in the Top 1000 companies in the country," Go said matter-of-factly.
That Citimart flourished even amid the threat posed by big businesses may be the very reason why its competitors want to buy it out. Go doesn't deny that most, if not all major supermarket companies have already approached him for a potential acquisition sale.
ADVERTISEMENT - CONTINUE READING BELOW
"Well, what would I do if I sell it?" Go asked rhetorically. "Besides, the business is still growing. I'd rather continue working."
The company has also become a family affair. Selling it may mean foregoing a potential of leaving a lasting legacy. All of Go's four children are now part of the firm's board of directors and are actively playing a role in the business.
It also wouldn't hurt to continue especially when the supermarket industry is seen to grow to Php7.08 trillion by 2021 from Php4.53 trillion in 2016, according to international grocery research group IGD. By that time, the country will be the fifth largest grocery retail market in Asia.
Humble tycoon
When the 63-year-old businessman gave Entrepreneur Philippines a tour of the second mall he ever built in Batangas City—the Bay City Mall—almost all of the staff of the shopping center, from the janitor to the supermarket bagger, greeted him as he passed them. And it wasn't even because security guards or the store managers joined him, as what is expected when an executive comes over to the ground operations of his company. They just simply knew who he was.
ADVERTISEMENT - CONTINUE READING BELOW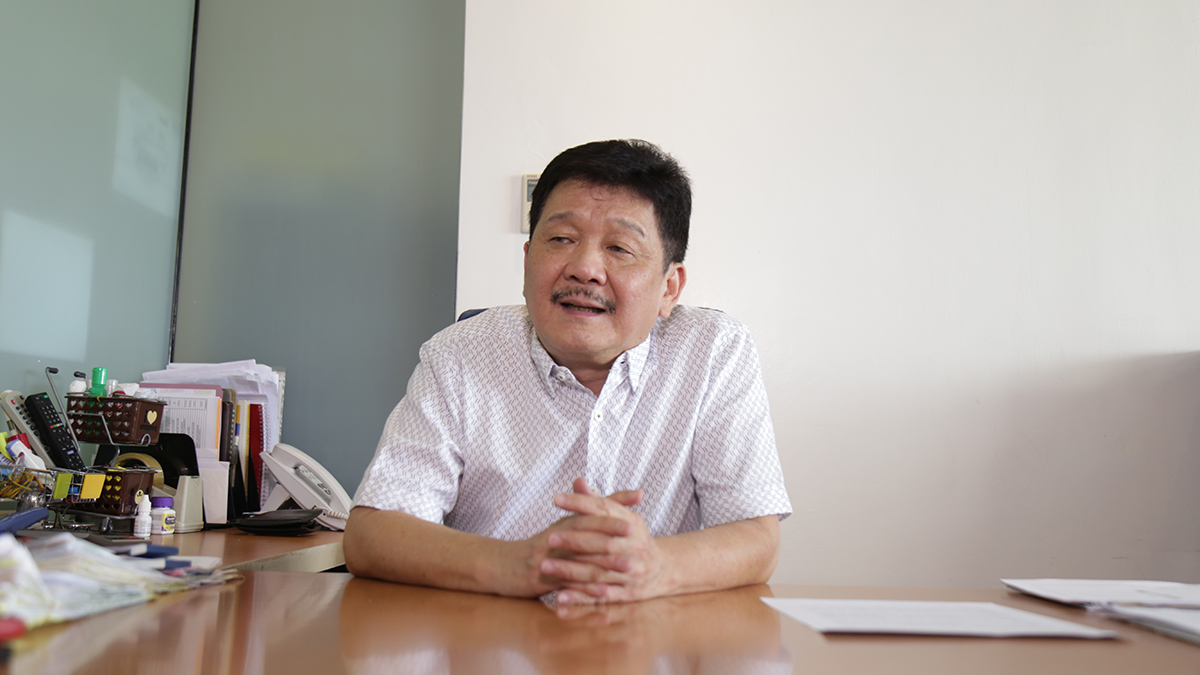 Go opened Citimart after leading his parent's merchandise shop called Formosa Commercial for more than a decade
Apparently, Go would visit all stores so regularly that it was simply impossible not to get to know him. The charismatic executive would start conversations randomly, asking questions about the day's sale or who was that customer who just bought a bulk of liquor. Even the most loyal customers of his supermarkets call him by his nickname, Aboy, and approach him so casually as if he was a next-door neighbor.
ADVERTISEMENT - CONTINUE READING BELOW
"I think it's because his family's business started small so he treated his business, even when it grew so big, like a neighborhood store," Clemeno, who has been with the company for almost two decades now, shared with Entrepreneur Philippines. "He treats everyone the same way."
Indeed, it seems the young child who used to man his parents' shop in the 1960s never left. He just got himself a bigger playground and made sure to pay his good fortune forward.
*****
Elyssa Christine Lopez is a staff writer of Entrepreneur Philippines. Follow her on Twitter @elyssalopz