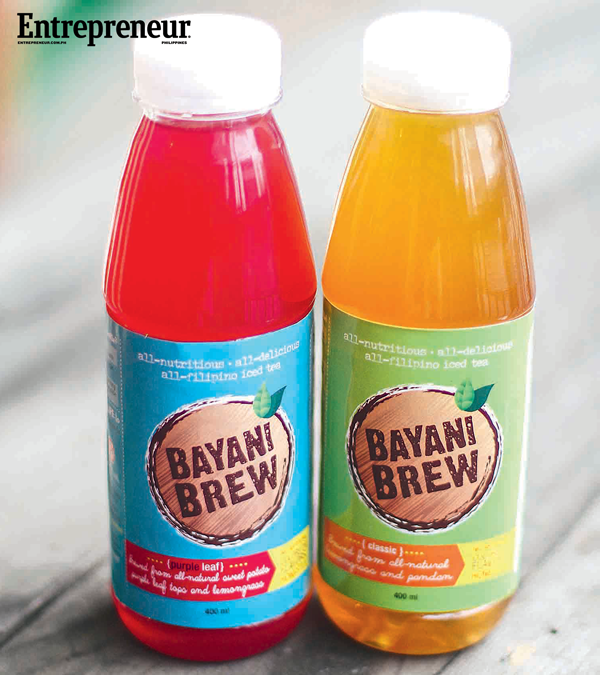 They say the best things are cooked up at home. But, until recently, one did not expect a homemade product to be as ready-for-market as those produced commercially.
These days, home-based entrepreneurs are producing sophisticated-looking goods that sell farther than their immediate neighborhood.
Who would have guessed, for example, that the well-labeled and bottled Bayani Brew sold in Metro Manila stores comes all the way from a humble farm in Bulacan?
ADVERTISEMENT - CONTINUE READING BELOW
The brew was originally introduced by nanays of the Gawad Kalinga (GK) community in Angat, Bulacan as hot drinks shared among volunteers. GK founder Tony Meloto dreamt up a cold version of the drink, and was on the lookout for people willing to develop it.
The drink is made from natural indigenous ingredients—such as lemongrass, pandan and sweet potatoes—which are all grown at the Gawad Kalinga-Enchanted Farm (GK-EF).
"The Brew Crew"—GK advocates Xilca Alvarez-Protacio, Ron Dizon and Shannonraj Khadka (who is also a GK employee)—stepped in, creating the social enterprise Bayani Brew Inc., with GK-EF as partner-community. Production started from home, and the brew was first sold at the local farms.
In 2012, the team brought their product to the city by joining a taste-test contest in Rockwell, Makati. "We had no bottles to sell then, but we didn't want to miss out on the marketing opportunity to introduce these proudly Filipino drinks. Luckily, we won first place in the beverage category," says Protacio.
ADVERTISEMENT - CONTINUE READING BELOW
Partner establishments
What worked for Bayani Brew was their early partnership with Human Nature, which eventually became their main distribution network.
Fast-food chain Chicken Charlie also started to sell Bayani Brew, the first food establishment to support them.
When orders started pouring in, they transferred to an FDA-accredited facility in Bulacan. They're now producing 30,000 units a month. Still, the Protacio family's home and garage continues to double as a storage facility.
Social media selling
The business doesn't pay for advertising but rely on social media and word of mouth to expand their reach.
Bayani Brew is available via City Delivery and through the websites of Taste Central and Human Nature. Protacio adds that FamilyMart expressed its interest to carry Bayani Brew through a personal message over Facebook.
The team also conducts "cold emailing" to find collaborators and resellers. "Bo's Coffee may be one of, say, 10 that graciously replied to a random email to their website, had us drop off a sample, and has been a great supporter ever since," Protacio says.
ADVERTISEMENT - CONTINUE READING BELOW
Physical store: optional
The Brew Crew says a standalone store is not in the cards because this would require even more overhead, which won't make it viable.
What they'd rather do is engage other organic farming communities, which is part of their countryside development mission, and start manufacturing in the southern islands, so shipping to Mindanao and Visayas becomes easier.
*****
This article originally appeared in the July 2014 issue of Entrepreneur Philippines magazine. Minor edits have been done by Entrepreneur.com.ph.