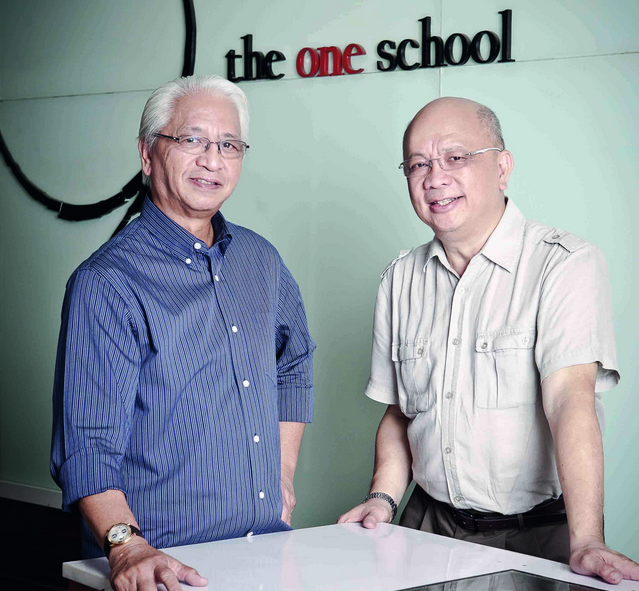 This is the prevailing thinking about a college education: go to university, get a degree, and get a good job that hopefully pays you well and has you set for life.

However, the people who make up The One School would like to change that way of thinking. They believe the Philippines can become one nation of entrepreneurs, one student at a time. What's more, they don't have to drop out of college to become 'treps like the late Steve Jobs and many others.

That's because this unassuming seven-year-old college in Makati City is doing something few other schools in the country do: mentoring a small group of students to become the next generation of Filipino entrepreneurs.

"Our motto is 'college personalized,' which is mentoring in its foundation," says Dr. Andy Ferreria, one of six founders of The One School who also pioneered the Master in Entrepreneurship program at the Asian Institute of Management. 

"Why is it personalized? Because we anchor on the person, and the person's passion toward developing his or her enterprise. That's why we ask them: ano ba passion mo, ano ba gusto mo mangyari sa buhay mo? (What do you want to do in life?)"
ADVERTISEMENT - CONTINUE READING BELOW

Customized system for learning

Sometimes that passion doesn't mesh with how the student is being taught in college. One such student is Lex Ledesma, the serial entrepreneur who came up with the idea for The One School "in high school and college, when I was failing and failing academically despite the fact that I kept excelling at extracurricular stuff."

"My grades in grade school, which wasn't a Filipino school, were excellent though and my grades at Stanford (University in California, USA) were also super good," adds Ledesma, the school's executive director. "So I kept asking myself, how come I couldn't excel in traditional schools? The conclusion I came to was that the system wasn't appropriate for my learning style."

Also, most colleges are so big they are "not responding" to the rapid changes in the worlds of business and technology and thus could not teach entrepreneurship properly, says Dr. Francisco Colayco, the school's chairman and a longtime advocate of entrepreneurship.
ADVERTISEMENT - CONTINUE READING BELOW


Creating opportunities in the modern times

"Today, technology is so fast developing, new environments are cropping up, and the environment of business is no longer the same," says Colayco. "The old schools, by definition, they are big hunks of brick and mortar, and they're not responding to that (development), but the key to entrepreneurship is seeing opportunities and creating opportunities in the current environment, not on previous environments. That's our thrust, and you have to be nimble to do that."

With two modest campuses accredited by the Commission on Higher Education and the Technical Education and Skills Development Authority, a roster of 20 teachers (including Ledesma and Ferreria) and a trimestral school year, The One School is small and nimble enough to help its students set up real working enterprises even before they graduate. The students eventually represent what Ferreria calls the school's "bisyo (vice)/vision" mantra, which is "the student's passion leading to the enterprise."

"What's important at The One School is you can put up an enterprise before you finish school, a sustainable enterprise that is, shall we say, beyond its conceptualization—it's on its takeoff stage, and it is not a group enterprise," Ferreria adds. "It's based on you as a person, because it stands on that person's passion. That's why we are very student-centered and student enterprise-centered." Just like what a mentor should do.
ADVERTISEMENT - CONTINUE READING BELOW
This article was originally published in the July 2012 issue of Entrepreneur magazine. To subscribe, click here. 

Photos by Dairy Darilag
Main photo shows school chairman Dr. Francisco Colayco and co-founder Dr. Andy Ferreria.