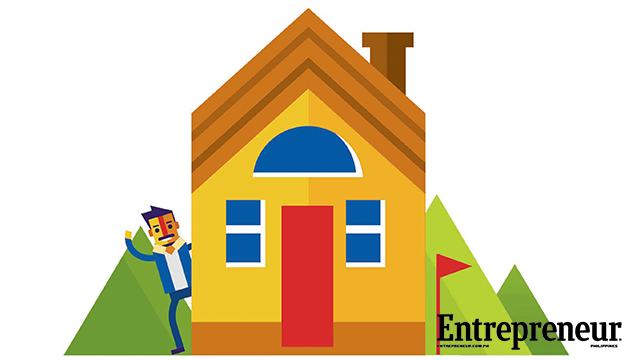 You only need to drive along EDSA to see that the real estate industry is booming. Condominiums are being constructed left and right. When you go to any mall, there's always that well-dressed agent handing out flyers of the latest projects.
"Financing plans have made it relatively easier for people to buy properties," says Aya Laraya, a realtor and financial planner who also founded the financial literacy website Pesos and Sense (pesosandsense.com).
ADVERTISEMENT - CONTINUE READING BELOW
But is real estate really worth your savings?
Sure bet?
Marjorie Celis, who worked for seven years as a publishing executive in Singapore, knew from the get-go that real estate is a good investment. "Even before I started working, house and lot na talaga ang gusto kong pag-ipunan at maging unang investment. Every year kasi, nag-a-appreciate yung presyo ng lote kaya mas maaga ako makabili, mas mura siya." She bought land and watched over the construction of her house from the ground up.
Gina Arnaldo-Milarion, a geodetic engineer who had worked for a Dutch rock installation company for three years, also had her mind set on buying her own home. She opted to buy a condo. "I thought it was a good investment, something tangible worth spending my earnings on," she says.
Related: Why DATEM is cashing in on affordable, 'Lego' type housing 
What makes real estate a good option, especially for OFWs? Aside from being a fixed asset, it addresses the basic need for shelter. "One of the nightmares of our OFWs—and a sad story we often hear—is to finish his contract and return to the Philippines, only to discover that his hard-earned money was, let's just say, spent on 'wants,'" explains registered financial planner Chris Ponce.
ADVERTISEMENT - CONTINUE READING BELOW
Ponce says that real estate can serve as an additional or primary source of income when rented out, as Narissa Mariño did. Mariño, who worked as a land surveyor in Oman and as project manager in Abu Dhabi, opted for a condo unit that she could lease. "I wanted a source of passive income aside from my salary." Aside from being profitable, renting out a property can also serve as a fallback. "Should an OFW's contract end prematurely, the rent income may be used to sustain the family's needs or at least be used for the property's amortization payments," adds Ponce.
Before you buy
Before signing the paperwork, consider the following: First, what is your purpose for buying a property? Understanding your own goals is important, because you need to see how this investment fits in with your overall financial plans.
Next, consider your capacity to pay. Do you have enough funds for the down payment? Can you pay for the mortgage or amortization even after your contract abroad has expired? Can you pay for the maintenance of your condo unit and the mandatory fees that come with it, such as association dues, property tax and insurance? Will you use the developer's in-house financing service, or will you take out a loan from a bank or Pag-IBIG?
ADVERTISEMENT - CONTINUE READING BELOW
Answering these questions will help you decide if a real estate investment makes sense for you. "The value, size, etc., of the property one will choose will depend on current cash level for initial payment, the schedule of future payments, and the amount of current and potential investible income. The term of financing should also be considered since this will have an effect on loan interest rates," says Ponce.
Condo vs. house and lot
Now you can decide: Do you buy a condo unit or a house and lot?
Myra Sigaya Miranda, sales manager for Alveo Land Corp., says there's really no contest between the two. The choice depends on your needs and lifestyle.
Vincent, an OFW, went for a condo unit in Boracay because he's rarely home. "A house wasn't an option, as my line of work will always be outside of the Philippines," he says.
ADVERTISEMENT - CONTINUE READING BELOW
Still, each type of real estate has pros and cons. A house and lot usually has a bigger floor area that can be readily reconfigured according to the homeowner's preferences. When in a strategic location, house and lots prove to be good investments over a long period of time. "[A property] in Ayala Alabang was approximately Php 108 per square meter when it was launched in the '70s. Four decades later, it is at approximately Php 70,000 per square meter," says Miranda.
Related: 3 ways to find the right housing loan for you 
But maintenance is not easy, as you may need to hire help to fix utility problems. On the other hand, condo developments are usually located within or nearby commercial establishments. "We bought the property because it's a low-rise and very close to everything—my husband's office, good schools, my mom's house, malls, supermarkets," says Kat Manalo-Erro, who lived in London for two and a half years, while her husband worked there as an auditor, before they came back to the Philippines.
ADVERTISEMENT - CONTINUE READING BELOW
This proximity to commercial establishments means that the value of the units appreciate over a short period of time. Condos in Bonifacio Global City were at approximately Php 80,000 per square meter 10 years ago, says Miranda. Now, the average unit fetches about double that price. And you don't even have to worry about maintenance and security, as most developers have in-house personnel for these concerns. The downside? Small floor areas, building restrictions and regulations, and monthly association dues.
As with any other investment, real estate has its own risks. "Real estate investment requires large funding and would usually be paid using loan-term payment. So a considerable amount of financial programming is required," says Ponce. There is also "liquidity risk, or the possible difficulty and longer time to convert back [one's investment] to ready money." But with careful planning, investing in real estate can be a good way to grow your finances.
ADVERTISEMENT - CONTINUE READING BELOW
*****
This article originally appeared in the December 2014 – January 2015 issue of Entrepreneur Philippines magazine. Minor edits have been done by Entrepreneur.com.ph