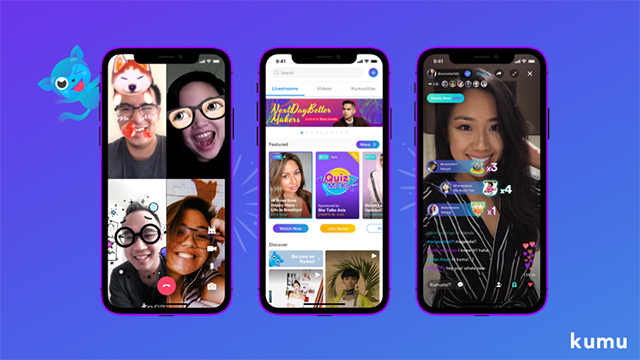 Kumu is a social TV and livestream community app made by Filipinos for Filipinos
Japan has Line. China has WeChat. Vietnam has Zalo. If Roland Ros and his startup partners and co-founders have their way, their platform called Kumu will soon join those companies' ranks and become an indispensable app for Filipinos everywhere.
ADVERTISEMENT - CONTINUE READING BELOW
Launched in June 2018, Kumu bills itself as the world's first-ever social TV and livestream community app. And it's founded by Filipinos.
"Our user-generated livestream network allows any user to be a content creator," Ros says. "Basically, turn on the camera, be yourself and make money."
Kumu, a play on the Tagalog word kumusta (How are you?), is a livestream and content mobile app designed for Filipino communities. Its founders—Ros and Rexy Dorado, Andrew Pineda, his cousin Clare Ros and Angelo Mendez—envision the app to create an in-app digital economy based on Filipino creativity and collaboration.
"The Philippines is the social media capital of the world," Ros says. "Older media companies here haven't engaged millennials the way that Facebook and Game of Thrones have. A lot of the content is mostly Tagalog leaning and Metro Manila focused. Our most engaged users come from overseas Filipinos and Filipinos in big cities outside of Metro Manila like Cebu, Davao, Bacolod and Baguio."
ADVERTISEMENT - CONTINUE READING BELOW
Kumu now hosts interactive "shows" like Quiz Mo Ko, the Brain Game and Pinoys Doing Stuff LIVE that Ros says provide a unique way for Filipino millennials to connect and have fun together. Viewers can opt to "tip" or send digital tokens to their favorite livestreamers, which allows content creators with enough viewers to earn.
"Tipping livestreamers is a brand new business here in the Philippines," Ros says. "In China, this business launched three years ago and is already on track to being bigger than the entire Chinese box office (film) industry."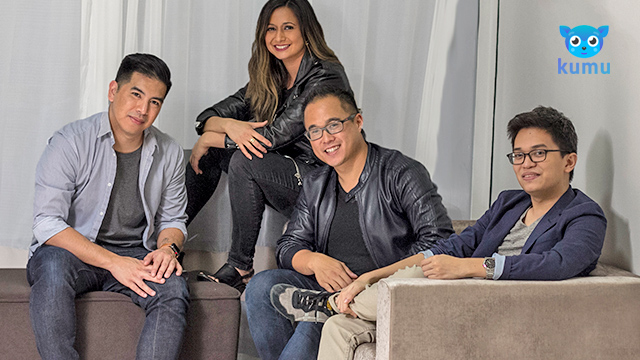 ADVERTISEMENT - CONTINUE READING BELOW
Kumu's founders (from left) Andrew Pineda, Clare Ros, Roland Ros and Rexy Dorado. Not in photo is Angelo Mendez
Kumu has big plans for the livestream gift aspect of the startup's operations, calling it an exciting frontier for content creators in the Philippines. 
"With only 5,000 to 10,000 loyal followers, you can earn income in real time through livestream virtual gifts," Ros says. "You don't need hundreds of thousands of followers and millions of subscribers to earn the kind of money you can on Kumu. The secret is in the livestream connection with your audience. With Instagram you have to pretend your life is perfect. With YouTube you have to produce and edit and spend countless hours trying to get enough subscribers to earn a small check. With Kumu, you can't fake a livestream. It's more authentic and real. We envision this part of the app as a job creation engine for thousands of Filipinos all over the world. In other countries we've seen tricycle drivers, farmers, street vendors and college students make hundreds of thousands of dollars simply by turning on the camera and being themselves."
ADVERTISEMENT - CONTINUE READING BELOW
Although still in its beta testing mode, Kumu now has over 20,000 users in over 55 countries, about 80 percent of whom are millennials. Ros says growth is at 100 percent month-over-month since its launch, with the target at 100,000 users by the end of the year. 
After the startup raises enough funding, Ros says they will push to have one million daily active users by the end of 2019, by which time Kumu hopes to be in the top five social apps on both Google Play and Apple's App Store.
"This is a very important goal for us, since we would be the only Filipino homegrown app in the Top 5," Ros says.
A Challenge to Filipino-Americans
Born in Los Angeles, California to Filipino parents, Ros studied at the University of California, Santa Barbara and worked in the advertising technology business before founding Kumu. He met co-founders Mendez and Pineda in college and Dorado, who is the founder of Kaya Collaborative, through his involvement with humanitarian and community service projects in the Philippines. 
ADVERTISEMENT - CONTINUE READING BELOW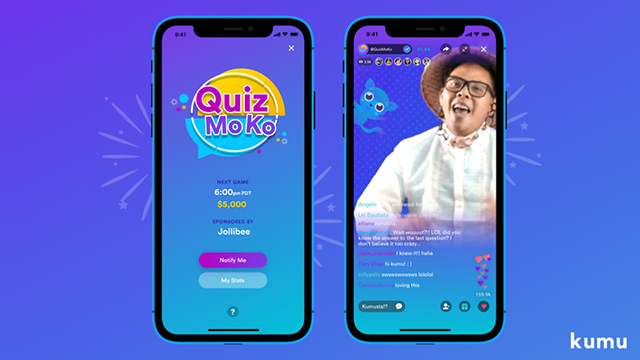 Quiz Mo Ko is an interactive game show streamed on Kumu that is just one of the ways the app helps Pinoys connect and have fun
"During a meeting with (former) Philippine Ambassador Jose Cuisia, he had challenged Filipino-Americans like me to use my business experience in the US, and see how it could be applied to the Philippines," Ros says. "Rexy and I were in the middle of a Kaya Collaborative project at the time, and we reached out to my old classmate Andrew, who was an electrical engineer by training but someone with a lot of technology and product management experience. With his expertise in technology, I called my cousin Clare in New York, who was one of the best creative designers for tech startups in the world. The four of us met with Angelo who showed us around Manila and we quickly recognized a huge need for Kumu."
ADVERTISEMENT - CONTINUE READING BELOW
Ros says the initial funding for Kumu came from friends and family although they also raised their initial fundraising goal quickly with the help of advisors like venture capitalist Scott Hartley and Chinese entrepreneur Tony Wang.
Apart from Hartley and Wang, Kumu's advisory board also includes Filipino-American tech pioneer Diosdado Banatao and Summit Media President Lisa Gokongwei-Cheng. Gokongwei-Cheng is president of Summit Media, which publishes Entrepreneur Philippines.
Ros says he looks up to people like Le Hong Minh, who founded VNG Corporation, a leading internet and social media company in Vietnam, as well as Edgar "Injap" Sia of Mang Inasal and DoubleDragon. 
"That is someone we would love to get advice from some day," he says. "Even better, we would love to do business with him, too."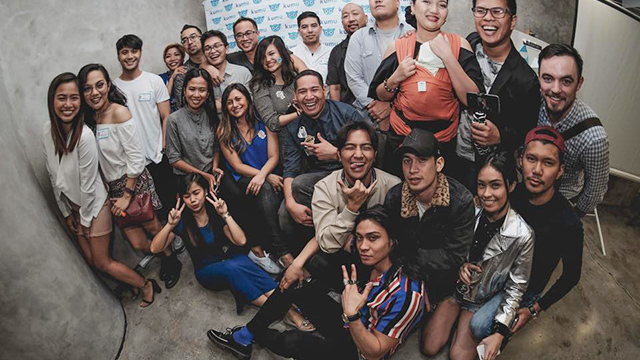 ADVERTISEMENT - CONTINUE READING BELOW
Kumu now has over 20,000 users in over 55 countries
With its headquarters at the AIM-Dado Banatao Incubator at the Asian Institute of Management in Makati, Kumu now counts a full staff of about 20. Ros says they also plan to fill out their front end and product management team based in Bonifacio Global City, which now counts only four people, as well as a content creation studio close to Rockwell in Makati.
The startup is currently finalizing a $1-million seed round and is in discussions with several Southeast Asian focused venture capital firms for its Series A fund-raising. The plan is to eventually become self-sufficient through what Ros calls a "pretty robust advertising pipeline" for their Social TV division, with most of the company's future revenue being generated from taking a very small part of the digital economy they are building through livestream gifts.
"Through livestream gifts and e-commerce we envision Kumu as a key job creation engine for thousands of creative Filipinos around the world," Ros says. "To basically turn on your phone, be yourself and earn a living, will allow any of our users a chance to be a self-sustaining content creator. Through our interactive TV platform, we envision Kumu to be the most relevant and engaging content engine for Filipinos globally. We see ourselves enhancing entertainment, education and communities through our technology."
ADVERTISEMENT - CONTINUE READING BELOW
*****
 Paul John Caña is the managing editor of Entrepreneur PH