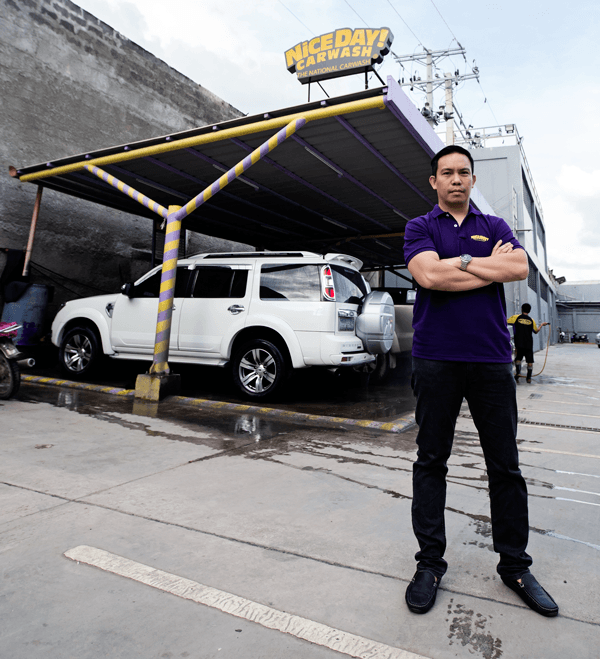 Vince Yap's Nice Day! Carwash now has 31 branches and counting 
As a young boy growing up in Cebu City in the 1980s, Vince Yap used to be assigned the job of cleaning up his parents' cars. Because of his interest in motor vehicles, he enjoyed the task and even dreamed of making a living taking care of them, especially sports cars and luxury brands.
ADVERTISEMENT - CONTINUE READING BELOW
"I used to clean my parents' cars in the garage and told myself that maybe one day, I can clean cars—especially the exotic, super cars— and make money while doing it," he recalls.
"Many years later, that dream became a reality," says Yap, who is now the CEO of Nice Day! Carwash, a car wash chain based in his hometown of Cebu City.
Not many young boys dream of washing cars when they grow up. Yap, 36, demonstrates how seemingly modest aspirations can turn, given the right attitude and passion, into a pioneering and thriving business.
Unlike most of other car wash establishments that have just one or two branches, NiceDay! currently has 31 branches in Cebu province. The company is now building its first branch outside Cebu, in Bacolod, which is set to open in March. It is also eyeing to expand in Mindanao, specifically Davao City.
Founded in 2002 by Leon Quimpo, a long-time entrepreneur, Nice Day! was acquired by Yap only in 2009. By then the car wash shop had 11 branches. It began with just a single branch in Mandaue City, less than 10 kilometers away from Cebu City.
ADVERTISEMENT - CONTINUE READING BELOW
"The original founder's true passion was teaching and training," recalls Yap. "He asked me if I was interested in taking the brand. After a few months of trying it, I made one of the biggest decisions of my life to buy the brand and take over."
Since it began, Nice Day! has had a solid following among high-income customers who bring in all kinds of vehicles, from standard sedans to European sports cars. In fact, it has been named the official car wash and detailing provider of three leading car brands in Cebu for their brand new and serviced vehicles.
Building on Nice Day!'s good reputation, Yap immediately began to work to realize his vision of professionalizing carwashing and improving the quality of service while rapidly expanding the branch network.
"We wanted to raise the carwash service standards higher. Washers should be fully trained, wearing complete uniforms at all times, use only the best carwash products and in an improved washing facility with a comfortable customer lounge," he says.
ADVERTISEMENT - CONTINUE READING BELOW
Most of its branches now come with an air-conditioned lounge, equipped with a television set and WiFi. It has also partnered with some local coffee shops, and even malls, so customers may get the service they need while doing their errands.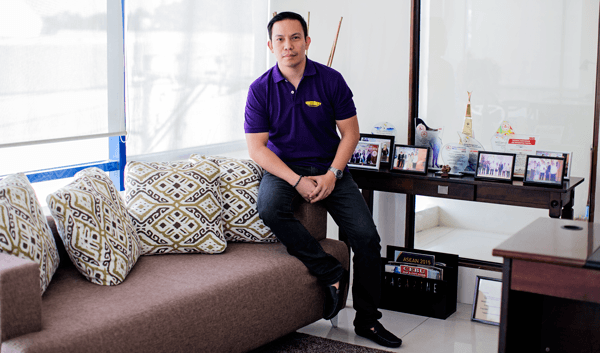 Yap plans to expand the car wash business to Mindanao, specifically in Davao City
ADVERTISEMENT - CONTINUE READING BELOW
Yap also heavily invested in staff training and building a strong company culture. He once brought his staff to a nearby Starbucks Coffee shop just so they can emulate the service the company provides.
In a sign of the market's appreciation for Yap's efforts to upgrade the quality of car washing in Cebu, he was able to triple Nice Day!'s branch network to 30 since he took over in 2009. He built 20 branches in the last seven years, or almost double the number of branches established in the first seven years of the company's existence under the original founder.
Apart from market support for his brand of quality car washing service, Yap's decision to franchise the business helped him rapidly expand Nice Day!'s branch network since 2009.
However, Yap is very selective in handing out franchises, which entails an initial investment of about Php250,000.
The CEO personally meets each franchisee aspirant, assessing if the business is truly their passion, as the service-oriented industry requires owners to be hands-on.
ADVERTISEMENT - CONTINUE READING BELOW
"As much as we want to grow as fast as we can, maintaining quality across all branches is more important to us. We have been very careful in choosing franchisees and in picking locations," Yap says. "We treat each and every franchisee not only as an investor but a partner. A testament to that is about 30 percent of our franchisees operate multiple branches already."
The rapid growth in car ownership throughout the country has been a boom for Yap's business.
Central Visayas, with Cebu City at its core, reported a 26 percent increase in private vehicles between 2011 and 2013, according to Sunstar newspaper.
"Cars are now more affordable for the ordinary Filipino. The growth of the BPO industry also allowed call center agents to purchase brand new or secondhand vehicles," Yap says.
That has attracted a host of new players in the industry. But Yap is unfazed by the prospect of greater competition. "Many competitors have been trying to copy our strategy but it all boils down to consistency and we give our customers that."
ADVERTISEMENT - CONTINUE READING BELOW
*****
Elyssa Christine Lopez is Entrepreneur.com.ph's staff writer. Follow her on Twitter @elyssalopz