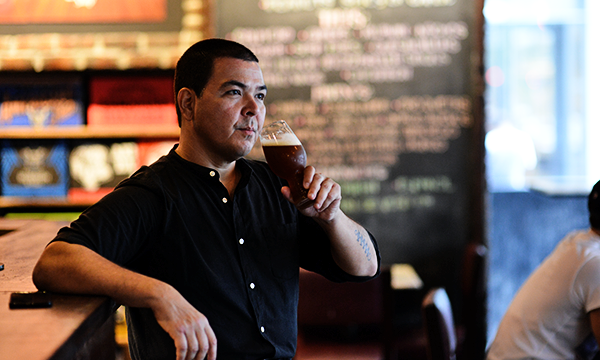 Jim Araneta is an acknowledged pioneer in craft beer distribution in the country 
As founder and president of Global Beer Exchange, a leading craft beer distribution company, Jaime Antonio L. Araneta knows more about beers than almost anybody else in Manila. He can tell you, for instance, what the difference is between craft and macro or mass-produced beer.
ADVERTISEMENT - CONTINUE READING BELOW
"The difference is very obvious," says "Jim", as he is called by friends. "More (breweries) mass produce adjunct lagers, which is not even 0.50 percent of the styles available in the craft beer world." Adjunct lager, he explains, is beer that uses fillers and preservatives in place of key ingredients, which is what most of the beer varieties from the country's top breweries produce.
"The craft world is very diverse, with multitudes of colors (and) aromas because of the ingredients used like fruit, nut, chocolate, coffee, spirit, botanicals, grain, wood and even something as weird as civet poop and saliva," he adds. "There are no boundaries, and (many inconsistencies), which is why it's exciting. Like wine or whisky, there are many stories to tell about craft beer."
His passion for beer led Araneta to let go of his air conditioning repair and maintenance business to found Global Beer Exchange (GBX) in 2008. Before then, beer lovers in the country didn't have a whole lot to choose from outside of the big commercial breweries.
ADVERTISEMENT - CONTINUE READING BELOW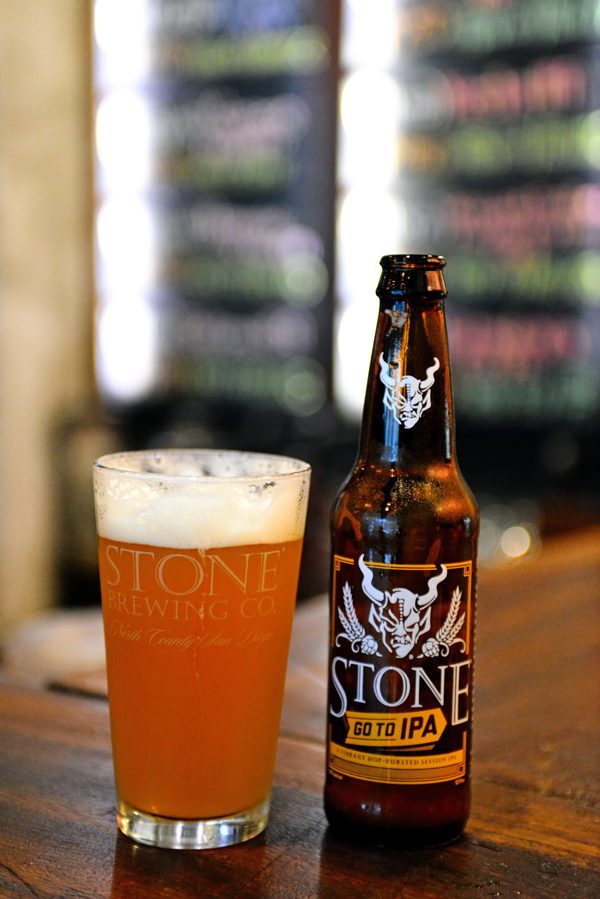 Global Beer Exchange now imports about 75 different craft beers from microbreweries in the US and Japan
Araneta himself grew tired of what was available locally and sought to expose more Filipinos to the beers that he sampled from microbreweries all over the world during his travels. "I just felt that if there was no need in 2008, then I would build the need," he says. "The cliché 'build it and it will come' was my inspiration."
ADVERTISEMENT - CONTINUE READING BELOW
GBX started out by importing beers from California brewery Gordon Biersch and Oregon-based Rogue. It has since expanded its offerings to include beers from Anderson Valley and Stone Brewing, which are both from the US, and Japanese brewery Hitachino Nest.
The company now imports about 75 different craft beers and is the exclusive distributor of local craft breweries Cebruery and Palaweño Brewery. There are plans to add "one or two more solid brands" in the company's portfolio soon.
Araneta has also opened The Bottle Shop as an extension of the importation business. The craft beer bar serves everything in GBX's inventory and now has two branches, one in Paseo De Magallanes in Makati, and the other at Bonifacio Global City in Taguig.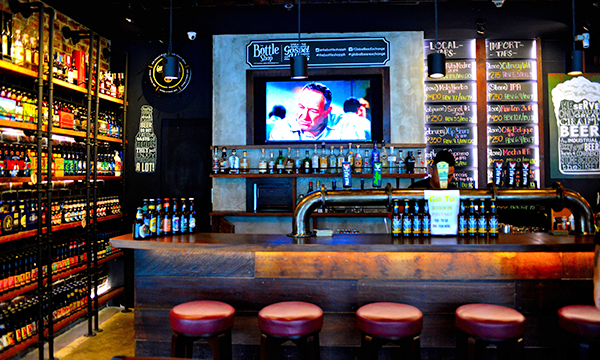 ADVERTISEMENT - CONTINUE READING BELOW
Araneta opened two branches of The Bottle Shop (this one is in Bonifacio Global City) as an extension of the importation business
All the signs point to a steadily increasing appreciation, and, by extension, market for craft beers. In 2015, Global Beer Exchange saw revenue surge by 70 percent to Php8.7 million from Php5.1 million the previous year.  That more than doubled the company's gross income (before administrative and selling expenses) to Php4.4 million from Php2.1 million.
Araneta credits the US and its vibrant craft brewery business for leading the charge towards the growth of craft beer. "They are responsible for creating revolutionary beer styles, not limiting themselves to tradition, and creating styles that are the inspiration of breweries in other new world craft beer markets. They have the largest market penetration rate of 14 percent, this from practically nothing in the early 1990s. The success in the US is a good indicator of how it will turn out for most craft beer markets."
ADVERTISEMENT - CONTINUE READING BELOW
The effect is certainly being felt here. From zero in 2007, four craft beer importers are operating in the country today, and about 40 local craft breweries are now churning out small batches of craft beer. Araneta points to Katipunan and Craftpoint Brewing Co. as pioneers in homegrown microbreweries. Elsewhere in the region, there is a thriving craft beer market (both importers and local brewers) in Singapore, Thailand and Vietnam.
"The market is growing fast but not as fast as the number of breweries opening," Araneta observes. "Cost will always be a factor especially with the mainstream consumer thinking that the status quo is the best beer in the world, plus low-priced faux craft beers entering the market."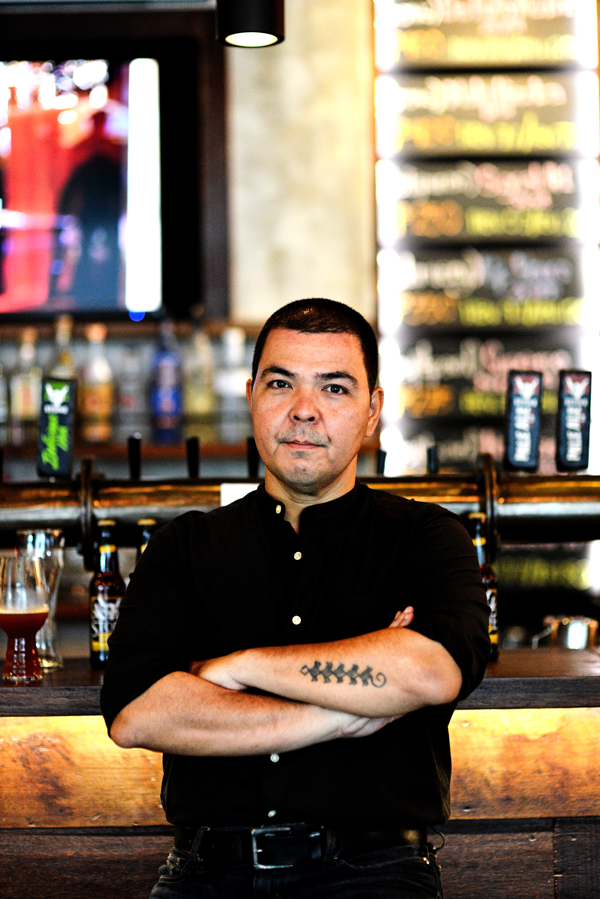 ADVERTISEMENT - CONTINUE READING BELOW
Araneta wants more people in the country to discover and appreciate craft beer
The challenge for Araneta now is to continuously educate a market increasingly becoming more sophisticated about their liquor of choice. Apart from introducing new kinds of beer beyond what the typical Filipino drinker is used to, Araneta and his GBX team are out to completely redefine how and when beer is consumed.
If you ask Araneta, it's high time to reject the notion that beer isn't a refined, elegant drink comparable to wine or whisky. "Beer is a drink that can be both formal and informal," he says. "It is a social liquid that is perfect for a hot sunny day in the beach or to be paired with your favorite dish and served in proper glassware. Yes, just like wine."
Araneta's vision is to create more awareness and cultivate an appreciation for craft beer. He has his work cut out for him as the Philippines is, undoubtedly, San Miguel Beer country, with more than 90 percent of the local beer market covered by the food and beverage giant according to Euromonitor.
ADVERTISEMENT - CONTINUE READING BELOW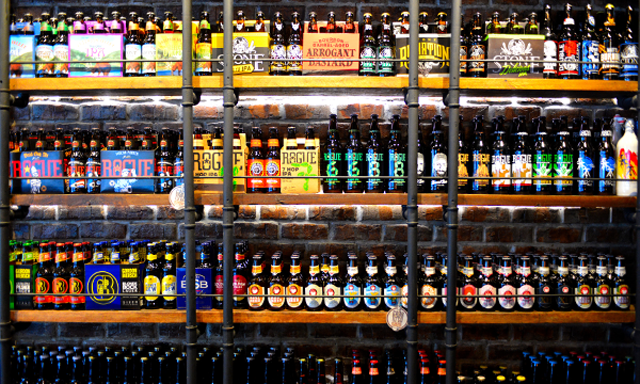 There is a vast selection of craft beers to choose from at The Bottle Shop
Ultimately, though, the craft beer movement emphasizes quality over quantity. Araneta's game plan involves raising the profile not just of craft beer, but beer-drinking in general. "I want Filipinos to taste the best of what our local breweries and the world has to offer. Do not limit yourself because doing that will limit growth. I want to see establishments carrying more extensive craft menus with beer offerings broken down by where they come from in the world and in the Philippines."
ADVERTISEMENT - CONTINUE READING BELOW
*****
Paul John Caña is the managing editor of Entrepreneur PH