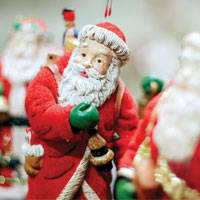 As the old carol says, Christmas comes but once a year. But for Filipino entrepreneurs who manufacture Christmas décor, it's actually a year-round business that needs to be attended to every single day.
Much more hardworking than even the indefatigable Santa Claus, Christmas décor makers and exporters have to think ahead. They are sinking in huge sums of capital for operating expenses, and in the face of the spiraling raw material and fuel oil costs, theirs is a tough balancing act indeed.

 
On top of these woes, the Christmas décor entrepreneurs also have to contend with the emergence of cheaper foreign sourcing alternatives for their products. Indeed, mention of China, Thailand, and Vietnam now encroaching on what used to be their exclusive turf immediately sends shivers down their spine.
For all these challenges, however, the manufacture and export of holiday products remains a profitable business. As Antonio M. del Carmen, director of the Ateneo Center for Continuing Education Entrepreneurship Program, says, there's no such thing as a seasonal business for a seasoned entrepreneur.
ADVERTISEMENT - CONTINUE READING BELOW
"A business enterprise involved in cyclical products or services can normally sustain its viability through the proper allocation of its resources and revenues over the whole-year period," he explains.
He continues: "To use a figure of speech, you have to make hay while the sun shines and save up for the rainy days. This is easier said than done, of course, since everything really depends on the level of profitability of the enterprise during the on-season operations. But if the business makes enough margin to cover overhead expenses during its off-season operations, efficient cash flow management should enable it to sustain its viability."
Here are some of the strategies del Carmen suggests to keep seasonal enterprises viable the whole year through:
1. Conduct off-season sales. Jackets, sweaters, rubber boots, and other raingear are often put on sale during summer months. Conversely, swimwear, summer outfits, and swimming paraphernalia go on sale during the rainy season. The objective of an off-season sale is obviously to generate cash flow even at a minimal or negative profit margin just to cover fixed operating expenses. To move inventory, businesses doing Christmas or other seasonal décor may also hold export-overrun sales or garage sales.
ADVERTISEMENT - CONTINUE READING BELOW