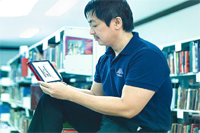 The Vibal Group of Companies' bread and butter in the last 60 years has been printed books. But in the last seven years, the veteran company has donned the hat of a startup in figuring out ways to profit from the growing share of its market looking for digital content.

Spearheaded by Gaspar "Gus" Vibal, its president, the company's first foray into the digital realm was in 2006, with three websites: free digital library Filipiniana.net, Philippine online encyclopedia WikiPilipinas, and citizen-blogger news site Philippine Online Chronicles—all initiated as part of an advocacy to spread the love of reading among Filipinos.

The year 2010—the same year iPad was launched—was a turning point for Vibal. Having converted thousands of Vibal's web-based books to the new ePub format, Gaspar realized the potential for digital reading, with a growing number of tech-savvy students and schools willing to pay to get their hands on digital content.

Vibal eventually created products and services to serve that market—and it did so by thinking like a startup. It meant "transforming its business model and culture," by going beyond just producing textbooks once a year to developing digital products that have a more rapid turnaround, says Gaspar. Vibal looked  at fast-changing consumer preferences and IT advancements in plotting its strategy. R&D investment was at P1 million a month initially in 2011, P3.5 million in 2013, and is seen to reach P11 million in 2014.

No simple task
ADVERTISEMENT - CONTINUE READING BELOW
The company understood that it wasn't as simple as creating digital replicas of print books. "[Consumers] wanted richer reading experiences with integrated video, audio, interactive exercises, and games. They wanted user enhancements, such as the ability to scribble notes, annotate, intuitive navigation… [and] easier downloading of e-books," Gaspar explains.

Vibal entered the tablet and mobile e-reading space in 2011 when it distributed 1,000 "eRizal" Android tablets to public school students in Laguna, in coordination with the local government. It also digitized books for La Salle Greenhills when it piloted digital learning for students.

In 2014, Vibal expects to sell 150,000 e-books across more than 150,000 devices.

In May 2012, Vibal launched Vibe Bookstore, the first e-bookstore in the Philippines. It also introduced Vibe Reader, an app that allows e-books to become more interactive. There's also its mobile learning management app V-Smart.

Technology as growth engine
The result: Vibal now considers technology as an important growth engine, on its way to being the third core pillar of the business with publishing and printing. With services that now include systems integration, systems development, digital security, cloud engineering, and even hardware sales, Vibal's combined technology efforts have seen a surprising rise in revenue—"from a paltry P1 million in 2011, to P5 million in 2012, then a sudden jump to P600 million in 2013," says Gaspar. "In 2014, combined technology revenues are definitely headed north of a billion."

In short, the company has had to virtually reinvent itself from the ground up. "It's very hard to establish a startup company within a 60-year-old enterprise," Gaspar says, citing entrenched hierarchical culture, intensive capital, and lack of ROI metrics as factors for the uphill climb. But "the transformation of an analog business to a digital one is something vital for a large enterprise," he says.

Still, Gaspar is aware that digital revenues do not even reach one percent of the 25 million print textbooks Vibal delivered nationwide in 2013, indicating print is still the firm's lifeblood. But the rise in revenues is a sign the digital foray is paying off. "Rather than let innovation remain the domain of small startups, the best way for an established company to prepare for the future is to simply allow an internal laboratory of innovation to invent it."


Photo: Dix Perez

This article was originally published in the February 2014 issue of Entrepreneur magazine.

Subscribe to the print or digital version of the magazine through following this link.


ADVERTISEMENT - CONTINUE READING BELOW