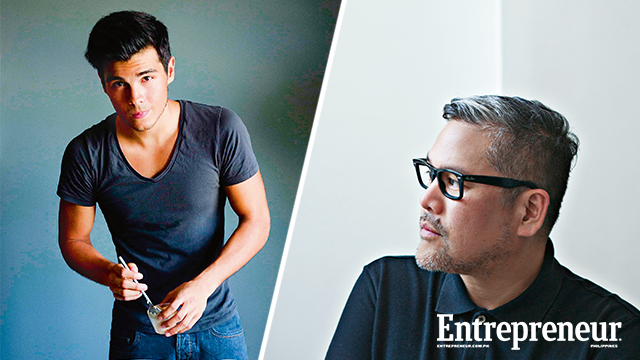 There are personalities who endorse brands, and there are personalities who become brands. Both enjoy celebrity status, use their fame to influence taste and successfully sell products or services. So, what's the difference?
For food blogger Lori Bautista-Baltazar, fashion designer Rajo Laurel and restaurateur Erwan Heussaff, participation in brand creation is what sets them apart from endorsers. While endorsers only lend fame to businesses, these entrepreneurs established their names alongside their own brands and continue to grow with them. They're self-aware, self-made and socially savvy. Fame is just icing on the cake.
ADVERTISEMENT - CONTINUE READING BELOW
You can learn a thing or two from them about what it takes to establish a personal brand.
Own path, own rules
"The thing is, I am my brand," Baltazar says. "Dessert Comes First isn't separate from who or what Lori Baltazar is. I believe it's why malls, establishments and individuals collaborate with me." Dessert Comes First, or DCF, is the food blog Baltazar set up in 2005.
Eight years later, she published the eponymous DCF book, establishing her presence outside the blogosphere. Proving that both DCF and Baltazar herself are recognizable brands, two desserts came out in time for the book launch: The Dessert Comes First cupcake from Cupcakes by Sonja, and the Lori sundae by Bono Gelato.
In hindsight, Baltazar says it mattered that DCF was one of the first blogs that focused on a single subject: food. Her strength, aside from quality content, is authenticity, as she makes it a point to reach out to her readers. "I let them get to know me as someone real and not anonymous," she says, adding, "[The blog] continues to evolve as I do."
ADVERTISEMENT - CONTINUE READING BELOW
Aside from maintaining DCF, Baltazar now shoots for companies, restaurants, and home bakers. She also conducts food writing and baking workshops. Baltazar has also curated Food & Flair, a food and artisan crafts fair at The Podium.
Brands who collaborate with Baltazar fall in with her rules. "I just have exceedingly high level of standards that I stick to. And I never compromise," she says. "Credibility and objectivity are important above all else. I don't accept restaurant invites, I pay for my meals, and I only write about people and products that I'm genuinely crazy about."
Related: Turn that social media following into a business opportunity 
Strong creative drive
Passion is also what drives fashion designer Rajo Laurel. In the past 15 years, Laurel has built a design-driven business empire bearing his name: The Rajo Laurel Group of Companies. His ready-to-wear label, the House of Laurel, has a store in Rockwell's upscale Powerplant Mall. Meanwhile, his most prominent label, Laurel Couture, counts among its patrons big names in business, politics and showbiz, here and abroad.
ADVERTISEMENT - CONTINUE READING BELOW
But back when he started, his first clients were his sister, his classmates and their mothers. The first celebrity to ever wear his brand was Agot Isidro, who heard of Laurel by word of mouth, and asked him to design gowns for a concert. Other celebrity patrons followed.
"I knew I was making my mark when I had a steady stream of clientele. I noticed that my schedule suddenly became consistently booked, from just one or two clients a week," he recalls.
Laurel has always considered himself a brand, but claims his success is due to a series of "happy accidents." Still, he says he "never rested on his laurels," begging indulgence for the pun. "I recognize the need to keep growing, otherwise malalaos ka talaga. I've learned to go with the flow. I think that's what makes people last long," he says.
He ventured into designing cakes for Red Ribbon, a burger for Brothers Burger, and linen for Canadian Bed&Bath. He also co-branded with fashion giant Bench and mattress manufacturer Uratex, among others. Social enterprise Rags2Riches also got its first big break via his designs.
ADVERTISEMENT - CONTINUE READING BELOW
Related: Rags2Riches: Building trust at the grassroots level 
In addition, Laurel cultivates a strong online following, which, like Baltazar, he ascribes to being an early adopter. "[Social media] makes connecting to people easier, but it presents its own set of challenges," he says, admitting it becomes more difficult to separate the person from the brand. That's why he does not take his role as an influencer of taste lightly—he feels duty-bound to "maintain a level of respect from society while pushing the boundaries of design."
"When I design something or I comment on the design, I am not saying I am right and the others are wrong. What I'm saying is that it reflects the things I like, things I have latched on to, and things that formed my concept of beauty," he says.
Incisive point of view
Restaurateur Erwan Heussaff has the same advice for entrepreneurs who want to use social media to support their businesses: Know yourself before you share yourself.
ADVERTISEMENT - CONTINUE READING BELOW
"Internet users are ultimately after original content. So if you want to influence opinion you must first ask: What do I want to share? What kind of content do I want to produce? That should dictate the content direction," he points out.
Related: The no. 1 secret to build your perfect personal brand 
He compares social media to content planning for publications. "Personally, I didn't want to be just another annoying person who rambles online," the food blogger says.
When Heussaff came to the Philippines in 2010, he put up a food blog called The Fat Kid Inside (a reference to the days when he weighed up to 235 pounds). The idea, he confesses, was to make people think of food when they hear his name.
In 2012, Heussaff became part of a regional show called Hot Guys Who Cook. He has since worked with some local media networks for food and lifestyle segments, where he talks about food and losing weight.
ADVERTISEMENT - CONTINUE READING BELOW
Like Baltazar and Laurel, Heussaff says there was no precise plan to become an influencer of taste. "For me, it just snowballed. People heard my story and told my story. Soon, I started getting emails and messages through my blog," he recalls.
He says he also found an opportunity in the limited choices Filipinos had when it came to food and drinks. He is now the co-owner of the gastropubs The Hungry Hound, Niner Ichi Nana and The Red Light; all-day breakfast café Crisp on 28th; seafood restaurant Bait's; and Southeast Asian diner Pink Panda. "I wanted to see how adventurous Filipinos can be when it comes to the palate," he explains.
His group Mothership also has two food establishments in Makati: Sprout, which prepares fresh and organic food for takeout, and Sabao, which celebrates Filipino soup dishes including tinola, nilaga, and sinigang.
Heussaff's restaurants have so far received rave reviews, with many noting how they diversified the local dining scene. But he refuses to attribute the success of his food businesses to his celebrity status.
ADVERTISEMENT - CONTINUE READING BELOW
"Even before I received all this attention, I was already into food," says Heussaff, referring to prior work experience in Siberia. "I'd like to think my restaurants are successful because I know what I'm doing."
Heussaff also echoes Laurel and Baltazar, who are also fully aware of their evolution as a brand.
Pleasant surprises, happy accidents and snowballing may have provided momentum, but these entrepreneurs assumed control. After all, it's their life—and their brand—we're talking about.
*****
This article originally appeared in the May 2015 issue of Entrepreneur Philippines magazine. Minor edits have been done by Entrepreneur.com.ph