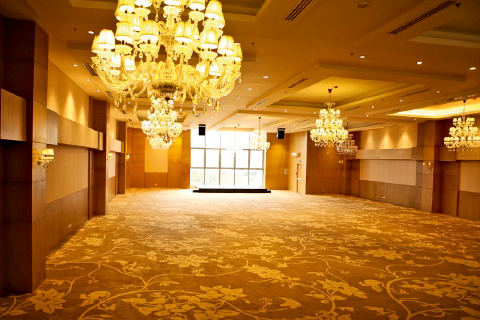 <>No one had thought of situating a ballroom atop a salon, until Rosalinda Francisco, founder and CEO of the Piandré group of salons, decided she wanted space to hold a party for her employees—all 400 of them.
"Her frustration
talaga
were the spaces that weren't so nice," says Francisco's daughter Andrea F. Zulueta, who serves as creative director of Piandré.
And so the fourth floor of their flagship branch on Timog Ave. in Quezon City—built to commemorate their 25th year in 2012—became a ballroom, featuring 12 chandeliers spilling from the 6-meter high ceiling. The building was designed by architect Carmelo Casas, with interiors by Sophia Ojeda- Llige.
"We actually just wanted a space for ourselves, but we thought that we should rent it out too," says Zulueta.
Piandré is "encouraging" patrons to primp at the salon, then have their party upstairs—they've already booked product launches, charging P80,000 for a four-hour event, inclusive of sound equipment and chairs for 250 guests.
There's a church nearby, and they're hoping to get wedding receptions at the venue too, particularly when the penthouse is completed. "It will be like a suite for brides or other guests so that they can relax and beautify all in one place," says Zulueta.
Another venue that you wouldn't have thought would work—until it did—is the De La Salle University-Dasmariñas' College of Tourism and Hospitality Management Building, which has become a popular shooting location for movies (such as
Starting Over Again
) and
telenovelas
(
Got To Believe
), and even commercials (Voice Combo Sandwich).
The building is a replica of Hotel de Oriente, the first hotel in the Philippines built in 1889. It rents out a function hall for 100 guests, a courtyard, and function rooms (at P5,000 per room). Income from the rental is used for the maintenance.
Guests may bring in an outside caterer, but the setup offers the HRM students an opportunity to practice catering and banquet management. Clients who allow the students to serve at their social or business function get a freebie. "This activity serves as one of the laboratory meetings for the course —thus the use of the venue shall be waived," says Jeff Buenviaje, associate dean of the tourism college.
The university's intention is not to be entrepreneurial, but to facilitate the learning process—but it does underline how creativity makes even the unusual very reasonable.
(With text contribution from J.E. Ramos)

Photo courtesy of Piandré

This story was originally published in the July 2014 issue of Entrepreneur magazine. Subscribe to the print or digital version here.

ADVERTISEMENT - CONTINUE READING BELOW