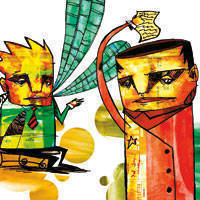 To an employee, resigning from a company could mean simply lying low from a current job or stepping up to a higher career level. To the employer, however, a resignation always presents a unique opportunity to improve the organization.
By conducting exit interviews of resigning personnel, the organization can find out many important things about itself and its various systems and policies that it couldn't obtain otherwise. Indeed, a well-designed and well-executed exit interview could be a very powerful information-finding tool for improving the working conditions inside the company.
Michelle Anne "Mia" Santos, a human resources officer for five years now, says that for exit interviews to be useful and effective, the information gathered from them should not only be filed away in the employee's 201 file but actually evaluated and put to use.
Santos says three types of information may be gathered from an exit interview:
(1) explicit knowledge, which are the written files and other documented information that the resigning employee will be turning over to the organization;
ADVERTISEMENT - CONTINUE READING BELOW
(2) tacit knowledge, or information that the resigning employee needs to explain or elaborate upon; and
(3) insights and sentiments, which will consist of personal information and opinion volunteered by or solicited from the resigning employee.
The first two types of information, explicit knowledge and tacit knowledge, are job-related and will be important in orienting the replacement of the resigning employee. But it is usually the third type, the insights and sentiments of the resigning employee, that will yield valuable ideas and guideposts for improving the organization's systems and policies.
According to Santos, information gathered from exit interviews can usually be classified under two categories: (1) the remedial or preventive category, which covers information on safety issues, health coverage, and vacation and sick leave policies; and (2) the strategic improvement opportunities category, which covers developmental ideas for planning such activities as training and team-building.
Santos emphasizes that information gathered from exit interviews should be carefully evaluated and categorized but kept strictly anonymous. She says that when the focus is on the ideas and not on the sources of the ideas, the impact of exit interview information on process improvement greatly increases.
ADVERTISEMENT - CONTINUE READING BELOW