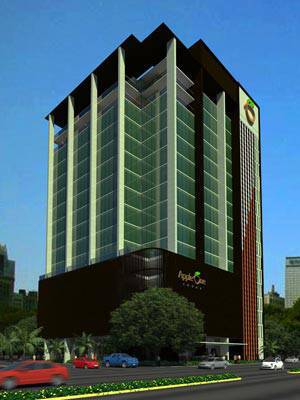 Thinking of exploring the Visayas market? A new mixed-use condominium development is set for completion in Cebu next year called the AppleOne Tower.  The project is located at the heart of the Cebu Business Park, the city\\\'s commercial and financial district.

It is the flagship project of AppleOne Properties Inc., a homegrown company in Cebu with close to 20 years of experience in real estate development.  The building is 16-storeys high and is Philippine Economic Zone Authority (PEZA) accredited.

AppleOne Tower is ideally located right next to the Marriott and is only a few steps away from the Ayala Terraces and the colorful Ayala Center that offers great shopping, varied dining experiences and exciting entertainment.   It is also close to offices of major corporations, financial establishments, banks, telecommunication companies, shopping and entertainment centers.  Public and private transportation are conveniently available.

The 48 office units of AppleOne are designed to meet the basic requirements of global offices – making it ideal for business and knowledge process outsourcing companies.

"We are extremely excited to be involved with this project. It is definitely unique in its mixed-use nature, and is in one of the best locations that can be had in Cebu. With the processes, people, and systems the developer AppleOne Properties, Inc. and CBRE will be providing, locators can be confident of having world class, reliable services. We intend to help keep AppleOne a premier address for many years to come," said Lui Matti, executive director of CBRE's asset services group. CB Richard Ellis (CBRE) Philippines is the property management consultant for the building.
ADVERTISEMENT - CONTINUE READING BELOW
The office floors of AppleOne Tower have maximized office space and are also available for fit-outs as needed.  It has a hotel-like lobby entrance that leads to three high-speed elevators for offices with one of them as the dedicated private elevator for the residential levels.  It also has high capacity telecommunication system which allows flexible voice/data transmission, a fiber optic backbone and 100 percent back-up power provides support to all office operations.