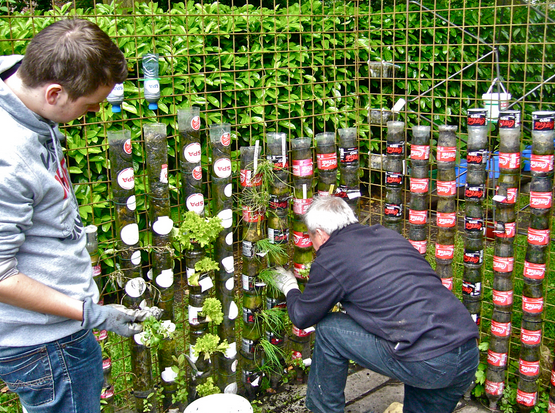 The rising global healthy lifestyle movement has driven entrepreneurs to benefit from the growing demand for natural and nutritious produce amid the challenges of shrinking farmland and mass volume food suppliers.


A creative solution to this conundrum is container farming, or the practice of growing plants, particularly vegetables and herbs, in containers instead of directly planting them on the ground.
ADVERTISEMENT - CONTINUE READING BELOW


Waya Uy, owner of Cebu-based container farming business Green Organics, says, "this is suitable for people who like to have their own vegetable gardens but have limited or no space for one, especially in urban areas."


Vegetables are at their freshest when harvested from container farms, says Uy. Warmed by the sun, washed by the rain, and without pesticides, they can be eaten on the spot, she says, adding that vegetables grown in containers are tastier and have higher anti-oxidant levels.


This practice however requires the right conditions in the environment and the right disposition by the farmer to thrive. Here's a step-by-step guide to setting up your own container farm.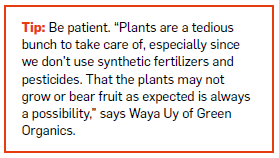 1. Determine whether you are fit for container farming by asking yourself the following questions:
ADVERTISEMENT - CONTINUE READING BELOW

         a. Do you have the time to tend your plants every day?
         b. Can you bear the heat of the sun on your back for several hours a day?
         c. Are you particular with measurements?
         d. Do you easily manage failure?

If your answer to all of these questions is yes, container farming may be for you. Hard work and coping with failure are some of the traits that are required from container farmers.
     2. Evaluate environmental conditions to know if container farming is viable in your area.

         a. Sunshine - Plants need at least six hours of sun a day. And they need it direct from the sun, and not just reflected sunlight or any artificial form of light.
         b. Water - Water helps carry nutrients from the soil to the various parts of the plant, so supply them with enough water.
         c. Soil - Good soil is especially critical to plants in containers as they need to get more from so little. Loamy soil is best as it's considered the healthiest. Loam is airy and looser, making it easier for the plant to expand its roots, yet porous enough to hold and store water without drowning the plants.
         d. Compost - Plants vary in the kind of trace minerals and nutrients they need. The cheapest yet more effective way of keeping your plants healthy is by adding compost to the soil on a regular basis. The egg shells you often see in gardens are not for aesthetics, but a source of calcium for plants.

    
ADVERTISEMENT - CONTINUE READING BELOW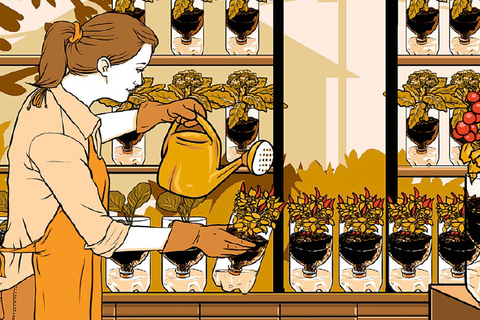 3. Research about the plants you want to grow to learn whether your setup and the environment in your area could sustain them.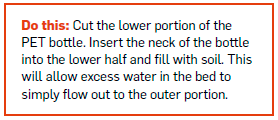 Some crops may be sown directly in the container, while others need to be transplanted to the containers after germinating elsewhere.
ADVERTISEMENT - CONTINUE READING BELOW


Your garden materials and implements will also depend on the crops you're planting and tending. Basically, any container can be used, but the most popular are PET bottles. With PET bottles, you can create an efficient draining system for the plant.
      4. Growing herbs and vegetables through container farming allows you to transfer them from one location to another, in search of the right conditions or to give room for expansion.  


"The rewards that you reap during harvest make up for all the hard work, sweat, and sunburn that you go through," says Uy, "but there are times when the plants do not only fail to bear fruit, but also die in the process." Here are some common problems in container gardening and what you can do to prevent them.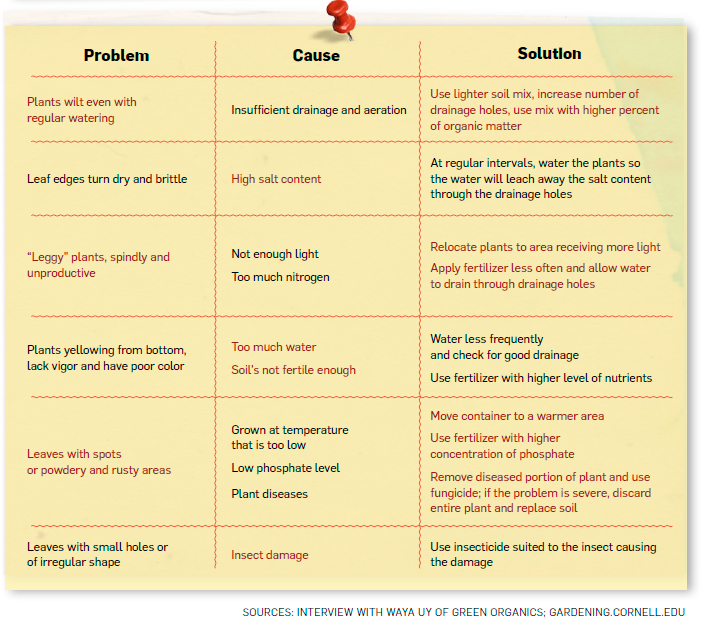 ADVERTISEMENT - CONTINUE READING BELOW
Illustration: Sonny Ramirez

This article was originally published in the July 2013 issue of Entrepreneur magazine. Subscribe to the print or digital version of the magazine through following this link.