A frozen yogurt store with an unusual name, Fling Frozen Yogurt, is tucked neatly in one of Tagaytay City's emerging commercial centers. It all started with a vacation to Boracay that young couple Nowie and Odette Potenciano took in 2005. "We were really looking for reasons to stay," says Odette, "when we came across D'Mall Plaza, which was just getting built. We looked at each other and we started getting ideas."

The idea they hit upon was to bring the ice cream shop experience to Boracay, but of a different kind. "Since people were coming in from the heat and indulging themselves by being on vacation, wouldn't they want a premium ice cream experience to share with their loved ones?" observes Odette.  The couple realized nobody was catering to this demand back then. "We knew in our gut that it was the right place for our idea," says Odette. 

First, however, they had to secure a location at D'Mall. "D'Mall was at a prime location on the beach, and there was a really long line of tenants who had already reserved their spots," recalls Nowie. "We spent a good chunk of our vacation time asking around—who owns what, where should we go for info in case we wanted to build, how do we get in the line?" 
ADVERTISEMENT - CONTINUE READING BELOW


Putting up a new business 
Persistence paid off when just a week later, a D'Mall tenant passed on his lease. The building manager, remembering the pair, called them up to make the offer and gave them a prime place next to other restaurants. They were on a plane the same weekend to sign the contract, and their store, Fruits in Ice Cream Summer Café, was in the womb.

Odette quit her job to take on the task of launching the store, but Nowie stayed in his to ensure one of them received a regular paycheck. The pair spent their days shipping tiles, furnishings, and other materials for the shop in Boracay. 

All in all, the Potencianos estimate they spent P1 million on construction, with funds acquired from Nowie's loan plus some money lent by relatives and friends.

Both Nowie and Odette are now locked into their ice cream business since Nowie joined Penguin Food Treats in 2008 to work in their company full-time. At present, PFT has set up five Fruits in Ice Cream Summer Café locations—including three in Boracay, one in Alabang, and one in Tagaytay. They have also started expanding their offerings with their own version of frozen yogurt (fro-yo). 
ADVERTISEMENT - CONTINUE READING BELOW


Joining the fro-yo bandwagon
Fling Frozen Yogurt was born out of the couple's desire to offer something different and not just ride on a trend. According to Nowie, Fling is different from other fro-yos because they use fresh yogurt compared to powder-based ones used in other shops. Toppings were also carefully selected to be truly healthier options. "We don't offer just Oreos like others do, but we sell only 70% organic cookie creams," says Nowie. 

Fling now shares space with FIC Summer Café in their Tagaytay and D'Mall locations, and has a stand-alone shop at the Marquee Mall in Angeles, Pampanga. While production cost for premium ice cream and frozen yogurt may be higher compared to others, the pair does not plan to offer anything less: "We don't want to short-change people because they're looking for a healthy alternative."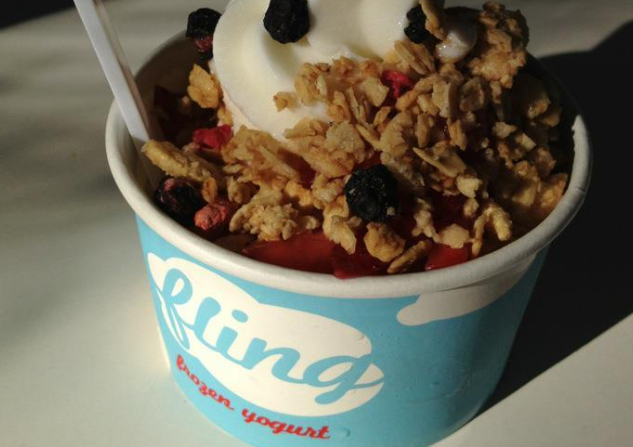 ********
Extra: What's in a name?
When Nowie and Odette Potenciano joined the fro-yo bandwagon, they found out that shops sounded and looked alike.
ADVERTISEMENT - CONTINUE READING BELOW
"We intentionally avoided that direction," says Nowie. That's when they thought of using "fling" as a brand. "Our uniforms say 'Have a Fling With Me.' We say 'Who's On Top?' when referring to toppings, and we call our small and large cup sizes 'Casual (Fling)' and 'All the Way,' respectively. These little things help create a more memorable and enjoyable experience for our customers," adds Nowie. 
Photos by Kai Huang