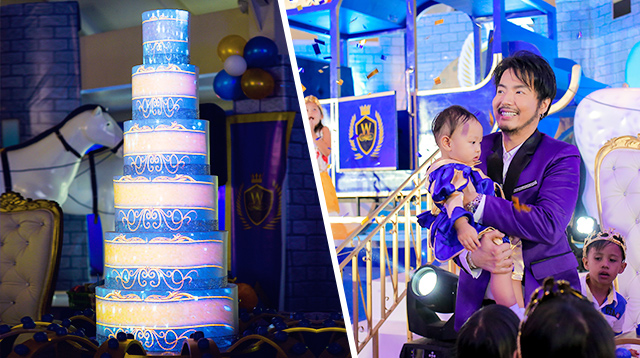 For many Pinoy parents, the "firsts" are always celebrated — whether it's baby's first kick, first word, or his first smile. Some mark the occasion with a cake or a photo with those milestone cards (flat lay, of course). And when he finally gets to his first year of life, it's only a matter of choosing whether you want an intimate or grand party.
ADVERTISEMENT - CONTINUE READING BELOW
In the case of entrepreneur Wilbert Tolentino, 42, who runs a chain of health spas, entertainment centers, and an online web marketing company, he chose the latter. He decided to hold one party for his son's baptism and first birthday, and he felt that a party for royals was apt for the theme; after all, his son's name is Willard King.
And it was quite the party with a million-peso price tag. We found out about it after several people sent us the on-the-day edit video of the celebration. And we wanted to know more.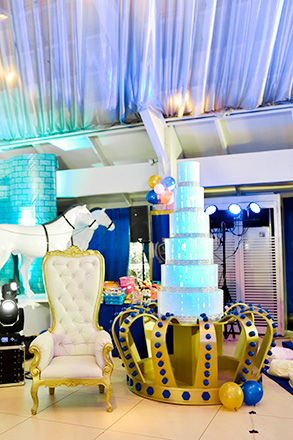 ADVERTISEMENT - CONTINUE READING BELOW
"I wanted an event that was entertaining and will leave guests in awe," Wilbert tells SmartParenting.com.ph through email. "I wanted to make sure that they'll leave the party with great memories."
Wilbert had one month to prepare for the party held last March 2018. He worked with his beauty queen friends, Jamie Castillo of Kisses and Smiles Events and Kristine Caballero-Aplal, an events host, to make the party come to life.
From the start, it was clear that Wilbert was not going to scrimp on the details (or expense). Instead of physical invitations, he put up a website to update the guests about what to expect, complete with a list of sponsors (since it doubled as his son's christening) and a countdown to the actual date of the party.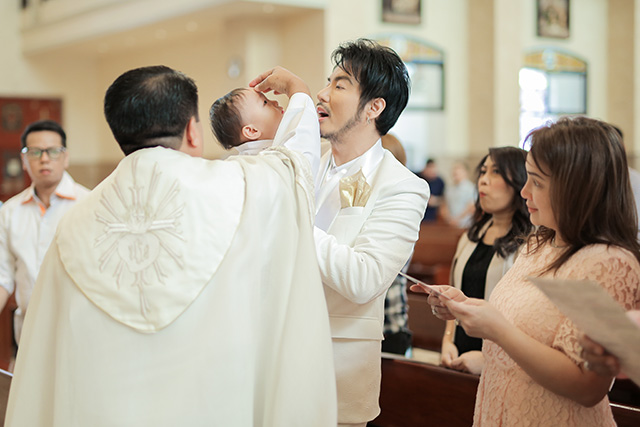 ADVERTISEMENT - CONTINUE READING BELOW
His target was 300 guests, but "the party was too fabulous for us not to be able to share it with more friends," he says in jest. In the end, he had close to 400 guests.
His son Willard was first baptized at Our Lady of Mt. Carmel Shrine, where Wilbert's family, closest friends, and 52 (!) pairs of ninongs and ninangs attended. Then, everyone went to the venue of the party — Oasis Manila.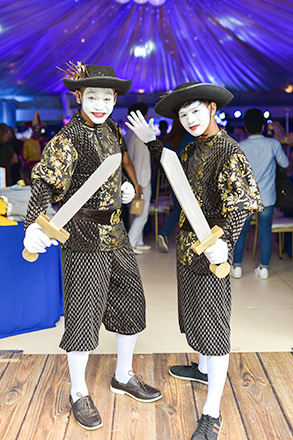 ADVERTISEMENT - CONTINUE READING BELOW
The pavilion where the party was held was set up to look like a castle, complete with pillars and banners. Guests were welcomed by royal jesters — stilt walkers, jugglers, mimes who dressed up as knights, and street magicians.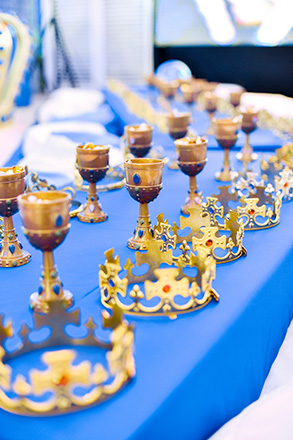 Upon entering, boys were provided with shields, swords, and crowns, while girls were given tutus and tiaras. They were led to a "knight's long table" adorned with more crowns and gold goblets filled with chocolates.
ADVERTISEMENT - CONTINUE READING BELOW
In the middle was an elevated stage with a set of stairs leading to a carriage with life-sized horses. It was one of the highlights of the party—adults and children could sit inside and take photos.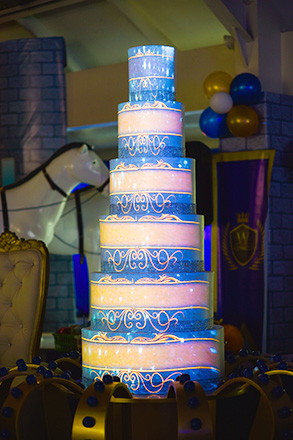 ADVERTISEMENT - CONTINUE READING BELOW
Another highlight was the customized 6-layer cake, which used projection mapping technology to project videos and images of Willard and his family on the surface of the cake. According to the supplier, Cake Mapping Philippines, they can project the visuals on any cake, but usually, only one layer is edible.
ADVERTISEMENT - CONTINUE READING BELOW
Kids were entertained with a song and dance number (all the guests were encouraged to join!), balloon twisting, magicians, and games. The adults also participated in a number of games and took home cash prizes amounting to Php160,000.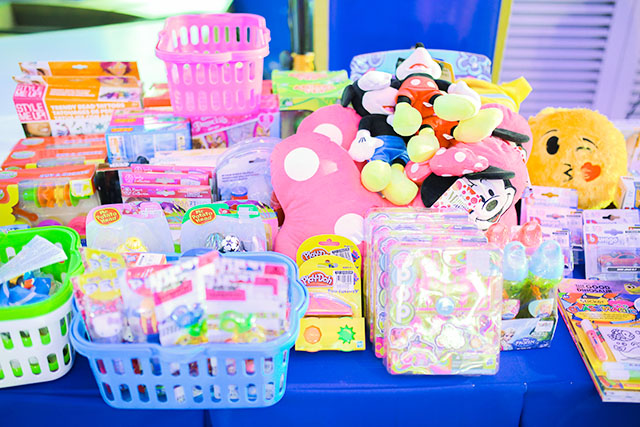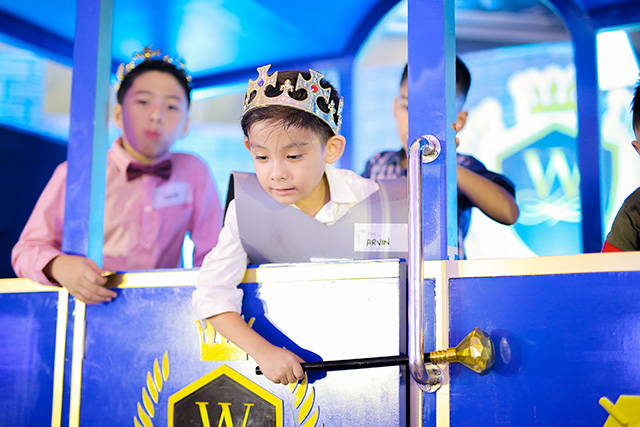 ADVERTISEMENT - CONTINUE READING BELOW
Instead of a photo booth, Wilbert hired a roving photographer and also had a separate photographer and videographer for the same-day-edit video that was shown at the party.


Willard's celebration was obviously on a grand scale — definitely not your typical first birthday party. Wilbert admits it costs a whopping Php2 million to execute. But he doesn't have any regrets, knowing that all the guests went home happy.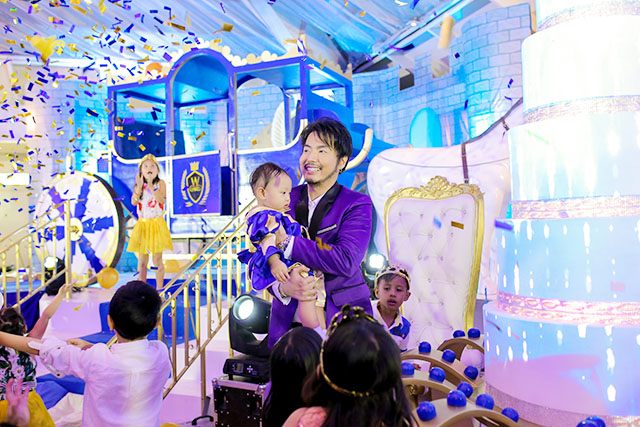 ADVERTISEMENT - CONTINUE READING BELOW
As for Willard, he was amazed by all the spectacle, as the photos from the party proved. And though he probably wouldn't remember exactly what happened, his dad made sure everything was well-documented so his son can reminisce when he's older.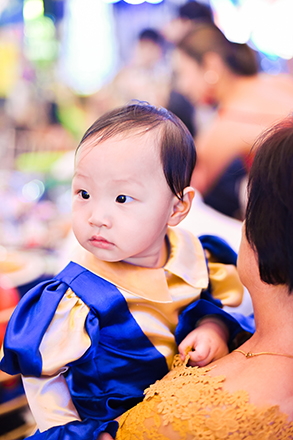 "I just want him to know that I will do everything to fill his life with so much happiness and love. He is loved by many," Wilbert says. "Because of him I am trying to be the best version of myself and I hope he grows up as a fine man who is willing to help and share his blessing always to others."
ADVERTISEMENT - CONTINUE READING BELOW


Finally, we couldn't help but ask: Is he planning to throw a similar party in the coming years? "Thinking to throw another big party when he turns 5," Wilbert says.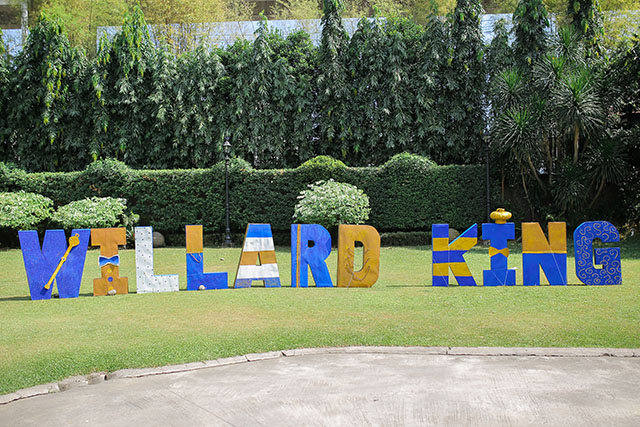 Curious about the details? Here's the party directory:
(Click on the name of the party supplier to go to its website or Instagram/Facebook page)

 
ADVERTISEMENT - CONTINUE READING BELOW
STYLING:
Kisses and Smiles Events
Call 0917-8995843, 0917-8940270 or 0917-5083988
Email: kissesandsmilesevents@yahoo.com


Red Dot Design, Inc.
0917-6215058


Nelle Lovedario (for Letter Standees) 
0999-9621269


Handicrafts, atbp. 
0917-5899488
Email: order@handicraftsatbp.com

 
VENUE: 
Oasis Manila 
169 Aurora Boulevard, New Manila, Quezon City
Call (02) 721-4585
FOOD:
 K. By Cunanan Catering 
103 Green Meadows Ave., Quezon City
Call (02) 952-5129
Email: emailus@kbycunanancatering.com
ADVERTISEMENT - CONTINUE READING BELOW
Ysabel's Confectionery 
#76 Panorama St., Marikina City
Call 0917-5528249
Email: ysabels.confectionery@yahoo.com

Periwinkle & Lace 
Call 0917-3052143
Email: periwinkleandlace@gmail.com
Lollipuffs 
Call 0917-9840048
Email: lollipuffscottoncandy@gmail.com
CAKE 
Cake Mapping Philippines 
402 Philmarts Studio, 4F Don Antonio Sports Center, Quezon City
Call 0998-8621164
Email: cakemappingphilippines@yahoo.com
PHOTOGRAPHER 
Happy Folks Studio 
Call 0917-8333980
Email: ask.happyfolksstudio@gmail.com

 
VIDEOGRAPHER
Gelbert Aplal
0915-1872164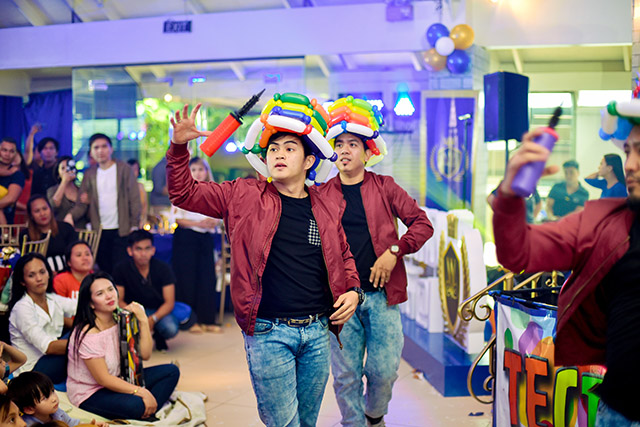 ADVERTISEMENT - CONTINUE READING BELOW
ENTERTAINMENT:
One Groove
Call 0917-5975431

 
Hosts
Kring Dipasupil of One Groove


Erney Arcilla
Call 0917-9798889
Tectonix  (Dancing Balloon Show)
Call 0917-5023948


Photoman 
Call 355-2739, 0917-8191414 or 0998-9940414
Email: support@photoman.ph
D'Soundz 
Call 0917-8443481
Email: dsoundzrentals@yahoo.com

Confetti Effects Inc. 
2550 New Panaderos St., Sta. Ana, Manila
Call (02) 563-6638 or (02) 563-7207
Stiltwalkers Philippines 
Call 0921-5194405 or 0916-6561516
Email: mikestilt08@gmail.com

 
Magicians
Marvin Arquero 
Call 0909-9968409 or 0919-5885820
Jamesdean Narvaez 
Call 0927-5575005
This story was updated on May 25, 2018 at 11:16 a.m.
*****
This story originally appeared on Smartparenting.com.ph.
* Minor edits have been made by the Entrepreneur.com.ph editors.