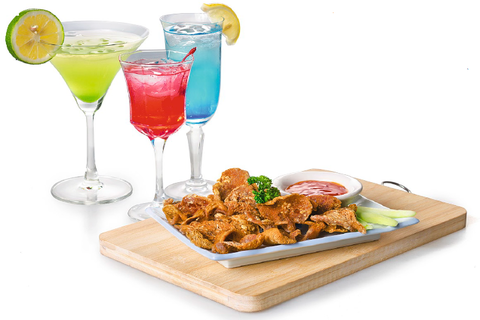 The test of the pudding, they say, is in the eating. In December last year, these two food carts won our very first Next Big Food Entrepreneur Challenge. Ping Gu Mushroom Fries and Mocktail Madness have not only satisfied people's palates, but have also started to carve a niche for themselves amid tight competition. Here's why these two upstarts could very well be on the way to long-term business success.

ADVERTISEMENT - CONTINUE READING BELOW
Mocktail Madness
JR INCIONG
JR Inciong, the brains behind Mocktail Madness and still a college senior, has a thing for seeking opportunity. Even while on vacation in Hong Kong a few years ago, he found himself searching for something to do. "I took a leave from school for a year and a half to be with my family there. I thought I should be productive, so I got myself a job as a bartender for the Café Deco Group," he shares. "I had zero knowledge in bartending. It took me two weeks to fully understand the concept and six weeks to completely master the tasks, mixes, and movements required. I spent nine months on rotation for the company's bars."
His experience was so enjoyable that when required by his university course, Entrepreneurship at UA&P, to come up with a business, JR knew that one based on beverages would be in the mix. "The latest craze in the country was unique beverages: Jamba Juice, Share Tea, Happy Lemon," he says, observing that their common success factor were the sweet, cold, alcohol-free drinks people could enjoy any time of the day.

Equipped with an idea and the know-how to bring it to fruition, JR invited some friends over and mixed a few drinks for them. "I received nothing but positive reactions," he recalls, and immediately got to work setting up a stall in popular food market Midnight Mercato in Taguig City.
JR enlisted an architect friend to help with constructing a mobile bar, basing it on his own bartending experience, and another friend to help with the business logo.
The first-time entrepreneur crafted the menu himself, using only real fruit juices and fresh purées, as well as non-alcoholic liquor extracts to give the mock cocktails the same taste as their alcoholic counterparts, but without the buzz. "I made sure the mixes shared common ingredients for better standardization and transport of equipment and supplies," he says.
Mocktail's current menu includes Standard Cocktails (two ingredients for P75), Classic Cocktails (three or more ingredients for P85), and Premium Cocktails (blended, muddled, or slushed for P95). Each category has seven concoctions each, ranging from the familiar Mojito and Sangria to the more experimental Banana Snowman and Nothing, a Hong Kong signature cocktail.
"The name Mocktail Madness was actually something I learned from school. We were taught that putting the primary product into your business name really helps," Inciong says. True enough, Mocktail Madness was a hit from its first month at Midnight Mercato. "Customers kept coming back and even telling me I should price higher because of the drink's quality. Many also commented on the colorful layering of the drinks, taking pictures to post online. It was at that point I realized my drinks could actually compete against others."
Aside from the drink itself, JR was able to cover other bases as well. A unique concept, especially within the competitive food and bazaar circuit, helped to attract initial interest. "Juice, shake, and milk tea stalls can be found anywhere, but mock cocktails are truly a rarity," he points out.
"It also helps that I am connected with my target market of high school students, college students, and yuppies belonging to the A and upper B class. These people are upwardly mobile, value uniqueness and rarity, and are willing to spend a larger percentage of disposable income on non-essentials. Because I belong to this group, I had the friends and connections to help promote the brand name."
JR has also been adept at accommodating his market's needs, placing images on the bar to better display his drinks to the public, and offering two-drink promotions when he noticed people usually enjoy their drinks in pairs.
"As for the prize money (P100,000), I will keep half for myself and save the other half for future business expansion. I am planning to save about three months of income, and then open in other Mercato-managed markets," he foresees. "At least two more bazaars in Manila this year, and maybe a real lounge or café in a mall in the next years."
PING GU Mushroom Fries
PING AND JEWEL JOVEN
"We wanted to be trailblazers," reveal Robert "Ping" Joven and wife Jewel. This is something the couple attempted in all aspects when they put up their oyster mushroom food cart Ping Gu.
For their first foray into food, after closing their bamboo business, they also had a list of personal guidelines: the food had to be something they personally enjoy eating, as well as something they would feel comfortable feeding their own kids.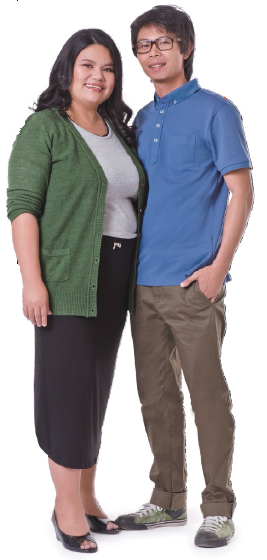 "My sister is vegetarian and we always loved her fried oyster mushrooms, but the taste was not consistent," shares Ping. "Consistency was our foremost discipline when we previously designed bamboo products."
Raring to start the food cart business, the couple sold their van to raise funds and quickly dove into the new venture. Ping hand-built their cart from recycled and natural materials, while Jewel researched all about oyster mushrooms, canola oil, breading, and spices. For two weeks straight, the couple visited mushroom suppliers and farms, finally selecting only those that offered organic varieties, and perfected the taste and cooking technique of their dish.
"We also tested different dips to know which would best complement the mushrooms," shares Ping. "We eventually referred to our product as mushroom fries."
Coming up with a business name came next. "Ping is coincidentally my nickname, and Gu is Chinese for oyster mushrooms. It is not common, has an international feel, and is easy to recall," says Ping.
They applied and brought taste samples to three food bazaars—Midnight Mercato, Distrito, and Mezza Norte—and were accepted to all three. "But we realized we didn't have enough money to pay the rent and buy ingredients," recalls Ping. "We had to shelve the idea for a while, and my wife and I started organizing and supplying parties for our family's survival."
Only when they applied for (and won) The Next Big Food Entrepreneur Challenge did their business finally get off the ground. "Jewel only read about the contest on the last day of submission," says Ping. "With only a few pesos in our pockets and hours before the deadline, we bought ingredients, prepared our mushroom fries, and made a literal photo finish—we were the last to submit our food sample."
It's been a few months since the couple has been in Midnight Mercato, finally able to give people the "Ping Gu Experience." This is something they describe as a breath of fresh air, with its pioneering concept, distinct appearance, and nutritious vegetarian treat.
"Not only is it healthy, as mushrooms don't lose their nutritional value when fried, Ping Gu mushroom fries can be full meals on their own, yet not too heavy when eaten with other food," says Ping, who keeps the options at an affordable P79 for 100 grams, P149 for 200 grams, and P219 for 300 grams.
Recalling the contest experience, he acknowledges that "everyone has their own taste preference. If the winner were to be judged based on yumminess alone, each finalist would be sharing the trophy with us. We feel though that we have the total package: unique concept, consistency of brand message, and potential for growth."
Indeed, the couple is firm in their concept and message. "Our look is our trademark," says Ping. "But we plan to use our prize money towards procuring sturdier equipment, purchasing inventory, and in building another cart for other selling locations. We plan to expand to three more stalls this year in Mercato-managed markets and the Legaspi Sunday Market, and eventually build our own modest mushroom farm to manage the cost of the raw materials and secure the supply."
Photos: Kai Huang

This story was originally published in the March 2013 issue of Entrepreneur magazine.