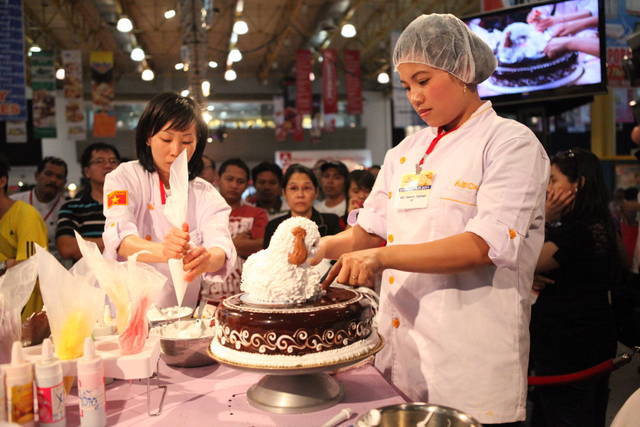 The food business is a popular choice for those wanting to earn extra money because it is cheaper to start and there is always a ready market. If you are interested in opening your own food startup, check out the Bakery Fair 2013: the 7th International Exhibition on Bakery, Confectionery and Foodservice Equipment & Supplies.
The fair will start on February 21, Thursday to February 23, Saturday at the World Trade Center in Pasay City. The show is designed to provide a forum where suppliers, small- and large-scale bakers, and buyers of baked goods as well as baking implements and equipment can all meet on common ground and share information, ideas and products. It has seen an unprecedented growth, with more than 400 booths now showcasing and taking up 10,000 square meters of space of the World Trade Center.
Exhibitors to look out for this year include Lowtemp Corporation, New Honglee Tinsmith Corp.,
Bakels Philippines, Inc., San Miguel Mills, Inc. / Magnolia Foodservice, Inc., Philippine Foodservice Equipment & Supplies Corp., Sonlie International, Philippine Foremost Milling Corporation, World Class Concepts Corp., Sinmag Bakery Machine Corp., Middleby Worldwide, Besterm International Corp., Handyware Philippines, Inc., and Cosmic Chemical Corporation.
ADVERTISEMENT - CONTINUE READING BELOW
Aside from the daily actual demonstrations and seminars on stage, a key point of the fair would be the numerous contests. There are two categories under the Bakers Cup Philippines 2013 Bread-Making Competition, where amateur and professional bakers aged 13 and above can compete for the top prize. The first category is the Original Bread Competition, showcasing various baguettes, rolls, sandwich loaves and a free-style bread showpiece made with California Raisins. And in collaboration with Angel Yeast, the second category is the newly launched Steamed Bun Competition, where fans of siopao and mantou will compete and showcase the versatility of steamed buns, as well as express their creativity in producing various artistic pieces using steamed bread.
Bakery Fair 2013 will be open from 10 a.m to to 7 p.m. For free admission, check their website www.bakeryfair.org/2013 or Facebook page at www.facebook.com/BakeryFairPhilippines. The fair\\\'s official Twitter account is at www.twitter.com/bakeryfairPH.