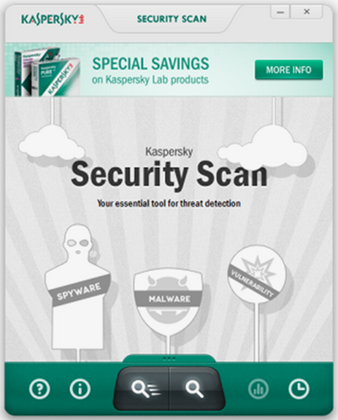 Even with more dangerous forms of malware created by cybercriminals every day, many computer users are still not alarmed enough to secure and protect the data stored in their personal computers.


This prompted Kaspersky Lab, a leading developer of secure content and threat management solutions, to come up with a free scanning tool called Kaspersky Security Scan.


ADVERTISEMENT - CONTINUE READING BELOW
Kaspersky Security Scan is a new utility designed to check a computer's security status, which is ideal for users who have no software security solution installed in their PCs. The new product provides a unique scanning feature that allows users to check if their currently installed security software is able to detect all malware. Kaspersky Security Scan is now available for free download at Kaspersky Lab's official website.


"The personal computer is still the primary communications device for the majority of consumers. The alarming fact is that millions of PCs around the world have inferior protection installed or use no security software at all," said Nikolay Grebennikov, Kaspersky Lab chief technology officer.


"What we offer is a solution that checks the security status of users\\\' PCs, informs them of any threats discovered and helps find the proper real-time protection solution from Kaspersky Lab," he added.


"We encourage PC users in Southeast Asia, particularly in the Philippines, to protect their valuable data stored in their PCs by using this new, free scanning tool from Kaspersky Lab," said Jimmy Fong, Channel Sales Director for Kaspersky Lab Southeast Asia. "The Kaspersky Security Scan will be very helpful for a lot of Filipino users who doesn't have security software installed in their PCs. This will help to give them an idea of the number of vulnerabilities in their computer that are exposed to serious online threats," he said.


ADVERTISEMENT - CONTINUE READING BELOW
A consumer survey conducted by Harris Interactive last March shows that a majority of owners do not use any security software to protect their digital assets. At the same time, 60 percent of surveyed users are worried about the confidentiality of their most critical financial data, and 80 percent had directly faced a security threat at least once.