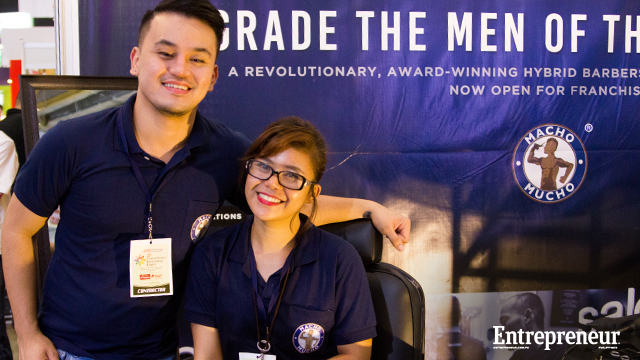 It was a typical Sunday afternoon for Ralph Layco in General Santos City, when he found himself lost in his own hometown, searching for the perfect place to get a haircut.
"I was really scratching my own itch. In 2012, I was looking for a barber shop that can do my specific cut, but they can't do it for me," Ralph said. "The salons are usually for females. From then, I realized there's something in between that has to be addressed."
ADVERTISEMENT - CONTINUE READING BELOW
Equipped with entrepreneurial knack and great belief with his idea, Ralph opened the hybrid barber shop Macho Mucho in GenSan, pioneering the stylish cuts for men in the province.
To say it was a hit is an understatement, as the last four years saw its growth to two more branches in Abreeza Ayala Mall in Davao and SM Echoland. Ralph also tapped his sister, industrial engineering graduate Kaye Layco to head the operations in 2014.
"In terms of price points, we're very competitive. We're not as expensive as high-end salons and we don't compromise on quality," Kaye said. "We're changing the way it usually works in barber shops. For example, when a client comes in, we hand them our style guides immediately so it'd be easier for the stylist and the client to work on a look."
ADVERTISEMENT - CONTINUE READING BELOW
Stepping inside its branches, one will immediately feel the masculinity exuded by each salon, with industrial-inspired interior design, and color schemes of blue and black complementing the leather finish of chairs and couches. The salons also offer free WiFi, coffee and reading materials for men.
Macho Mucho's entrance to the industry is at the most opportune time, as a survey from Kantar Worldpanel in July revealed that men are becoming more vain, with sales of male-specific products rising in recent years.
"Men are now more open to trying services that make them feel and look good," Ralph said. "Macho means vain men while mucho means many and our mission is to have more men look upgraded with an upgraded service."
Macho Mucho's style guide already shows different cuts, from the trendy to the classics. But surprisingly, the Laycos found that their best-selling services are hair treatment and hair rebonding.
ADVERTISEMENT - CONTINUE READING BELOW
"We're trying to put innovation inside the barber shop business. We want an avenue for men where they'll feel comfortable to take care of themselves," Ralph added.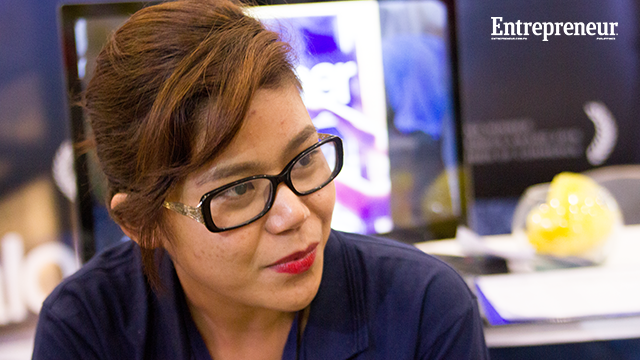 Yin and yang, brother and sister
Prior to Macho Mucho, 28-year-old Ralph had tried to open three businesses, all in different industries. He has dabbled his hands on labor outsourcing, events organization and even publishing.
ADVERTISEMENT - CONTINUE READING BELOW
"I realized, we can only be a successful at a place where our strengths play and for me, being curious and solving problems that can help people is the best place for me," Ralph said.
For Kaye, the partnership that she and his brother share works like yin and yang, that while they are polar opposites, their strengths fittingly complement each other.
"The combination of an operations girl and a marketing guy, siblings pa, I believe we have come further ahead from where we were then so our partnership works," Kaye said.
To further prove their camaraderie, the duo earned the brand 10 new franchisees this year alone, with two branches opening in Metro Manila before year-end. But more than accolades, what keeps the two going aren't entirely more branches but the strengthened recognition for the talents down south.
"We're from the bottom of the Philippines, and truthfully, not much brands come from Mindanao. Ever since college, we both wanted to have a concept that will highlight our talents, since we know we have it," Kaye said. "That's what we're really proud of. [For our salons,] design-wise, all of them came from Mindanaoan talent."
ADVERTISEMENT - CONTINUE READING BELOW
*****
Elyssa Christine Lopez is Entrepreneur.com.ph's staff writer. Follow her on Twitter @elyssalopz.