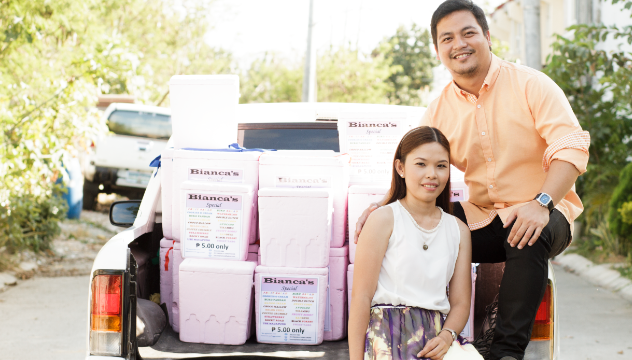 With just P20 left in her wallet, Rosiell de Leon had to think fast. Her husband, Rudy, had lost a well-paying job, and had not been able to find anything else. Their savings had dried up, with two kids to raise, and mortgage and credit card bills to pay.
Having just moved in to their new home in Antipolo (2011), and knowing they were the only ones in the neighborhood with a refrigerator, the couple decided to sell ice. Rosiell used her last P20 to buy 100 pieces of plastic bags to make ice. She sold each bag of ice for P3, growing the P20 to P300. With that in hand, she bought ingredients to make ice candy—enough to make 100 pieces. She sold each treat for P5, in turn, growing the money to P500. "Nang maubos, bumili lang kami uli ng ingredients, hanggang sa dumami ng dumami," she says.
ADVERTISEMENT - CONTINUE READING BELOW
Like many home-based businesses, at first, the couple focused on the market around their neighborhood. But they needed to grow the business to make ends meet. So, they convinced a street vendor who hawked fish around their subdivision to sell ice candy while doing the rounds along his route. The couple also targeted sari-sari stores, carinderias, bakeries, and even cigarette vendors around their neighborhood—and farther into the surrounding areas.
To sweeten the deal, the couple told their consignees they could keep P1 from each ice candy sold. It was a lesson in marketing to the bottom of the pyramid: "Mas maganda magbenta yung mga yosi vendors," says Rosiell. "Yung piso kasi sa kanila, mahalaga."
Targeting the right market
The business, which was registered as a single proprietorship and named Bianca & Nica's Ice Candy Factory, after the de Leons' two kids, really took off when the couple decided to sell the treats to a nearby public school, which their daughter attended at the time. "She gave us the idea to try selling at public schools," says Rudy.
ADVERTISEMENT - CONTINUE READING BELOW
Based on numbers alone, the market is compelling—there are 21 million students in public schools in the Philippines. "It's an overlooked market," says Rudy. "Assuming one school has 9,000 students, and each kid has a P20 baon that means may P180,000 na nasa loob ng school...eto yung pera na dapat hindi na lumabas dun—and that's just in one day," he says. "Isang school lang yan ha," Rosiell adds.
The market proved to be a gold mine, despite the couple selling the ice candy for only P3 apiece. "We gross more than P400,000 in sales every month," says Rudy. After managing to land their daughter's school, the couple worked hard to grow their network—in two years, they were supplying 13 schools. Right now, the couple supplies to 53 schools in Rizal (after starting to supply to 30 more schools in June). Rudy estimates that they are now producing up to 60,000 pieces of ice candy daily to meet demand.
ADVERTISEMENT - CONTINUE READING BELOW
Dealing with market challenges
The couple is unfazed by competitors nosing into their turf because they're confident they have an edge over potential rivals. "We know the market because we came from the public school system," says Rosiell. "Some have tried to copy us before, but their efforts fizzled out," she says. It's partly because they've come up with a product and a strategy that works with the so-called tray system at public schools.
ADVERTISEMENT - CONTINUE READING BELOW
Under this system, a tray of snacks is brought to each class during recess, so there won't be a need for students to leave the classroom. "There are just too many students in a public school. If you let everyone out during recess, there will be a stampede," says Rudy.
The couple also made sure they had a delicious and affordable product. "'Yung mga estudyante, deprived sila ng masasarap na pagkain. 'Pag binigyan mo sila ng masarap, labas sila ng pera," says Rudy.
Armed with these insights, the de Leons sought a meeting with the principal at their daughter's school to convince the administrator to give them a chance. They offered generous returns to the school, knowing the school could use the money.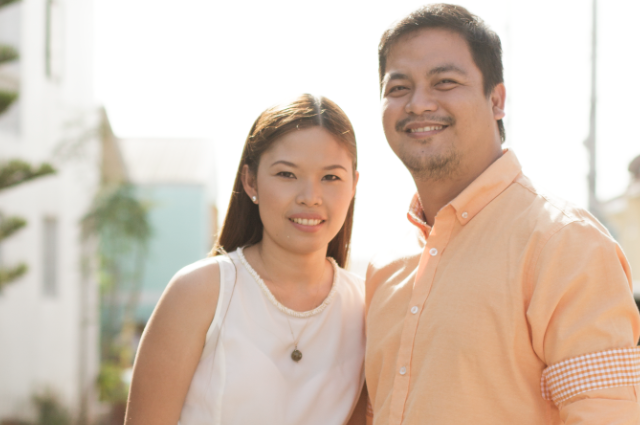 ADVERTISEMENT - CONTINUE READING BELOW
The growing business
Word spread about the de Leons' ice candy business to other schools in Rizal. Principals with thin budgets sought out the couple to ask them to supply ice candy to their schools. "Kumakagat ang schools dahil may kita sila. Mas malaki pa nga ang kinikita nila kung tutuusin. Mas malaking school, mas malaking kita," says Rosiell.
With more schools came more demand, which the couple scrambled to fill. Last year, they took out a P500,000 bank loan to boost capacity. They now have 11 workers, including two drivers to deliver the ice candy to schools. They also sought out a former classmate, now a CPA, to keep their finances in order and to help them strategize how to grow the business.
Rudy says he never expected the business to grow the way it did. "Inisiip ko lang noong una, simulan namin ito para makatawid lang ng pang-araw-araw," he says. "Alam ko magbu-boom, but I didn't imagine it would grow this fast."
ADVERTISEMENT - CONTINUE READING BELOW
*****
This article was originally published in the April 2015 issue of Entrepreneur magazine. To subscribe, click here.  
Photos by Jonathan Baldonado