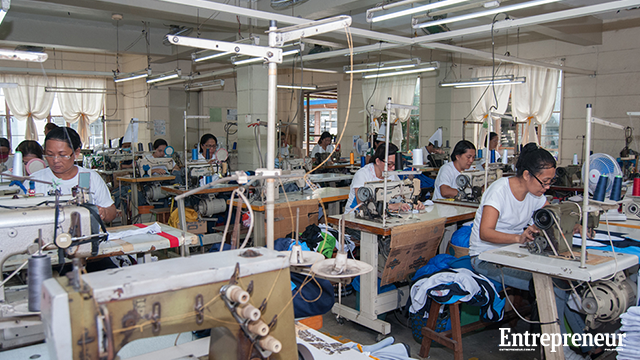 Though they have been in business for nearly 20 years, the couple who founded Gameville Corporation couldn't recall one instance when they resolved to say "no" to a customer.
ADVERTISEMENT - CONTINUE READING BELOW
"I don't think we've ever," said Dioni Balagbagan, the man who, along with his wife Arlene, started the business in 1997. But it's not because they've never had any reason to decline.
Gameville, after all, is one of the longstanding manufacturers of custom-made sportswear in the Philippines, and with an age close to spanning two decades, it is a company that has earned the confidence of big-name clients, now allowing it to thrive.
Nike Philippines, for one, is a regular customer of theirs. There was also a time when nearly every player in the Philippine Basketball Association would walk into nationally televised games wearing Gameville-made gear. And just last September, Gameville contracted UPS Philippines to deliver 81 boxes of uniforms to the US state of Indiana.
All things considered, Gameville's client-base is huge and by virtue of the custom-made nature of its products, each customer availing of its services come with their own versions of make-or-break demands.
ADVERTISEMENT - CONTINUE READING BELOW
"There are times when we wouldn't sleep just to meet those demands," Arlene said. But the couple, especially Dioni, appeared to be made for a business like this.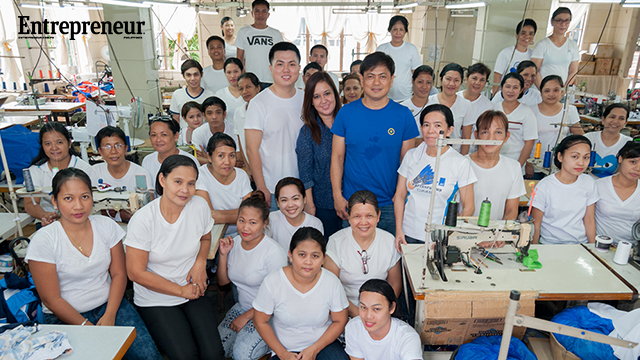 ADVERTISEMENT - CONTINUE READING BELOW
"I like challenges," he told Entrepreneur Philippines. "I'm that kind of person. If I court you and you reject me, I'll be more determined to court you."
"But I didn't court anyone else," he quickly added before bursting into laughter while looking at the direction of his wife. "That's just an example."
All kidding aside, however, Dioni said that the challenges of Gameville serve as inspirations for the company to continuously up its game. And with constant inspiration came this: a 19-year old business with a multinational client-base and an average sales record of Php 6 million to Php 7 million per month. It is a continuously thriving brainchild that the nearly middle-aged Balagbagans continue to groom for their three kids. Gameville, for all its downsides, is their stable source of livelihood. And considering what they've been through, the Balagbagans could not help but be thankful.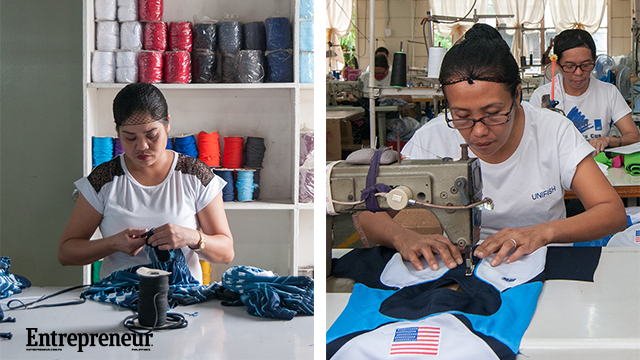 ADVERTISEMENT - CONTINUE READING BELOW
Upping the game
Like most companies with rags-to-riches origin stories, Gameville had its own humble beginnings. Theirs involved a small idea pursued by nothing more than a lean workforce of about six people and a small manufacturing company born of a discontinued alum (tawas) production business. This, however, didn't deter it from becoming what it is today. Dioni, after all, has been through worse in life. A man of modest means, he spent his youth with a pushcart, selling bottles, newspapers, fireworks and nearly every legal thing he could get his hands on.
"His life," so Arlene said, "is fit for 'Maalaala Mo Kaya." And Gameville soon proved to be the redeeming climax of that story.
The company, after all, had limitations but nevertheless it took on as many clients as it could without sacrificing both speed and quality. Among its earlier clients included barangay-level players, hobbyists who, despite their limited budgets, had difficult demands that needed to be met.
ADVERTISEMENT - CONTINUE READING BELOW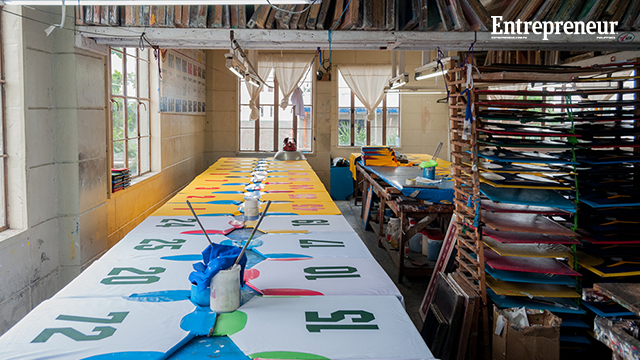 "There was a lot of pressure on our part," Dioni said. But they pressed on and it eventually paid off when one of their customers propelled their enterprise to the big leagues.
"One of the players we supplied for was an American missionary," Dioni said. "When his involvement in the Philippines ended, he went back to the US with some of our uniforms and actually enticed people there to buy from us." And from there, the company took off.
ADVERTISEMENT - CONTINUE READING BELOW
"It was purely through word-of-mouth," as Arlene said. Looking back at the company's beginnings, she admitted that most of their clients came to them through similar organic means. People would notice a player's well-made uniform, they would ask where it came from, and eventually find themselves in the Pasig facility of Gameville. Its founders, which don't recall ever turning down a client, would do the work and the process would have a way of repeating itself. It was a cycle that eventually favored them when the big names started coming in through the grapevine.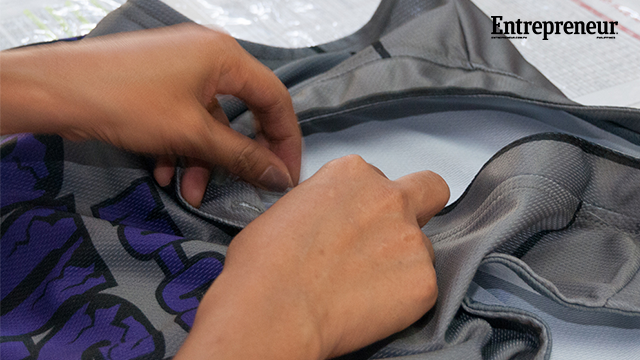 ADVERTISEMENT - CONTINUE READING BELOW
Nike Philippines was among the first of such companies and this partnership brought with it the demands of high-profile teams that the company was sponsoring. Everlast also came knocking, and through them, Gameville began supplying for teams not just in the Philippines but in Southeast Asia as well. Soon enough, it became apparent that the once-small enterprise needed to outgrow its state in order to meet the demand. Hence, the massive upgrades.
At its current state, Gameville has around 150 employees working in three closely located facilities. It has retrofitted its operation with high-yield machinery that allows laser cutting, embroidery and fabric sublimation—techniques necessary to produce clothing up-to-par with international standards.
Just recently, the company began doing business with UPS Philippines, the local arm of the world's largest package delivery company and provider of supply chain management solutions. Taking advantage of the online features and reach of UPS Philippines, Gameville was able to stabilize its export of products for its overseas clientele.
ADVERTISEMENT - CONTINUE READING BELOW
"[Gameville] is actually the kind of business we've been targeting," said UPS account executive Nenette Roldan. "It is a growing enterprise and we want to help them with that growth."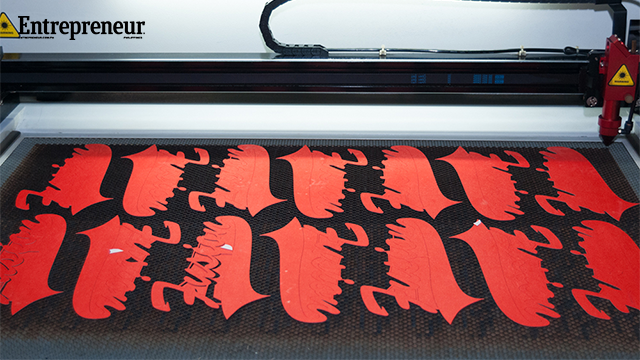 ADVERTISEMENT - CONTINUE READING BELOW
Game on
Despite taking on recent upgrades, however, Gameville's founders maintain that there are certain things they refuse to outgrow. For instance, the company's air of approachability. It has, since its establishment, garnered an impressive client base of prominent players but it has no qualms in taking on customers that are a lot less popular, or worldly for that matter. An example was a client from Palawan they just recently supplied for, a client who, despite recent changes in sportswear trends, still opted for old fashioned shorts that have linings.
"We've discontinued making those already," said Dioni but decided to make the shorts anyway.
Another mainstay in the Gameville operation is its predilection to adjustment. Even Dioni and Arlene manage their people with respect for this philosophy.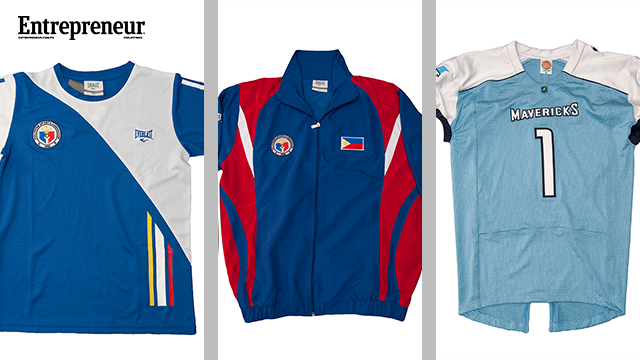 ADVERTISEMENT - CONTINUE READING BELOW
"We have to [motivate] our people but we use different styles," Dioni said, who professes that he sometimes need to be extremely strict. "But sometimes I have to be nice. It depends on the person you talk to. You have to make adjustments based on their personalities."
Naturally, he said, this too is applied on the way they handle their customers. "The business is like fine dining," he stated. "You have to give the customers exactly what they want. There can't be a standard formula to rely on."
But as far as maintaining the business, there is. One can see it in the company's logo: a piece of cloth with its peripheries stretched to meet the various sides of a surrounding ring. The ring, according to Dioni, represents the company's global reach. The stretched symbol, meanwhile, represents the amount of body-straining effort they are willing to go through to satisfy their clients. It is the same amount of effort that has kept them at the top of their game after all these years. No reason to let go of it now.
ADVERTISEMENT - CONTINUE READING BELOW
"We like challenges," he said. "We grow through them."
*****
Angelo Cantera is a journalist who has been covering the lifestyle, travel and business-lifestyle beats for some of the country's major newspapers and magazines. He has worked for The Manila Times and has served as associate editor of asianTraveler Magazine. Also a lensman, he occasionally does photography for his own travel assignments.