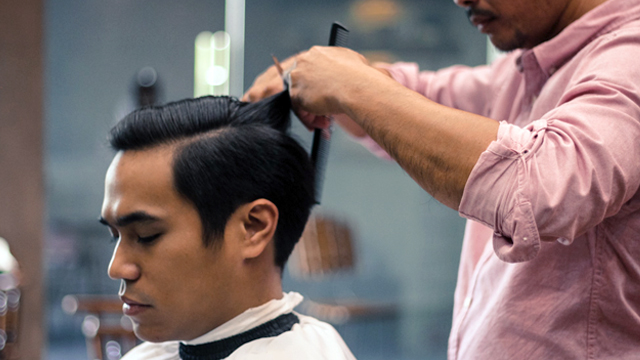 Burnside Barber opened in February 2016 and offers services beyond the traditional barbershop
While waiting for their haircut appointment, customers at Burnside Barber can read Albert Camus' The Myth Of Sisyphus or VP Gnanarama's Essentials of Buddhism. If those are a bit on the heavy side, there are local and foreign fashion and lifestyle magazines, too.
ADVERTISEMENT - CONTINUE READING BELOW
Instead of a cashier's counter, there is a coffee stand where a barista can take orders and whip up an Americano or a cappuccino. Customers can enjoy their drinks in the lounge area, where there is a couch and comfortable armchairs. The place exudes a generally homey feel, and guests might be tempted to hang out and chat with the barbers long after the actual haircut is done.
This is exactly what Nico Lumauig and his business partners Choi Kapunan, Kenneth Ong, Gil Pe Aguirre and Denzil Li wanted when they envisioned Burnside Barber. It took a while for Lumauig, a 27-year-old graduate of Ateneo De Manila University, to say yes when his friends pitched the idea of opening a barbershop, but he soon came around when he realized the growing number of men who wanted more out of their regular haircut routine.
"We figured that there was still a significant number of people who visited their barbershop once every three to four weeks to spend 15 minutes to get the same haircut they've had for the last 15 years," Lumauig says. "We wanted to pave the way for self-reinvention, to treat customers better, and to make each visit a full-blown experience."
ADVERTISEMENT - CONTINUE READING BELOW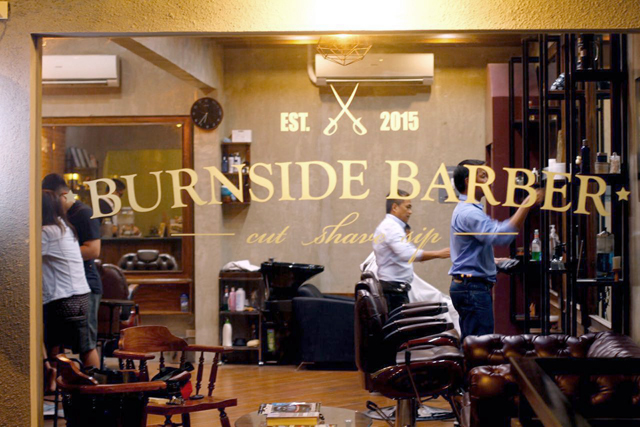 The founders of Burnside Barber want it to be as homey and as familiar as possible
Opened in February this year, Burnside Barber is the latest in a line of premium barbershops that have taken the relatively banal experience of getting a haircut to a whole new level. These barbershops understand that more and more men are investing more time for grooming and physical self-improvement.
ADVERTISEMENT - CONTINUE READING BELOW
"More men are learning to take care of themselves compared to before," Lumauig says. "Barbershops have always been a place to socialize, share stories and relax, so it's nice to see this kind of set-up slowly making its way back."
"Besides," he adds, "we all know that the best investment you can ever make is on yourself. Our mission has always been to allow every man to be the best version of himself."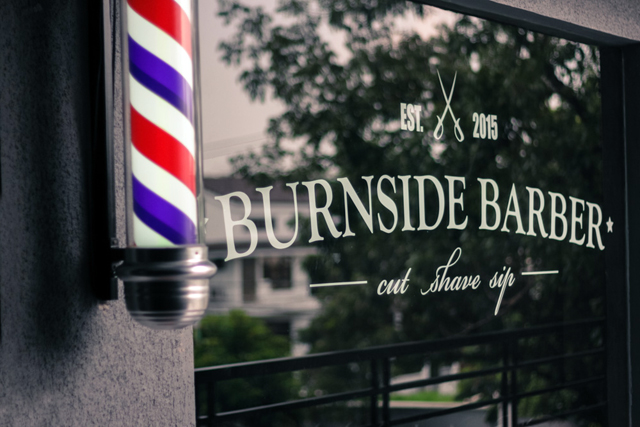 ADVERTISEMENT - CONTINUE READING BELOW
Burnside Barber is the latest premium barbershop to open in the city
Unlike other barbershops that are located either in malls or in the middle of business districts, Burnside Barber is in the second floor of a commercial space along Katipunan Avenue in White Plains, Quezon City. Most of their early patrons were people who lived in the neighboring gated villages, and for a time, they almost weren't enough to sustain the business.
"It was really a struggle," Lumauig recalls. "Most people already have a regular barber or stylist, so getting people to change their behavior or habits was really the hard part. Plus, it's not like when we're in a place where people can go down during lunch, get a haircut and then go back to work."
Burnside Barber compensated by offering discounts and promos to make sure their early customers came back and told their friends about it. They also invested on equipment and manpower, with custom-built chairs upholstered in genuine leather and barbers who have a combined 100 years of experience. Customers can also freely use iPads with complimentary wi-fi while getting their haircut. And of course, there's the café concept, curated by 2015 Philippines Aeropress champion Kaye Ong of Habitual Coffee.
ADVERTISEMENT - CONTINUE READING BELOW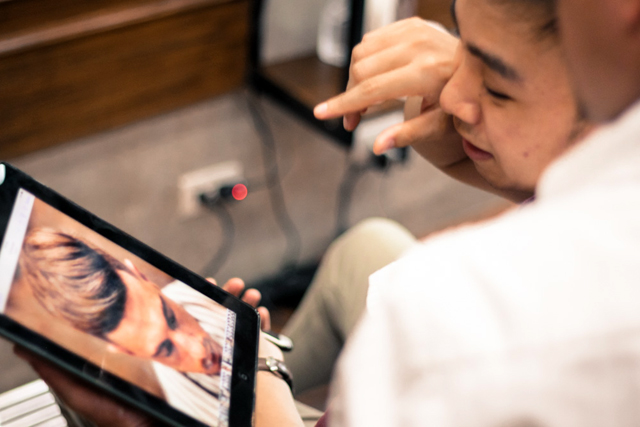 Customers are handed an iPad where they can choose a hairstyle and surf the web during the haircut
Lumauig, who dabbled in a few small enterprises back when he was in university, says things are beginning to pick up for Burnside these days. They have acquired regulars who treat the place like a second home and even bring their young sons and nephews. The partners have also been approached about possibly franchising their concept, which Lumauig says they will seriously consider in the future when they've "perfected the system."
ADVERTISEMENT - CONTINUE READING BELOW
For now, they want to keep the small, neighborhood barbershop vibe of Burnside, but keep their options open to expansion opportunites. They even have plans of launching a wedding and events package where they can offer their services for the groom and his groomsmen before the big day.
"There was a guy who came in here one day about 30 minutes before closing and said he wanted a haircut because he was getting married in three days," Lumauig recalls. "We gave him a haircut free of charge. I mean, it's not much for us, but I know it'll mean something for him, so why not?"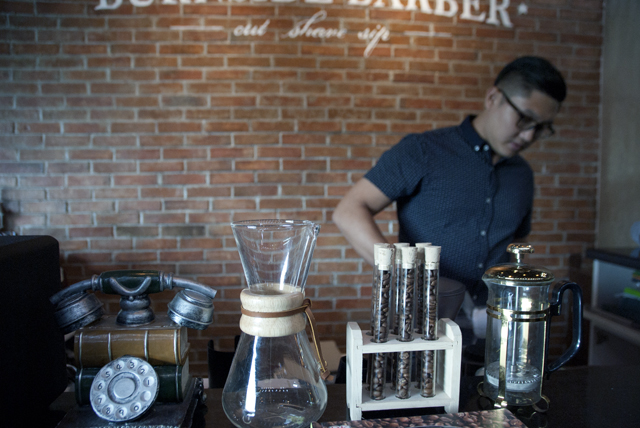 ADVERTISEMENT - CONTINUE READING BELOW
Burnside also offers coffee drinks for customers
Burnside Barber is located at White Plains West, Katipunan Avenue, Brgy White Plains, Quezon City. For appointments and inquiries, phone 0977-8367237, (2) 2815468 or email info@burnsidebarber.com
*****