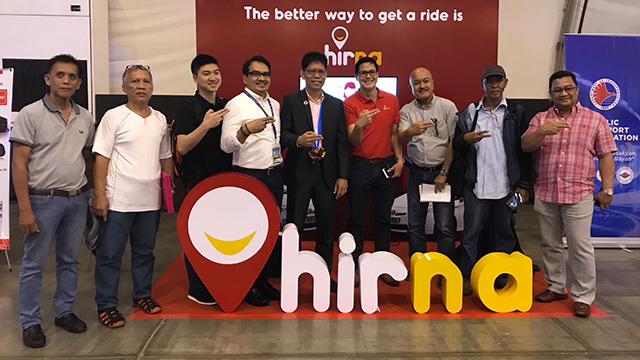 The Hirna co-founders decided to work with taxis rather than private cars because they did not want to encourage potential partners to buy new cars and increase road congestion in Davao City
Hirna Mobility Solutions is one of the first new transport network companies to win official accreditation from the Land Transportation Franchising and Regulatory Board (LTFRB). The Davao City-based startup that developed the "Hirna" mobile tax-hailing app has a record of working really fast.
ADVERTISEMENT - CONTINUE READING BELOW
In August 2017, one of its co-founders, Francisco Mauricio, who is also president and CEO of global car rental company Avis' Philippine unit, heard that Davao City Mayor Sara Duterte was looking for technology solutions to improve commuting in her home city. Road congestion in the country's biggest city by area is starting to become a big problem because of the rapid growth in private vehicles. By December, after only four months, he already had a media launch. In April 2018, after the passage of another four months, Hirna got LTFRB accreditation and was installed in some 4,000 taxis in Davao City.
How did Hirna accomplish so much in a short period of time? 
Mauricio's first step was to team up with Sherwin Chu, a computer programmer, and the two of them met with Mayor Duterte in October. They pitched an idea that they said could address the mayor's concerns.
ADVERTISEMENT - CONTINUE READING BELOW
"We already had an existing AVIS Global app used worldwide. We thought we could bring the AVIS Global heritage into a technology-based solution for Davao. We just needed to customize it according to Mayor Sara's vision," said Mauricio.
Mauricio, who holds an MBA from University of California in Los Angeles (UCLA), took up the leadership position of car rental and transport service company Avis Philippines after years of working for various multinational companies abroad. Chu holds a master's degree in computer science from Ateneo de Manila University and has been assisting government agencies in the analysis of the traffic situation in Metro Manila and the development of possible solutions.
"Hirna was created to help support Mayor Sara's vision of improving the utilization and services of taxis in Davao to better serve passengers, and to potentially help reduce traffic congestion. We want to promote collaboration rather than disruption, which is what other taxi hailing apps aim to do," said Mauricio.
ADVERTISEMENT - CONTINUE READING BELOW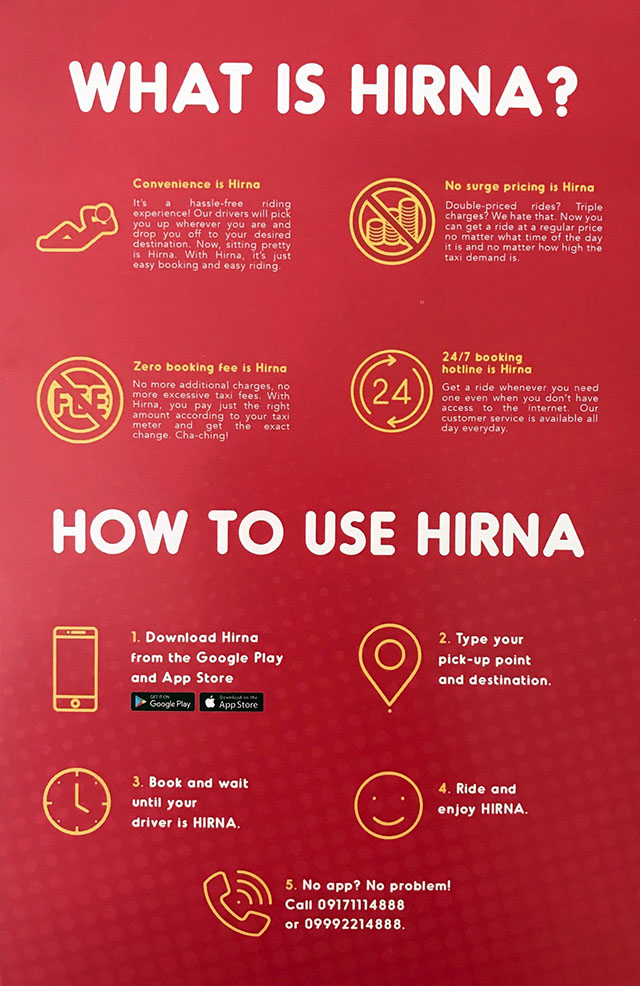 Hirna Mobility Solutions was one of the first new transport network companies officially accredited by the LTFRB
The Hirna co-founders decided to work with taxis rather than private cars because they did not want to encourage potential partners to buy new cars and increase road congestion in Davao City. Oddly, the introduction of ride-sharing services by Uber and Grab in Metro Manila encouraged many of their driver partners to buy new cars. (However, Grab drivers say this is more a result of the LTFRB policy that disallowed cars that are more than three years old from use as transport network vehicles.)
ADVERTISEMENT - CONTINUE READING BELOW
"From there, everything fell into place," shared Mauricio. The vision—making public transportation more comfortable and efficient for the public—was very clear to the mayor and officials in LTFRB and the Department of Transportation, which made for a smooth implementation.
After their meeting, Hirna had its media launch by December and its beta test launch by February. As of April this year, the app has been fully launched and already installed in approximately 4,000 taxis in Davao city.
One reason for the relatively rapid development of the Hirna app was that its design was licensed from AVIS Global, which had already built a similar app for use by its affiliates all over the world. Chu, Hirna's chief technology officer, customized it according to the requirements of the Davao market.
"Using the proof of concept, we built an understanding of the local operators' concerns. We also had passengers willing to role-play to assess the app. We based the design upgrades on their experiences with our app as well as with other ride-hailing apps," said Chu. Indeed, some volunteer passengers suggested having a vehicle-rating feature, which Chu installed.
ADVERTISEMENT - CONTINUE READING BELOW
The efficient refinement of the working app was also possible through Hirna's partnership with MEDATOA (Metro Davao Taxi Operators Association), which has the goal of offering more pleasant experiences for Davao passengers.
Collaboration with both the public and private sectors explains not only Hirna's rapid development but also its features that balance the welfare of various stakeholders.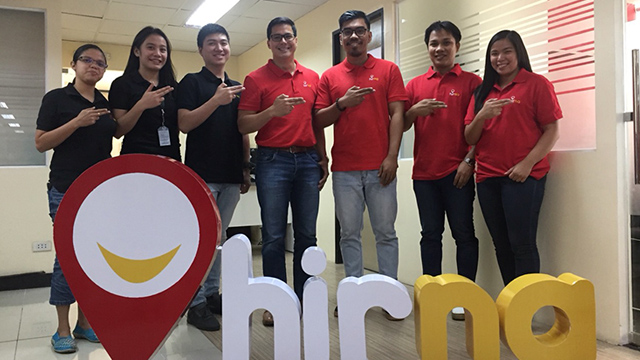 ADVERTISEMENT - CONTINUE READING BELOW
The Hirna team. Whether it wants to or not, Hirna has emerged as a viable alternative to Grab's dominance as a transport network service
Unlike GrabTaxi, Hirna has zero booking fees and no surge prices. It also distinctly provides customer service support for passengers without smartphones or access to the internet as well as LTFRB hotline numbers for concerned customers. Recently, the app also started offering a feature that may help users of special types of public utility vehicles (PUVs) to get a ride as well.
"We want the drivers to feel that the app is not only for passengers, but for them as well. For example, we aim to install a panic button in case drivers face an emergency. We also want everything to be very collaborative, where both the passenger and the driver have a role to continually improve the riding experience," shared Chu.
Mauricio added that they want the drivers to be able to maximize their source of livelihood. "We want to know how we can really make mobility a real solution. How do we marry the needs of passengers with what drivers can provide based on their mobility platform?"
ADVERTISEMENT - CONTINUE READING BELOW
With the LTFRB requirement that taxis should install a ride-hailing app, a dashcam, Wi-Fi and GPS as part of the PUV modernization program, Chu pointed out they are in a position to help taxi operators comply with the requirements. "We do not want the driver to have to spend for another device for Wi-Fi tethering or GPS. So we are also working on methods so the driver can maximize the use of whatever device they already have," said Chu.
Though Hirna was developed mainly to address Davao City's local transport problems last year, it has now assumed greater importance in the wake of Grab's acquisition of Uber in the Philippines and Southeast Asia in April. Whether it wants to or not, Hirna has now emerged as a possible challenger to Grab's dominant role in the transport network services, along with other new ride-hailing startups.
"When there are two players, the attention is how they beat each other, rather than on the passenger. Now, with a single merged big player, it becomes a monopoly. The question becomes, will they really do what will benefit the passengers? So, small players like us are needed because we stay focused on what the passengers and drivers need. I think our sincerity sets us apart," he said.
ADVERTISEMENT - CONTINUE READING BELOW
After a successful Davao launch, Hirna has been receiving requests from other local government units to implement a similar app. However, the app is only step one towards a bigger vision for the company. "For us, the ride-hailing app is just the start. We want the app service to snowball into something bigger and more impactful on the driver's way of life," said Mauricio.
This story was edited on Wednesday, July 4 to correct the name of one of Hirna's co-founders Sherwin Chu. It initially stated Stephen Chu. We apologize for this error. 
*****
Chiara U. Mesiona is a Davao-based freelance business writer. Get in touch with her at chiara.mesiona.B2Bcopywriter@gmail.com