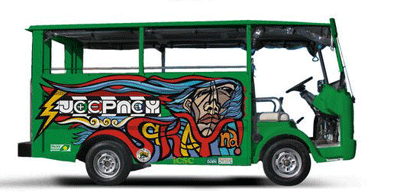 The first commercial eJeepney franchise in the country is now open for business. The first fleet of 20 eJeepneys will ply the Legaspi Village, Salcedo Village and Heritage District routes in Makati City and charge P8 per ride starting March 1.
The campaign for the battery-powered eJeepneys hopes to remedy volatile gas prices, create green jobs and provide better job security for the drivers. Instead of the prevailing boundary system, where the driver pays the owner of the vehicle a fixed rate per shift and earnings beyond the "boundary" become his earnings for the day, eJeepney drivers will be given fixed monthly salaries, full benefits and 13th month pay.
ADVERTISEMENT - CONTINUE READING BELOW
According to Yuri Sarmiento, CEO of commercial franchise holder EJeepney Transport Corporation (EJTC), this can be the first step in working towards an electronics fare system for the country similar to Hong Kong and Singapore that can be aligned with the MRT and tollway system as well as reloaded via Globe or Smart. "We want to include the drivers in the benefits of the eJeepney system," he said during the press launch held last February 27. Talks are currently ongoing for similar eJeepney systems in Pasay, Pasig and Marikina.
"For small operators to shift to eJeepneys, we need to show them that it is commercially feasible for them, for the drivers and the commuters in the long term," added Sarmiento. Commuters patronizing the eJeepneys will no longer be at the mercy of fluctuating oil prices since electricity prices are more stable.
Each eJeepney costs about P700,000 to P750,000 compared to traditional jeepneys that sell for P350,000. The huge price difference is reasonable when you consider that jeepneys have maintenance fees and spend about P1,000 on gas per 115 kilometers versus a fully-charged eJeepney that can run the same distance for only P220 in electric costs. This translates to profitable margins for franchise operators and improved job security for the drivers. eJeepneys have almost zero maintenance since the batteries can last for two years. Moreover, to fully charge an eJeepney battery only takes 6-8 hours.
ADVERTISEMENT - CONTINUE READING BELOW