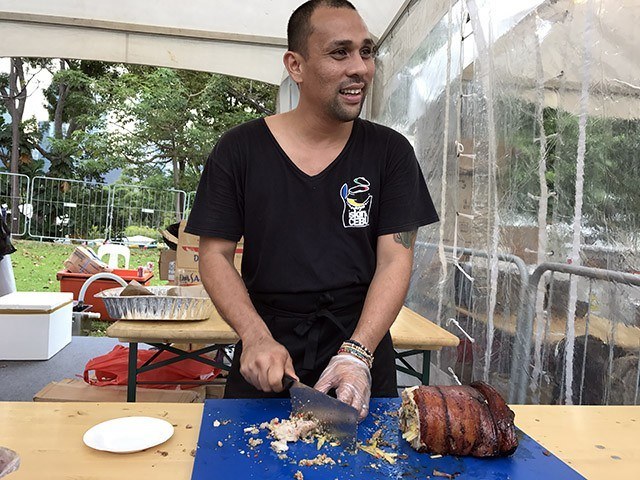 Chris Calleda, founder of Iskina Cebu, says he chose to open a lechon business to offer a taste of the Philippines in Singapore
Singapore's reputation as a culinary paradise is undeniable. For a food concept to stand out amidst the city-state's countless offerings of good eats, it's got to be truly unique. Or just really, really good.
ADVERTISEMENT - CONTINUE READING BELOW
Iskina Cebu ticks both boxes. Located in Timbre+, a gastropark made out of container trucks that has become the latest hipster hangout for locals in the know, the food outlet serves authentic Cebu lechon and a variety of other Filipino dishes to kababayans longing for a taste of home. Going on three years, the lechon business has become such a hit that even Singaporeans and expats from other countries line up to get their fill of crispy rosted pork skin and succulent pork belly.
The man behind the meat is 35-year-old Chris Calleda, a native of Talisay City, Cebu. I meet him at the Laneway Music Festival, the biggest indie music festival in the region, where Iskina Cebu is on its second year as a food concessionaire. Calleda says he has been living in Singapore for about 10 years. He previously worked full-time for a financial institution.
"Then it got boring," he says over a quick break from chopping up the lechon to serve to eager guests. "I wanted to go back home sa Pinas. But my wife didn't want to. So I said, okay, let's just start a business here."
ADVERTISEMENT - CONTINUE READING BELOW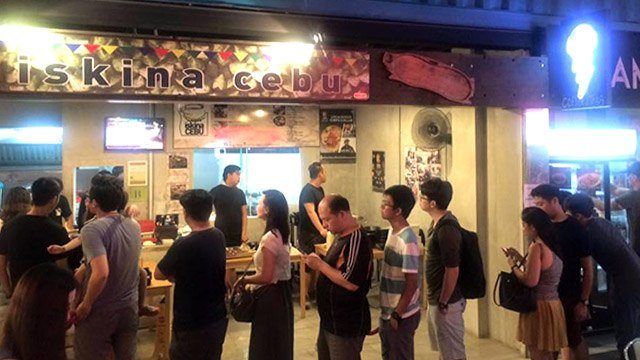 Customers line up at Iskina Cebu's lone outlet in Timbre+ Singapore
Why Cebu lechon?
"Kasi Cebuano ako," he says simply. "And it's something that you don't see here in Singapore. But it's not just that. You can pull off a lechon with an oven, that's easy. What we do is old-school roasting, which is charcoal grill, in a spit. And I'm proud that we're the only guys that do that now here in Singapore."
ADVERTISEMENT - CONTINUE READING BELOW
When he first started out, Calleda says his initial investment amounted to about Php1.5 million. He rented a space in the old Jiang Ya Yuan Eating House near Paya Lebar, in Singapore's Geylang district. The hawker place was relatively cheap, he says, and he didn't encounter too much trouble setting up the business. What he was more concerned about was whether people would turn up, especially since, back then, it was an untested food concept.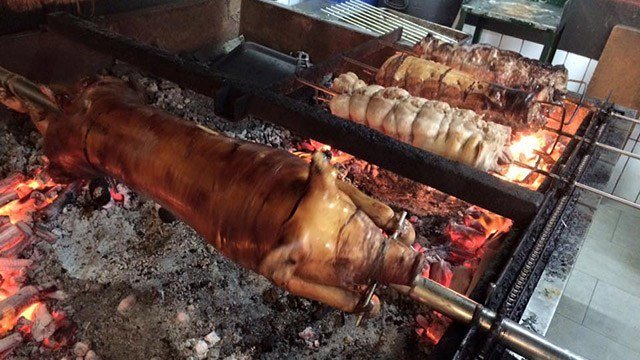 ADVERTISEMENT - CONTINUE READING BELOW
Calledo says he is proud of the fact that they're the first and so far only food outlet in Singapore that grills their pigs the traditional Cebuano way: over hot charcoal
On the day he opened, though, he was shocked to see a crowd of Filipinos there waiting to get a taste of genuine Cebu lechon. "I could see people through all the (grill) smoke," he says. "I was roasting the pig and I could see people were still coming in."
Iskina Cebu soon attracted the attention of food bloggers and local media who had only good things to say about the Filipino original. In March 2016, Calleda moved his business to the new location in Timbre+ after the old hawker center closed down. He also needed a restaurant license in order to apply for an employment pass, which is what is required of people who want to live and work in the Lion City.
ADVERTISEMENT - CONTINUE READING BELOW
"(Hawker center operators) can't apply for an employment pass and even a letter of consent, which is very important here in SG," he explains. "That was another reason why I moved. Apart from that, Timbre+ is quite a revolutionary concept. It's like a traditional hawker center, with a group of restaurants, but it has its own stage and there's a live band, so it's pretty cool."
ADVERTISEMENT - CONTINUE READING BELOW
Iskina Lechon also offers liempo, belly lechon, chicken inasal and other Pinoy favorites 
Today, Calleda says business is doing well and is actually profitable. He was able to hire four guys, all Filipinos, to help in the kitchen, and he taps a group of part-timers to help with events and private functions. ("The last one was for the BMW office here," he says. "We did five whole pigs. The Germans loved it!").
I ask how many pigs he goes through in a day and he pauses to think. "It's quite difficult to calculate. We serve the whole pig from Thursdays to Saturdays, but on some days we don't really serve the whole thing. But we serve a lot of those belly lechons. A fair gauge would be around 30 kilos every day on average."
"On good days, then you add more," he adds with a smile.
Besides the staples, Iskina Cebu has also expanded its menu to include liempo, belly slices and Inasal Nga Manok (grilled chicken) as well as lunch meals that Calleda says is gaining popularity. "We have Adubaw, which is Cebuano-style adobo, like humba," he explains. "We have sizzling lechon meals. Now we offer per booking Sutukil, or sugba, tuwa, kinilaw. You choose if you want it grilled, kinilaw or ceviche, or you want it in a soup, like tinola. We're planning to introduce more Filipino food in time."
ADVERTISEMENT - CONTINUE READING BELOW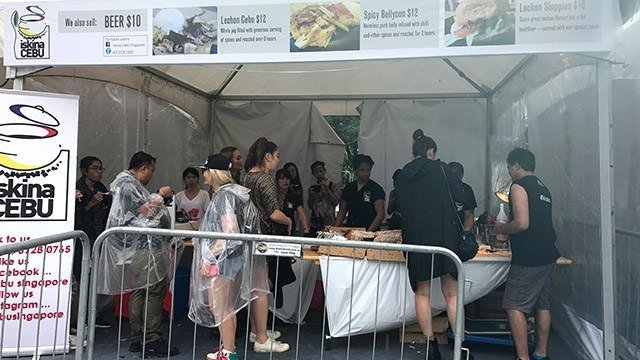 Iskina Cebu was the lone Filipino concessionnaire two years running at St. Jerome's Laneway, the region's biggest indie music festival
The entrepreneur says he aims for authenticity in his cuisine. "What I'm trying to do, because I'm stubborn like that, is try to represent food in a way that's really Cebuano. You go to my shop, and you ask for (liver sauce brand), I'm probably going to scold you man, cos I don't use (that). I use vinegar and soy sauce. That's what I'm trying to do. I'm trying to come up with real balbacua (oxtail stew). Real pochero Bisaya. Real things."
ADVERTISEMENT - CONTINUE READING BELOW
He adds that, far from being a typical business, Iskina Cebu is a way for him to offer a piece of home to the over 170,000 Filipinos living and working in Singapore. "If it's just about the money, then I would just look for a job that's secure and get paid. When the recession comes, I'll look for another job, it's easy. But this is scary. It's more about (promoting our culture). Our tagline is, 'Your home around the corner.' If you're missing Cebu or the Philippines in general, you have a place to call home." 
*****
Paul John Caña is the managing editor of Entrepreneur PH