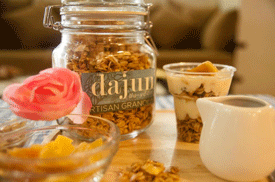 One can never be too young to start your own business. The earlier you learn the ropes, the better. Entrepreneur.com.ph asked student entrepreneurs and the search for the Next Food Entrepreneur finalists Leandro Inumerable and Daryl Del Rosario of Dajun Artisan Granola how they got started in the food business:
ADVERTISEMENT - CONTINUE READING BELOW
How did you get into the food business?
All of us in the group love food, even if we're not the best cooks. We were excited to try making and eating our own products  - we just weren't sure of what to make. But something we all had in common was that we were foreign exhange students for a semester. Some of us went to France, Spain, Singapore, and Japan. We had our own awesome food adventures there. Obviously we couldn't pull off making all those international dishes ourselves, but we did have food we all enjoyed no matter where we were in the world – granola. It was our go-to breakfast and snack while we were abroad. When we came back to Manila, we were sad to find so few options available. That was when we experimented with recipes and came up with Dajun Artisan Granola.
What was your inspiration for the brand?
ADVERTISEMENT - CONTINUE READING BELOW
We wanted something local, first of all. We knew our granola would have local ingredients like mangoes, bananas, local chocolate, and coconut so we wanted a brand that would capture that local color and flavor. We also wanted it to have a warm and comforting feel, because that's how we see our artisan granola. We chose dajun, pronounced da-yoon, because it meant welcome in the Visayan dialect. We wanted people to "welcome" dajun artisan granola into their meals, their homes, and their lives.
How will the search for the Next Big Food Entrepreneur help your food business?
It's a great opportunity for us to go out there and sell our product. Since we're students, our academic requirements and other resources limit what we can do. We love that we're able to showcase our product to a larger audience and earn and learn along the way. More than that though, we think the competition is a great springboard for our business. We plan to continue it after graduation and this is great start. We're very thankful.
ADVERTISEMENT - CONTINUE READING BELOW
How do you stand out from competition?
Well if you take a look around Mercato and other food markets, you have to admit everyone's selling more of the same thing. We frequent Mercato ourselves and it's funny how in a market with so many concessionaires you still feel like everything's the same. In the desserts category for example, we stand out because we're not your ice cream or gelato, or your cakes and cookies. No one else sells granola there, and maybe it's because no one expects to find it there. But that's where break out of the ordinary Mercato fare. The product itself is unique and new to most people – it's not like a new flavor of ice cream or a new flavor of cake, it's new.
How can potential customers reach you?
You may email us at dajungranola@gmail.com or reach us through http://www.facebook.com/dajungranola.  For orders, you can contact Leandro Inumerable at 092.7985.7084.
ADVERTISEMENT - CONTINUE READING BELOW
What are the price points for your product?
P250 for the 450 gram ziploc
P400 for the 450 gram granola jar
P550 for the ziploc and jar
P70 for the granola and yogurt trifle
Check out Dajun Artisan Granola stall at the weekend Soderno, Alabang market starting this month until Dec. 2.