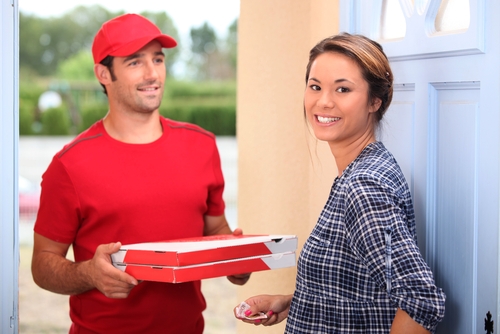 Business: Food deliveries to nearby offices

Take note of the office buildings near your residence—they are ready markets for  food delivery service.

Capital: You need as little as P2,000 to start your food-delivery business, says Rolando Fababier, who delivers lunch and snacks to almost all offices in the compound of the Department of Science and Technology (DOST) in Bicutan, Taguig City. For Amelia Pagsisihan, though, that figure goes up to P3,000 daily. She not only delivers lunch to two DOST agencies located just outside the department's compound but also sells lunch from 11:00 a.m. to 1:00 p.m. and dinner from 6:00 to 8:00 p.m. in front of her house at Bagumbayan in the same city.

On good days when he is able to sell everything, Fababier says his usual daily capital of P1,800 becomes P2,500, for a return of P700; on lean days, however, he just about breaks even. He says that his capital for the day varies depending on how much money he has. When he has, say, only P300, he sells only snacks. But what's good about his business, he explains, is that he is always able to provide food for his family no matter what.

On the other hand, Pagsisihan says that her P3,000 capital for the day becomes P3,800, for a return of P800. She then keeps the P3,000 for the next day's capital.

Materials: Even if you are just starting, you need not buy kitchen utensils since these will mostly be already available at home. In the case of Fababier, for instance, he just borrowed the LPG gas stove and kitchen appliances of his mother, including pots, pans, and kitchen utensils. All he needed to buy was a tankful of LPG gas. When his business started to pick up, however, he bought his own cooking appliances and utensils.

Workforce: You can do this kind of food delivery business with the help of available family members. In the Pagsisihan household, in particular, Amelia does the marketing at 3:00 a.m. and her husband helps by chopping, marinating, and cooking the usual eight viands that they prepare for the day.

She pays a relative P120 to assist in packing and selling the viands to the offices. Meanwhile, her husband does the selling of viands in front of their house. Sometimes, she would hire a helping hand for P20 to clean the pots, pans, and other cooking utensils.

In the Fababier household, Rolando is assisted in the food preparations by his wife and a relative. To transport his food deliveries to the different buildings in the DOST compound, he rents a tricycle for P130 in the morning and P150 in the afternoon.

Process: You obviously have to learn how to cook to go into this business. For Pagsisihan, cooking well has been a family tradition. This is why when she lost her job in a garment factory in 1999, she went into cooking and cooked food distribution with some encouragement from friends. In the case of Fababier, he learned to cook from his mother, who owned a panciteria (noodle house). After quitting his messengerial job in Quezon City 12 years ago, he went into the food business himself.

Marketing: Both Fababier and Pagsisihan depend on word-of-mouth to sell their food deliveries. They also take advance orders for ube, relyenong bangus, embotido, and pancit. Sometimes they do catering during special occasions at the DOST compound. In the case of Fababier, some DOST employees just text him for orders.

Where to train: You can train with anyone who knows how to cook or who is in the business of cooking and selling food. If you are someone who loves to cook and has often been complimented for your cooking ability, the food business may be for you, too.
ADVERTISEMENT - CONTINUE READING BELOW
Article was originally published in the May 2007 issue of Entrepreneur Philippines.