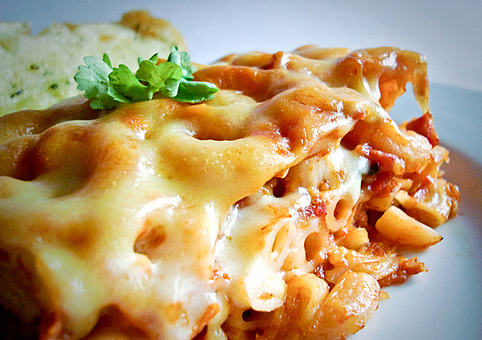 Baked macaroni is another top favorite pasta dish of Filipinos. It should not be mistaken for the equally popular macaroni and cheese. For one, baked macaroni is more preferred by local foodies because it has meat, which makes it a complete meal (carbohydrates plus protein).

Ground beef is the most recommended meat ingredient although some prefer pork and/or chicken. At times, minced ham is added to make it meatier. The Mornay sauce (that is how the white sauce topping it is called) adds to the rich gastronomic experience. Baking is done to make it have a more distinguished finishing.


Ingredients:

•    500 grams of elbow macaroni

For the sauce:

•    500 grams of ground beef (pork or chicken will also do)
•    1 ½ cup of diced tomatoes (fresh or canned)
•    ½ cup of diced green bell pepper
•    ½ cup of tomato paste
•    3 tablespoons of butter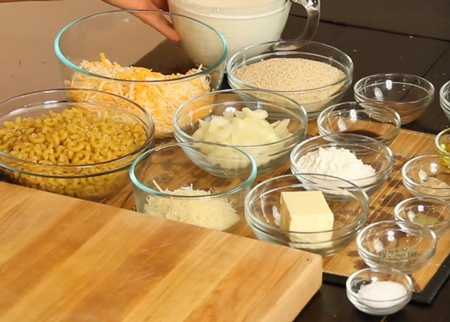 •    1 onion, diced
•    1 tablespoon of sugar
•    1 teaspoon of paprika (optional, to add more flavor and aroma)
•    1 piece beef cube (pork or chicken will also do, depending on the chosen meat)
•    1 cup of water
•    A pinch of salt and pepper

Mornay sauce:

•    2 cups of fresh milk
•    1 ounce of grated parmesan cheese
•    2 ounces of grated cheddar cheese
•    3 tablespoons of butter
•    3 tablespoons of all-purpose flour
•    ¼ teaspoon of salt

Procedures:

1.    Cook elbow macaroni according to instructions set in the product package. Cut the cooking time to make sure macaroni will not be well done. (Macaroni will again be cooked during the baking process later.) Drain and set aside.

2.    Start making the meat sauce by melting butter in a cooking pot.

3.    Add ground beef (or pork/chicken) and cook for about 5 minutes or until it turns a little brownish.

4.    Add onion, diced tomatoes, and green bell pepper. Simmer for about 3 minutes or until bell pepper gets softer.

5.    Then add paprika and tomato paste. Stir and cook for about a minute. Put the beef cube and add water. Stir again until the cube gets fully dissolved. Simmer for another 20 minutes.

6.    To enhance the taste, add sugar, salt, and pepper. Turn off the heat. Set aside this sauce.


7.    To prepare the Mornay sauce, melt butter in a saucepan.

8.    Add flour. Stir for about a minute or until flour gets yellowish.

9.    Whisk in milk until the sauce gets thicker. Make it boil. Add salt and pepper and simmer for about 3 minutes. Add cheese and stir until it melts. Set this sauce aside.

10.    In a baking dish, combine macaroni and meat sauce. Toss until the sauce is evenly distributed.

11.    Pour the Mornay sauce over macaroni.

12.    Pre-heat the oven to 350°F and bake your macaroni for about 15 minutes. Afterwards, remove it from the oven and let it cool down. It may now be served or delivered to your customers.

ADVERTISEMENT - CONTINUE READING BELOW