<>
Bibingka
is a common sight in almost all churches and sidewalks during the Christmas season. This Filipino delicacy is traditionally made from milled glutinous rice using an oven made of clay and charcoals, and is often sold alongside its famous partner–
puto bumbong
.
The customary equipment for
bibingka
can be difficult to find. But home-based entrepreneurs can use the ordinary kitchen oven and cake pans as an alternative. Alternatively, instead of using milled glutinous rice, you can buy rice flour at your nearest marketplace. The recipe is not difficult and only takes about an hour to prepare and cook. The ingredients below can make three servings of it.
Ingredients:
•    1 cup of rice flour
•    ¼ teaspoon of salt
•    2 ½ teaspoon of baking powder
•    3 tablespoons of butter
•    1 cup of white sugar
•    1 cup of coconut milk
•    ¼ cup of fresh milk
•    1 piece of salted duck egg
•    3 pieces of white eggs
•    ½ cup of grated cheese
•    banana leaves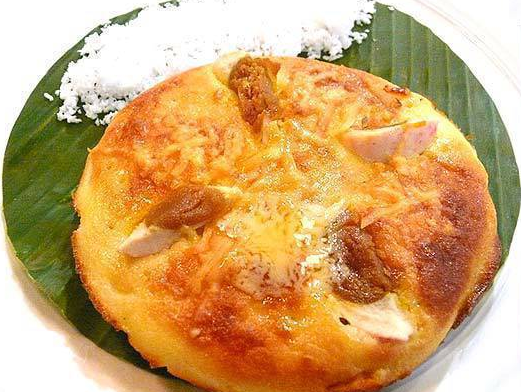 Procedures:
1. Preheat the oven to 375 degrees Fahrenheit.
2. Mix baking powder, salt, and rice flour in a bowl.
3. In a separate bowl, put butter and start to whisk. Gradually add sugar while continuously whisking. Next, add all the white eggs, then mix them altogether thoroughly. Add baking powder, salt, and rice flour mixture. Continue mixing.
4. Add coconut milk and fresh milk to the mixture and whisk it all up for at least 2 minutes.
5. Prepare banana leaves by putting those on cake pans.
6. Carefully pour a small amount of the mixture into each banana leaf piece and put inside the preheated oven. Let it cook for at least 15 minutes.
7. Remove from the oven and top each with sliced salted egg and cheese. Put those back into the oven and cook again for another 15 to 20 minutes.
8. Remove each
bibingka
from the oven and let it cool for a while. Top with butter and sugar. You may also add grated coconut meat. It's now ready to serve.
ADVERTISEMENT - CONTINUE READING BELOW