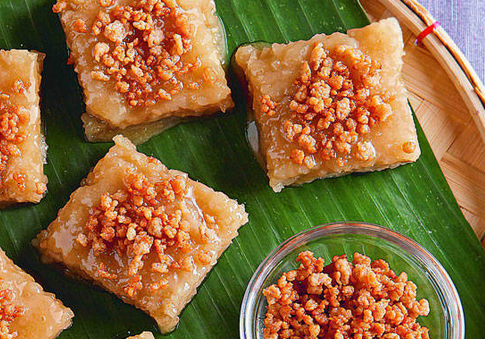 <>The rice cake commonly-known as
biko
is a traditional dessert made from sticky rice, coconut milk, and brown sugar. Frequently, it is sold in carts as morning or afternoon snacks. It is normally displayed on a round woven bamboo tray covered with banana leaves. Conventional homemakers usually serve it during special occasions like
fiesta
and family reunions.
It is easy to make
biko
as all the ingredients are readily available in the market.  Here is a simple recipe that can make up to 16 servings. This may take at least an hour to cook.  You may use a rice cooker or a regular cooking pot. Home-based entrepreneurs can make their own versions of
biko
. You may serve it with either
latik
(toasted grated coconut) on top or caramel syrup as coating.
Ingredients:
•    4 cups of
malagkit
or sticky rice
•    3 cups of water
•    4 cups of brown sugar
•    8 cups of coconut milk
•    1 tsp of salt
Procedures:
1. Cook sticky rice in a rice cooker or pot with less water so as not to cook it completely.
2. In another pot, pour in coconut milk along with brown sugar and salt. Set it to low-heat and continuously stir the mixture until it thickens.
3. As soon as the sticky rice is cooked, carefully add it into the thick coconut milk and brown sugar mixture. Continuously stir over low to medium heat until the liquid evaporates. Be sure not to overcook it to retain ideal taste and texture.
4. Cooking is completed once the sticky rice turns brown and dry. Serve on a plate or on top of banana leaf. Put
latik
on top or coat it with caramel syrup.
ADVERTISEMENT - CONTINUE READING BELOW