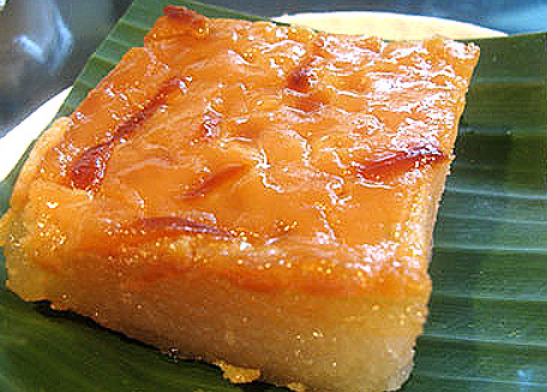 <>Cassava cake is one of the popular traditional Filipino desserts or
kakanin
made of grated cassava (
kamoteng kahoy
or
balinghoy
). However, it is also noted for the usually tedious process of making it because it is usually difficult peeling cassava before grating it. But as we all know, the end product always justifies the means.
Through the years, different variations in the traditional recipe have been introduced. For one, there are grated cassava products that can be found in the market today. Cassava cake is commonly baked these days, which make the cooking process faster and easier to most of us.
But many food enthusiasts insist that the traditional way of making cassava cake is still much better. For home-based food entrepreneurs who don't have an oven or those who prefer the traditional way of preparing this
kakanin
, here is a simple recipe. Instead of baking, you would have to steam it.
Ingredients:
•    4 cups freshly shredded cassava
•    2 cups of coconut milk
•    1 can of condensed milk
•    ¼ cup of
macapuno preserve
•    Grated cheese
•    Banana leaf
•    margarine
Procedures: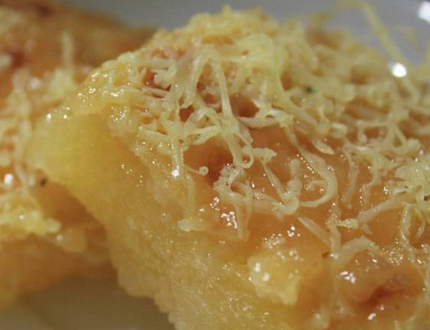 1.    Put grated cassava in a bowl. Set aside.
2.    In another bowl, combine coconut milk, condensed milk, and macapuno preserve (set aside a little of the preserve as topping). Mix thoroughly.
3.    Pour this mixture into the bowl of grated cassava. Mix briskly and continuously until creamy consistency is achieved.
4.    Quickly heat banana leaf on open fire. This will be used to prevent cassava cake from sticking into the pan. (You may alternatively use aluminum foil).
5.    Pour the creamy cassava mixture on top of banana leaf in the pan. Cover it with plastic or cheesecloth. Put it into a steamer and cook for about 30 minutes or until cassava cake gets hard and appear yellowish. (To test if it is already cooked, prick it using toothpick. If the toothpick comes out clean, cassava cake may be taken out from the steamer.)
6.    Apply margarine on top of cassava cake, then top with grated cheese and a little of macapuno preserve.
7.    Set aside and let it cool down before serving or selling.
ADVERTISEMENT - CONTINUE READING BELOW