<>Traditionally, Filipinos are fond of giving homecoming treats (or
pasalubong
) whenever they come home from a certain place. These homecoming gifts are mostly delicacies as Filipinos love sweets in general. And among these delicacies,
espasol
is one of the favorites.
Considered as the province of Laguna's pride delicacy, this treat is a cylindrical rice pudding covered with toasted rice flour, making it a uniquely delightful
merienda
treat for everyone. With its sticky, soft, and sweet features, you can be instantly full by just eating a few. Plus, it also comes in different flavors that will suit everyone's taste.
According to numerous travelers, the best
espasol
can be found and bought in certain towns of Laguna, of course, particularly in Los Baños, Pagsanjan, Alamimos, and Nagcarlan. Several
pasalubong
stalls in Batangas and Quezon also sell their own versions (at times, those sell
espasol
made in nearby Laguna towns).
Bring Laguna's pride to every home by making your own and selling it. Here's a simple recipe you can try for your home-based business:
Ingredients: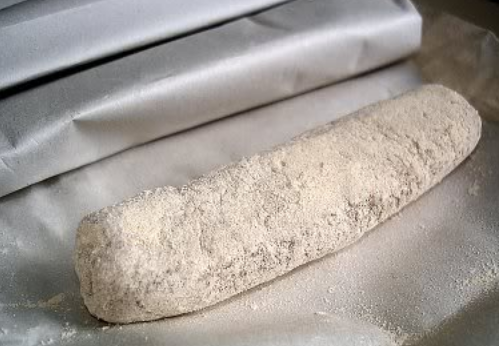 •    2 cups glutinous rice flour
•    1 cup sweet rice flour (toasted)
•    2 cups coconut milk
•    1 cup grated coconut
•    1 cup sugar
•    1 teaspoon vanilla extract
Procedures:
1.    In a non-stick pan, slightly toast the glutinous rice flour until it turns brown. Set aside.
2.    Mix together coconut milk, grated coconut, sugar, and vanilla in a pan. Stir continuously for 8-10 minutes.
3.    Add the cooked glutinous rice flour into this mixture. Continue cooking for about an hour until the texture gets thick. Set aside to let it cool after.  
4.    While waiting for the mixture to cool down, scatter toasted sweet flour into a flat surface.
5.    When cooling is done, flatten the mixture using a rolling pin and cut into strips.
6.    Roll each strip into the sweet rice flour and wrap using a paper. Close both ends.  
ADVERTISEMENT - CONTINUE READING BELOW