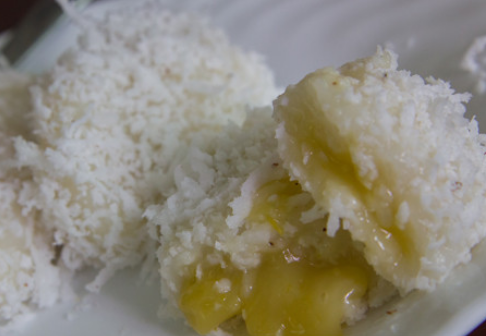 <>As
previously mentioned
, food businesses must be more innovative and creative enough to entice more customers this year. That is why it is not surprising to see many variations of our favorite
kakanin
, with different twists, usually combined with other desserts to make them better and more intriguing to the palate.
This season, prepare to give the traditional
palitaw
a new twist. Local foodies would surely like the idea of
palitaw
with filling. There is better way to make it more interesting than to combine it with another favorite local dessert---
yema
.
Combine
palitaw
and
yema
and you would have
palitaw de leche
. According to a TV magazine show, this idea started in Bulacan. Learn how to make it. Here's the simple recipe.
Ingredients:
For yema:
•    3 egg yolks
•    ½ can of sweetened condensed milk
•    ½ teaspoon of vanilla extract or essence
For palitaw:
•    2 cups of glutinous rice flour
•    1 cup of water
•    ½ cup of sugar
•    2 tablespoons of toasted sesame seeds
•    Grated coconut
Procedures:
1.    Make
yema
first. Mix egg yolks, vanilla extract, and condensed milk in a saucepan.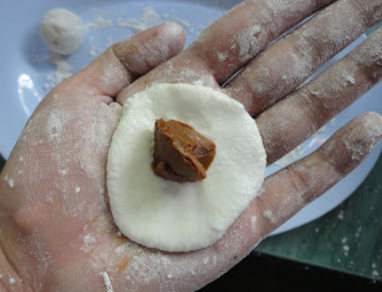 2.    Cook over low heat, stirring constantly until the mixture becomes creamy in color.
3.    Stop cooking and set aside until it cools down. Proceed to making
palitaw
.
4.    Make your dough by combining glutinous rice flour and water.
5.    Scoop a tablespoon or 2 tablespoons of the dough. Mold it into a ball before flattening it using your hands.
6.    Get a small scoop of
yema
and put it in the middle of the flattened dough.
7.    Enclose
yema
by wrapping the dough around it to form a ball.
8.    Boil some water in a cooking pit. Slowly put the dough pieces into it.
9.    Scoop out each dough as it floats. Set aside to allow water to properly drip.
10.    Roll each cooked dough into grated coconut with sugar and sesame seeds. Serve or sell.
ADVERTISEMENT - CONTINUE READING BELOW