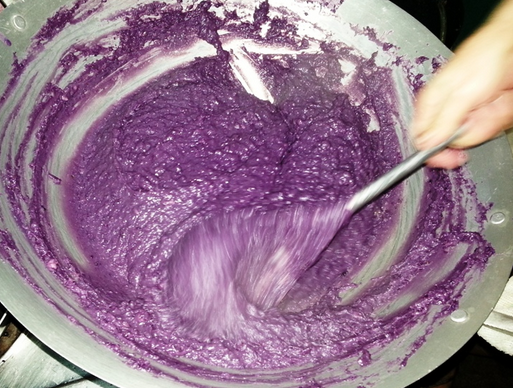 <>Purple yam jam (
ube halaya
) is a popular local dessert that is served in many households during special occasions like fiesta and family gatherings. Its main ingredient, as the name indicates, is purple yam (
ube
), which abounds in local markets especially during its peak season in the last months of the year.
Thus, purple yam jam is more common during Christmas and New Year. But it can be stored in sterilized containers or jars so it can last throughout the year.
You can make a small but profitable home-based food business by making and selling purple yam jam. Here is a simple recipe, which is also used by more purple yam jam makers who sell their products in small jars today.
Ingredients:
•    1 kilo purple yam root
•    14 ounces (or 1 ¾ cup) of evaporated milk
•    24 ounces (or 3 cups) of condensed milk
•    ½ cup of butter
•    ½ tablespoon of vanilla essence
Procedures:
1.    Put purple yam root (preferably in chunks) in boiling water. Once it gets tender, remove from the cooking pot, then peel and grate. Set it aside.
2.    In a saucepan, melt butter. Add vanilla essence, evaporated milk, and condensed milk. Stir the mixture very well.
3.    Add grated purple yam into the milk and butter mixture. Constantly stir until the mixture becomes thicker.
4.    Put the thick mixture in containers that are greased with butter to prevent the jam from sticking. Let it cool. Purple yam jam can now be served or stored in containers or small jars.
ADVERTISEMENT - CONTINUE READING BELOW