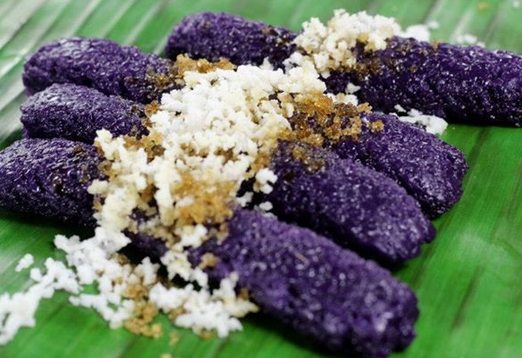 Christmas is just around the corner. In two weeks, the traditional simbang gabi (midnight mass) will again commence. Many of us might already be excited to indulge in the traditional Christmas delicacies that are commonly enjoyed after the early morning mass. Simbang gabi will not be complete without puto-bumbong.

This type of kakanin is a purple-colored dessert usually made of glutinous rice flour and purple yam powder topped with sugar, butter, and grated coconut. There are many ways to cook this recipe, but the simpler way to do it is to use a steamer.


Ingredients:

•    400 grams of glutinous rice flour
•    115 grams of purple yam powder
•    2 ½ cups of water
•    White or brown sugar
•    Grated coconut meat
•    Banana leaves
•    Butter

Procedures:

1. Combine purple yam powder, and glutinous rice flour in a large bowl. Keep on mixing until the color gets even.

2. Add water to make dough. Before kneading, make sure to keep your hands clean to avoid contamination. Mix it well until it becomes stiff and smooth.

3. Scoop about two tablespoons of the dough. Mold it to form a ball. After that, gently roll it on a clean surface to make a log-shaped dough that is about four to five inches in length.

4. Spread butter (to prevent sticking) on a heat-proof container (a plate or a bowl).

5. Carefully put the shaped dough into the container and put it in the steamer for five to six minutes or until it is cooked.

6. Remove it from the steamer and serve on top of banana leaf. Apply butter on top and sprinkle with grated coconut and sugar.



ADVERTISEMENT - CONTINUE READING BELOW