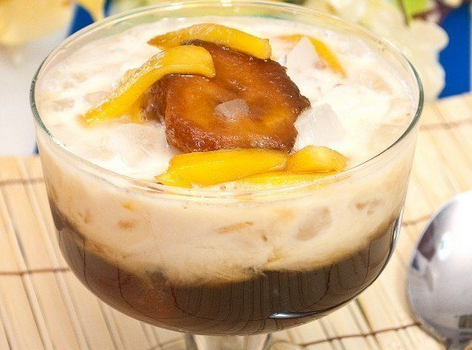 <>Plantain or
saba
banana ('cooking banana') is a common variety of the fruit in the country. That is why it is a usual ingredient in many traditional desserts and street food sold in the local market. From the street staple banana cue to
turon
,
ginataang bilo-bilo
, and
halo-halo
,
saba
banana is also an important component of dishes like
pochero
.
You can start a small food business today by making and selling another traditional dessert using
saba
banana as main ingredient. If you are familiar with
minatamis na saging
, you can make another dessert from it---
saba con yelo
.
Some people prefer to add tapioca or small sago pearls to make their
saba con yelo
more interesting. This simple recipe takes out that option, but you can always opt to have it. Instead, we recommend adding jackfruit strips (
minatamis
or preserved) to enhance the sweetness of
minatamis na saging
.
The recipe is very simple but the business idea is highly profitable. Saba banana can be bought in the market for about P2 per piece. A serving of
saba con yelo
with two pieces of banana is usually sold in local food joints and food carts for about P20 to P30. Do the math to figure out the hefty profit you can generate by selling tens to hundreds of servings of
saba con yelo
per day.
Ingredients:

•    10 pieces of plantains (
saba
banana), peeled
•    1 ½ cups of brown sugar
•    6 cups of water
•    2 teaspoons of vanilla extract
•    1 can (12 ounces) of evaporated milk
•    1 cup of jackfruit (fresh or preserved), cut into strips
•    4 cups of crushed ice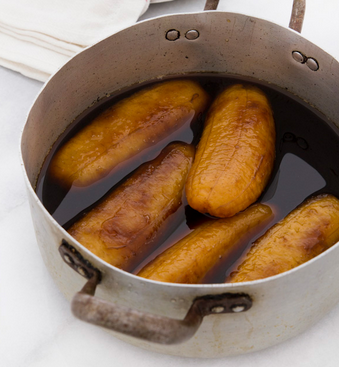 Procedures:
1.    Prepare
minatamis na saging
. Here's how to do it. In a saucepan, bring water to a boil over medium heat.
2.    Pour brown sugar into it and continuously stir until it is dissolved. Add vanilla extract afterwards.
3.    Add peeled
saba
bananas. Let it cook for about 15 minutes. Remove the saucepan from heat and set aside to let it cool down.
4.    Put two bananas and about 6 tablespoons of its syrup into a bowl. (Bananas can be served whole or can be cut into pieces.)
5.    Top the bowl with about half cup of crushed or shaved ice.
6.    Pour a generous amount of evaporated milk and top with jackfruit before serving.
ADVERTISEMENT - CONTINUE READING BELOW